The 180-metre tall Grade A tower is Park Avenue Central's defining feature. This next generation commercial building advances sustainability, energy efficiency and the integration of technology.
State-of-the-art technology includes intelligent lighting and a real-time, data-driven Building Management System to optimise performance while minimising energy consumption. A custom-designed app personalises the tenant experience and a facial recognition system integrates with the tower's lifts.
Park Avenue Central's three-storey lobby presents a modern yet timeless interior that takes inspiration from the architecture's grid system.
Flexibility and view lines are paramount. Open-plan floorplates with column-free corners means the tower remains extra-efficient and adaptable to the changing needs of single or multiple tenants on each floor. High-performance, floor-to-ceiling glazing draws in abundant natural light and expansive views.
The jewel in the tower's crown is a two-storey penthouse office with an exclusive terrace and breathtaking views across Shanghai – the prime position in a development attracting some of the city's most prized tenants and employees.
Travertine is used extensively across Park Avenue Central's lobby and typical floors. Harking back to Ancient Rome, this light-hued natural stone has a timeless quality accented with aged bronze metal. Patterned brickwork enlivens the tower's façade and continues on a civic scale to its urban edge, while the retail façades present more granular brickwork.

Park Avenue Central integrates seamlessly with the unique urban context of Shanghai's Jing'An District — a desirable area where old meets new. Early design discussions with the client explored the idea of a tree canopy instead of a built portico to enhance the arrival experience. Through an ongoing dialogue, we evolved the project by reorienting the tower to liberate more of the site as open, green space.

The street-level and lower-levels provide a consumer experience that is a refreshing departure from the typical mall box. Two main streets — distinct but complementary in character — define the retail and food and beverage precinct.
The High Street is lined with large-scale stores spanning four storeys. This ​'urban edge' acts as one of the gateways into the precinct from the bustling city. The other end of the site faces the nearby residential area and comprises smaller scale, one- and two-storey boutiques. Here, roof terraces and cascading greenery dissolves urban character into the immersive nature of the secluded gardens beyond.
Inviting terraces and pavilions, lush greenery and transitional lights frame the outdoor retail zone, while glowing bridges and stairs that resemble lanterns heighten the atmosphere. Sophisticated and intimate, it feels like an undiscovered part of the city.
A secluded, peaceful natural oasis — spanning more than 9,000 sqm (96,000 sqft) — lies footsteps beyond. This lush landscape is filled with locally-sourced plants. Workers and visitors love this secret garden that offers a soothing respite between the bustle of city streets. Public artworks are dotted throughout, adding to the list of attractions.

We really pushed the boundaries to bring genuine natural spaces into a highly dense urban retail precinct. It is a testament to our integrated design approach and ability.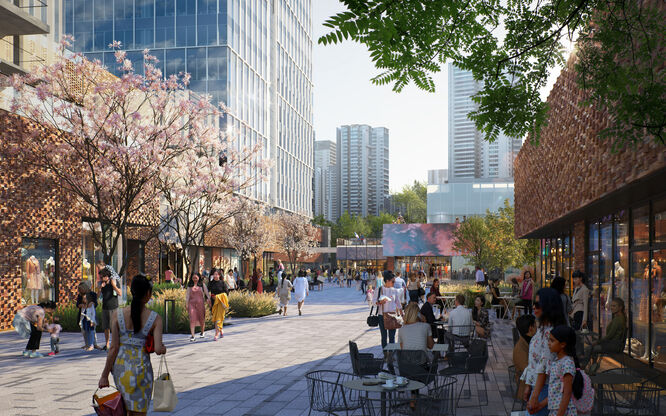 With expansive open space for everyone to enjoy, community and people's wellbeing is at the heart of the development.
The idea of ​'giving back' to the city — to the people within Park Avenue Central, and to those in the surrounding community — is one of the foundations of our design process.
The tower's ground-level public spaces are specifically designed for hosting all kinds of events and activities, all year round. Locals, visitors and the building's tenants now have opportunities to gather and enjoy this new Shanghai destination — and many happy reasons to return.
Park Avenue Central is an optimistic, socially-inclusive place where moments can be shared and great memories are made.
We designed Park Avenue Central to efficiently house businesses and their people — and to look after their daily wellbeing. Using smart technology, the data-driven Building Management System (BMS) monitors, controls and optimises building performance in real time — from elevators to lighting, air conditioning to CCTV.
The tower's sustainable health and wellbeing features include abundant natural light, an integrated air purification system and fresh air exchange. Solar panels also reduce the tower's overall carbon footprint.
Exceptional end-of-trip facilities make this one of the first commercial buildings in China to offer hospitality-level amenities that encourage people to ride, walk and run to work.
The site's abundant landscaping acts as a storm-water sponge in addition to providing a generous green urban oasis.