Guided by SEEK's desire for unconventional offices and the local setting, our ​'contemporary warehouse' concept resulted in a modern building that sits comfortably within its urban and historical context.
The architecture references the rich, industrial heritage of the area, with twin gabled roofs complementing old school buildings nearby and corium brick reflecting the colours and materials of local makers and manufacturers.
Rising seven stories and incorporating over 19,000 sqm of floor space, the building is set back from all its boundaries to respect its residential neighbours, provide a generous garden for SEEK and the local community, and create a wider footpath.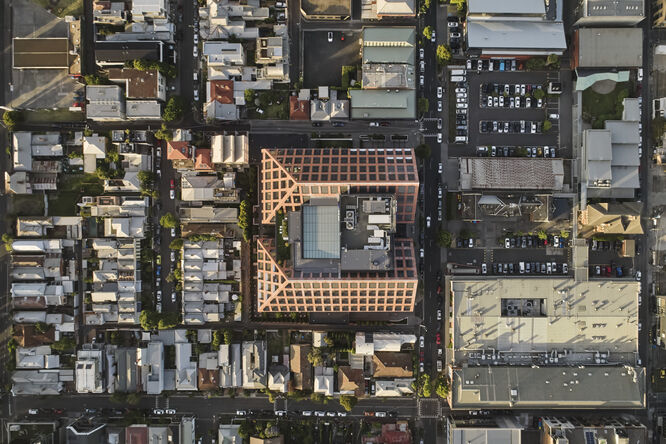 The building is designed to meet SEEK's brief for large, flexible and adaptable open-plan workspaces.
The twin gabled buildings are joined via a natural, light-filled atrium that rises from the ground floor to the roof, creating a central focus for the building. The atrium sparks activity and interaction, and connects the highly flexible, open-plan work floors via a sculptural timber staircase.
A range of public, community and SEEK-focused amenities are located at ground level, with operable walls turning the 1000-person ​'town hall' into flexible spaces with access via a separate entrance.
The workplace levels sit above that new urban precinct, and each floor includes a social hub/​kitchen area adjacent to the lifts.
A unique social space at the top of the building features uninterrupted city views, while an external terrace between the two peaks is ideal for team or client events.
The Property Council of Australia (PCA) A-grade building was designed to provide healthy, uplifting indoor spaces while minimising the consumption of natural resources through operation.
Highlights include:
Solar panels are integrated into the roof in the same proportions as the windows, creating a consistent façade.
The building allows for daylight control and glare reduction while it also maximises transparency, fresh air and connection to the outdoors.
In consultation with Arup, we designed the building to achieve a 5-Star Green Star rating (Australian Excellence), a

NABERS

Energy 5-Star rating and a

NABERS

Indoor Environment 4.5-Star rating.