The precinct will draw thousands of people each day to its hospital and aged care services, medical education, research facilities, residential communities, retail areas and student housing. By 2027, it's predicted to be the size of a small town, with more than 18,000 people there daily.
With careful planning, we're helping the client make the most of Herston's strategically important urban site. The precinct's many layers – a thoughtful balance of old and new, work and life, growth and green space – will ensure it remains an essential destination for years to come.
The first building slated for completion – the Surgical, Treatment and Rehabilitation Service (STARS), designed by Hassell – is an eight-storey, 30,000sqm facility. It offers accommodation and therapy for rehabilitation patients, as well as state-of-the-art treatment on a surgery floor with 10 operating suites and procedure rooms.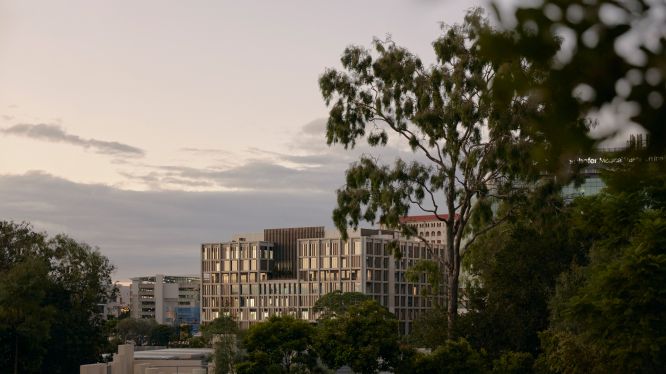 The precinct's master plan carves out generous ​'in-between' spaces for communal use and more fluid connections. For example, existing courtyards were recast as a series of outdoor rooms – cascading down the hill and around the site – that will fulfil the specific needs of people in the nearest buildings, such as hospital patients who want to recover in the sunshine.