Location: Sydney, Australia on Wangal Country
Client: Sydney Organising Committee for the Olympic Games

As the gateway to one of Sydney's premier entertainment and sporting destinations, Sydney Olympic Park, we're honoured that Hassell's award-winning Olympic Park Station, completed in 1988, has received the Award for Enduring Architecture at this year's Australian Institute of Architects NSW Architecture Awards.
When Sydney Olympic Park was home to the 2000 Olympic Games, Olympic Park Station handled an estimated 80 percent of the 1.2 million people attending the Games events.
In the years since, the station has delivered sports fans and concert-goers to countless major events, seamlessly switching from its weekday commuter operations to handle up to 1,600 people every two minutes.

"

With a challenging brief, a supportive client, an inspiring context, a wonderful design team with talent and tenacity, and a committed contractor, the project managed to exceed the expectations associated with the 2000 Sydney Olympics."

— Ken Maher, Hassell Fellow

"Hassell is honoured and delighted that the Sydney Olympic Park Station has received this award, as it was a project where the planets aligned to deliver our design absolutely without compromise," says Ken. He also acknowledged the contributions of ​"two people who are sadly no longer with us: Bob Leece, our client for his relentless passion for the significance of the project; and Rodney Uren, for his outstanding design contribution".

"

Sydney Olympic Park Station celebrates a memorable cultural event and endures as an exemplar of generative urban architecture."

— AIA NSW Chapter Awards Jury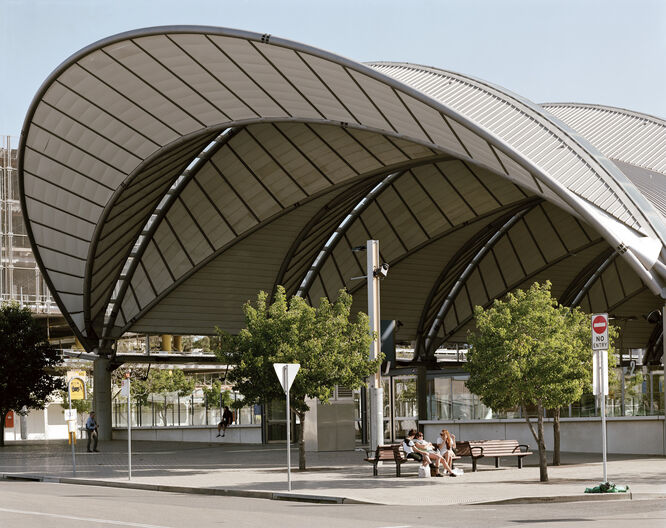 Location: Adelaide on Kaurna Country
Client: SA Government

"

The Adelaide Festival Centre boasts a bold, modernist form that has stood the test of time. It is fitting that in its 50th year the Centre receives the 2023 SA Enduring Architecture Award."

"The Festival Centre was funded by public appeal, reaching its target within a week and opening in June 1973 to much fanfare. It was the first performing arts theatre to open in Australia (beating the Sydney Opera House by three months), positioning the state as a leader in the arts.

"John Morphett's design turned the building axis 45 degrees to face the CBD, while placing the tall fly tower at the lower point in Elder Park. From the beginning, the theatre was designed from the inside out to accommodate complex technical requirements. This has not prevented the geometric concrete shells from becoming a loved feature of the Adelaide riverbank precinct. In 1974 additional spaces were opened to complement the original Festival Theatre: a more intimate drama theatre, an experimental theatre space and an opportunistic amphitheatre nestled between the two octagonal shells.

"Various refurbishments have faithfully retained core aspects of the original design. The addition of timber floors and sound enhancements aimed to improve acoustics, while more recent renovations led by Hassell have introduced updated foyers, restaurants and bars. New entrances expose views to the Torrens and, importantly, reinstate the main entries at plaza level.
"

The Adelaide Festival Centre is not only instantly recognisable, it also represents an important period in South Australian history and is integral to our identity as the Festival State. Buildings that achieve all these things at once are rare, and for the Festival Centre to have done so for 50 years is truly worthy of celebration."

— AIA SA Chapter Awards Jury

Adelaide Festival Centre: 50 years as a cultural beacon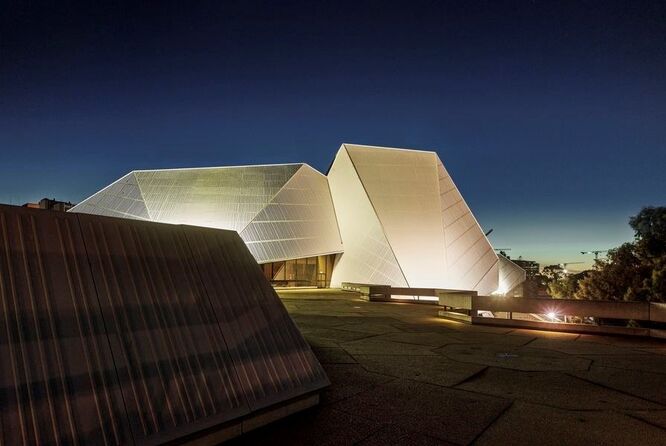 Location: Brisbane on Yuggera and Turrbal Country
Client: Suncorp

Backed by a​'better, together' ethos, Suncorp's new headquarters in Brisbane, Australia, puts people at its heart and galvanizes its workforce with an experience-rich workplace.
Suncorp Headquarters won the AIA Queensland GHM Addison Award for Interior Architecture for ​"creating a flexible, collaborative, and wellness-centred workplace".
"

This award acknowledges exceptional design, meticulous attention to detail, and commitment to creating a space that enhances the employee experience and fosters a sense of organisational community."

— AIA QLD Chapter Awards Jury

Explore Suncorp's HQ
Location: Brisbane on Yuggera and Turrbal Country
Client: Australian Unity

Combining healthcare, education, housing, retail, recreation and community spaces in one multi-connected place, our redevelopment of Herston Quarter is a catalyst for health and research ingenuity, a celebration of heritage character, and vital hub for the community — with innovation in its DNA.

Herston Quarter Redevelopment Stages 1 and 2 received Queensland AIA Karl Langer Award for Urban Design.
"

This forthright urban design on a difficult site supplies opportunities for new accommodation and commercial usage that encourage activation and public access, clearly establishing the Quarter's new future as more than a health precinct."

— AIA QLD Chapter Awards Jury

Explore Herston Quarter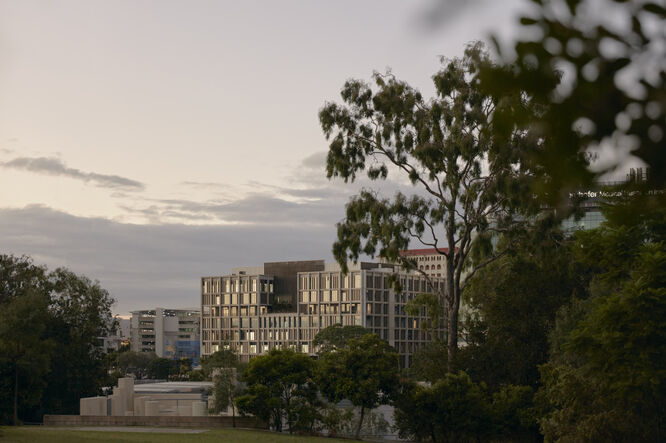 Location: Brisbane on Yuggera and Turrbal Country
Client: The University of Queensland

Nature meets nurture in calming outside-in environments where The University of Queensland in Australia is reinventing the delivery of student support services on campus.
At the Queensland AIA Awards, UQ Student Central won a Commendation in Interior Architecture and an Honorary Commendation for Social Inclusion for upholding ​"a new model of care for student services at UQ".
"

The generous spaces and quality of finish elevates user experience, celebrating students as valued clients, central to the function of the university."

— AIA QLD Chapter Awards Jury

Explore UQ Student Central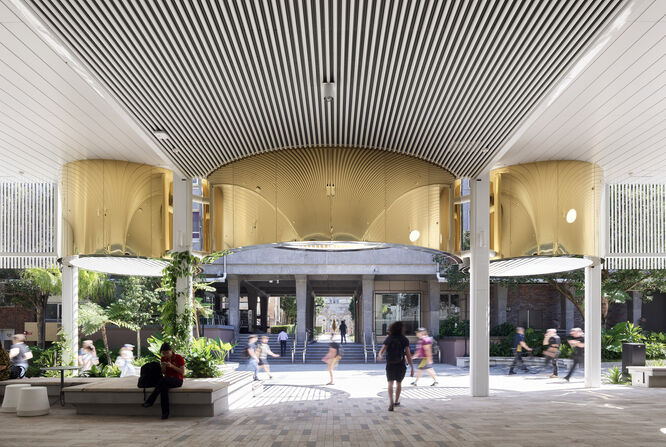 Location: Canberra on Ngunnawal and Ngambri Country
Client: Australian National University
As the first of a four-stage Hassell-designed master plan for ANU's physics precinct, our design for the Research School of Physics boldly sets the direction for the next century of physics innovation and discovery.
At the recent AIA ACT Chapter Awards, ANU Research School of Physics won the Enrico Taglietti Award for Educational Architecture and the Robert Foster Award for Light in Architecture.
"

At its heart, this is a supremely technical and complex laboratory project that has been extremely well executed."
"

The architects have created a building where both the research and the researchers are brought out into the light."

— AIA ACT Chapter Awards Jury

Explore ANU RSP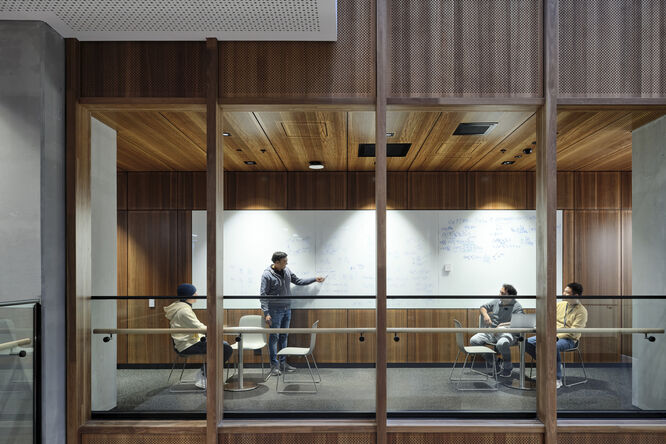 Client: Committee for Sydney
A landmark Australian report entitled Nature Positive Sydney sets out a path to enable community, business and government to grow our living infrastructure equitably. Developed in collaboration with Hassell Principal Jon Hazelwood, engineering, management and development consultants Mott MacDonald, network and accelerator fund Built By Nature, and Government Architect NSW, this report outlines 10 actionable ways to increase nature in urban areas.
AILA's NSW Chapter distinguished the Hassell's collaborative Nature Positive Sydney Report for Committee for Sydney with the Research, Policy and Communications Award for Excellence.

"

The project is an excellent example of the role landscape architects can take in framing debate around the serious environmental problems that cities face."

— AIA NSW Jury Citation

More on our Nature Positive Report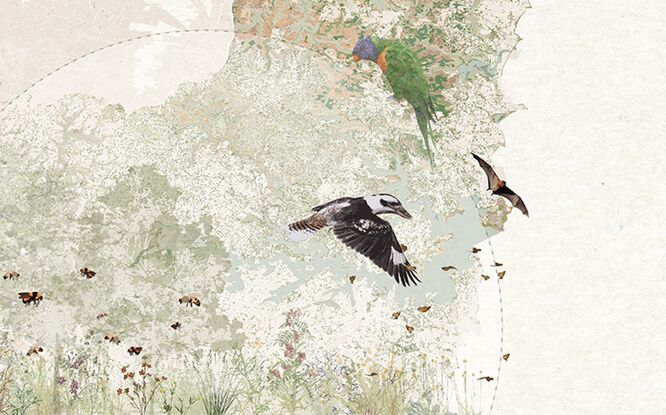 Location: Perth on Whadjuk Country
Client: Hall & Prior

By bringing together the warmth and familiarity of being home and the connection of being part of the broader community in a beautiful place, Karingal Green advances the prospects for aged care.
As ​"a benchmark for landscape design in a seniors living setting", Karingal Green Health and Aged Care Community won the WA AILA Health and Education Landscape Award of Excellence.
"

Embracing the power of nature to heal and connect and the design principle of ​

'

no boundaries and total freedom', gardens and landscapes are key to the overall health of the residents… [and] provides opportunities for interaction and the building of community within and beyond the development's boundaries."

— AILA WA Chapter Awards Jury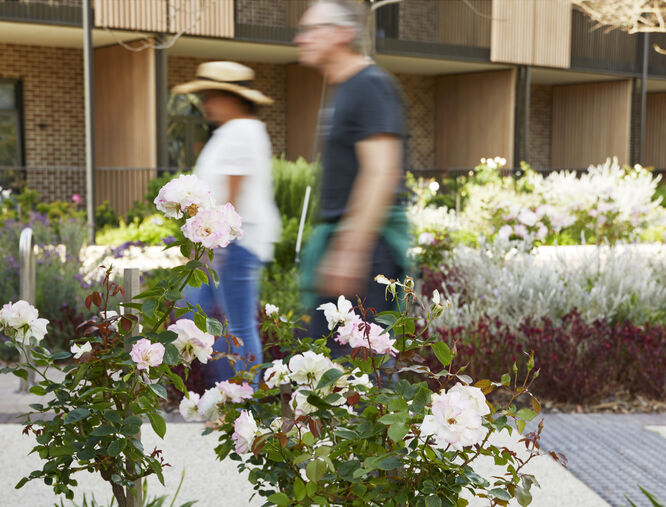 Location: Perth on Whadjuk Country
Client: Shire of Augusta, Margaret River

Connecting with community was the key to re-energising the much-loved town centre of Margaret River in Western Australia, where the main street needed to reflect the region's rich history and natural diversity — and be a place for people to gather and foster the vibrancy of local businesses.
Our reinvention of Margaret River's Main Street won the WA AILA Civic Landscape Award of Excellence.
"

Congratulations to both client and design team for this impressive revitalisation of the Margaret River Town Centre as a distinctive, vibrant place​… The outcome is testament to the strong collaborative relationship built between Hassell and the Shire over the several years that this project has been in the making."

— AILA WA Chapter Awards Jury

Explore more on our reinvention of Margaret River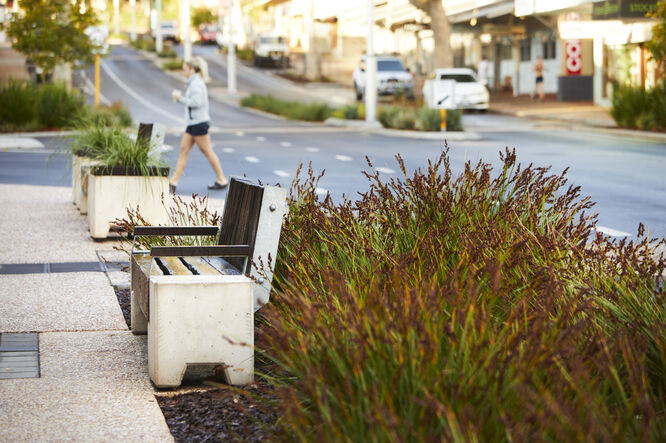 Location: Wangaratta on Yorta Yorta Country in rural Victoria
Client: The Rural City of Wangaratta
With its significant investment in civic quality, climate sensitivity and urban amenity — and its radical departure from the conventional treatment of transport hubs in Victoria's regional centres — our precinct design for the rural city of Wangaratta's Railway Station has been heralded as a new benchmark. The precinct project has won the 2023 AILA VIC Chapter Civic Landscape Architecture Award as well as a Regional Achievement Award.
"

Hassell are commended on a design firmly founded in place character and a strong community engagement.​This project enriches the urban experience and contributes to Wangaratta's identity through a verdant, layered and fine-grained landscape, spaces for access, events and respite, and improved legibility."

— AILA VIC Chapter Jury Citation

Note: Sarah Pannell's Wangaratta Station Precinct photograph features Wangaratta Water Tower known as ​'The Beacon' adorned with a mural by New York design studio Thinkcraft, led by artist Sophia Hanover.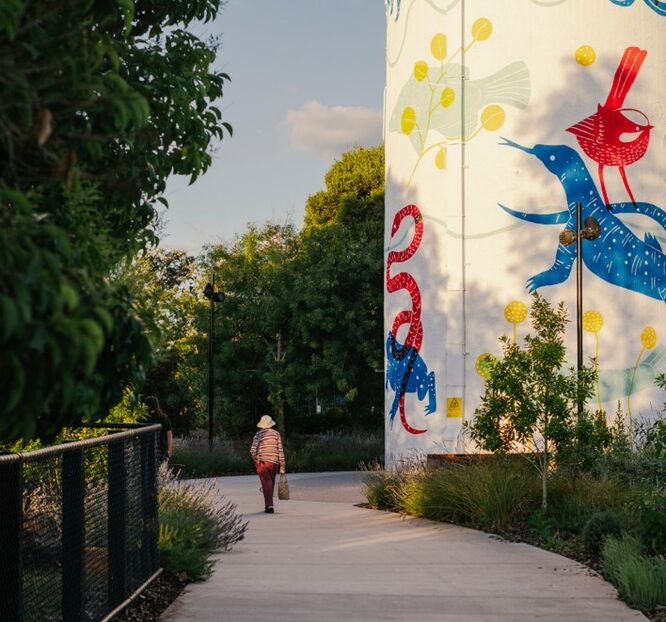 Location: Williamstown in South West Melbourne on Wurundjeri Country
Auspice: Western Project Alliance (WPA) comprising of ARUP, Mott McDonald, McConnell Dowell, MTM and V/​line, with contributions by Denton Corker Marshall (architecture and co-urban design, T-Projects, Bunurong Land Council Aboriginal Corporation, ACE contractors and Flora Victoria.
Proving that a level crossing removal project (LXRP) can be about more than function and safety, North Williamstown Station LXRP has won the AILA 2023 VIC Landscape Architecture Award for Infrastructure.
By incorporating a story of canoe journeys along the Birrarrung (Yarra River) with a Heritage Station building, the Jury celebrates this level crossing removal project as distinctly ​'of its place'.

"

Hassell is commended on combining both cultural and historical stories, told through the variety of recycled materials, QR codes and sensitive plantings. The station environment provides opportunities for people to engage with their surroundings regardless of their direct interaction with the transport infrastructure. A highly successful infrastructure project that enhances the day-to-day."

— AILA VIC Chapter Jury