Designed to integrate with surrounding parklands, ANZAC Station is a ​'pavilion in the park' that provides a seamless connection above and beneath the Domain precinct linking Melbourne's city centre and busy St Kilda Road with the Domain train and tram interchange, the Shrine of Remembrance, and the Royal Botanic Gardens parklands.
We challenged the brief in two ways, which expanded the opportunity for ANZAC to become more than a Metro station. In a first for Melbourne (and possibly Australia), our design-led approach to the station places the ​'main' entry on the tram platform and introduces underpasses to the Metro concourse from each side of St Kilda road for safe and seamless commuter transit between tram and train, and into the precinct.
A light-touch floating timber canopy with geometries that echo those of the Shrine of Remembrance is the distinctive above-ground architectural feature of ANZAC station. Large voids and lightwells pull daylight deep into the concourses, improving the transit experience and reducing power usage.
Secondly, we increased the scope of landscaped parkland in Albert Road Reserve, rationalising roads and carparks in the process, for a greener urban nexus.
"

Our approach proposed more than was asked in the brief, increasing ANZAC Station's footprint to integrate the station and tramstop, and link into the parklands of the Shrine to Albert Park Lake."

— Chris Lamborn, Principal

Domain is a rapidly evolving commercial and residential hub of increasing density that requires an improved urban ecology. Increasing the scope of the project to encompass the Domain and Albert Road precinct means the planning for this station and its surrounds provides a better environment on the city-fringe. Roads and carparks are being transformed into a ​'green spine' that will deliver a verdant Shrine to Bay link. The integration of visible water-sensitive urban design initiatives assists with water management, biodiversity, and habitat creation at this busy junction.

In a win for city residents and visitors, open public spaces extend from the station through the new Albert Road Reserve toward Albert Park Lake. As well as offering a new pedestrian-friendly plaza and park for people who work and live nearby, this design-led above-station urban greening initiative delivers a cooling tree canopy and fosters biodiversity in what has long been a heat-charged and windswept set of intersections. It also contributes to the bigger picture $13million ​'Shrine to Sea' initiative that carves a boulevard connecting the Domain Gardens to Port Phillip Bay.

"

The new Albert Road Reserve contributes to so many social and environmental sustainability targets by connecting green spaces."

— Matthew Watson, Associate Landscape Architect

For more information on ANZAC Station's location, construction progress, public artworks and support for local business, head to Victoria's Big Build > ANZAC Station.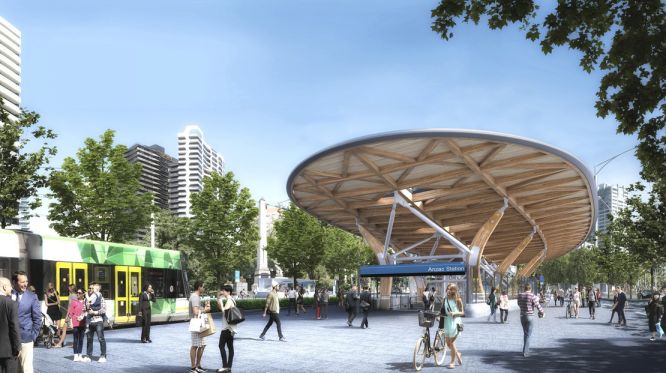 Prominently placed at the southern Swanston Street entrance to the CBD, opposite Flinders Street Station, the new Town Hall metro station will reorient Melbourne's city centre, with entrances at City Square, next to the heritage-listed Young & Jackson hotel, and at Federation Square.
The City Square entrance will respect its historic neighbours – St Paul's Cathedral, Melbourne Town Hall, and the Manchester Unity building – with a nod to modern and contemporary city buildings. The entrance pavilion and the redesigned City Square will provide a vibrant place for people to meet in the city. City Square itself will be revitalised and upgraded in terms of amenity to reassert its role as one of the prime public gathering and events spaces in the heart of the city. Native trees and planting will embrace the square, creating an urban oasis amidst the bustling city streets.
The Federation Square entry has been developed in consultation with stakeholders and the new entry forms a key part of the Metro simple ​'portal style' design language whilst creating a feature building that replaces the former Visitor Centre.
Inside, vaulted ceilings soar 10 metres high over 19-metre-wide platforms, making this a landmark of Grand Central scale and stature for Melbourne.
As part of the build, a world-first trial is underway to capture geothermal energy in the foundations of the Metro Tunnel's new State Library Station, one that could start a revolution in clean energy. Find out more at Victoria's Big Build > Geothermal Energy trial.
For more on Town Hall station's location, construction progress, and public artworks, refer to Victoria's Big Build > Town Hall Station.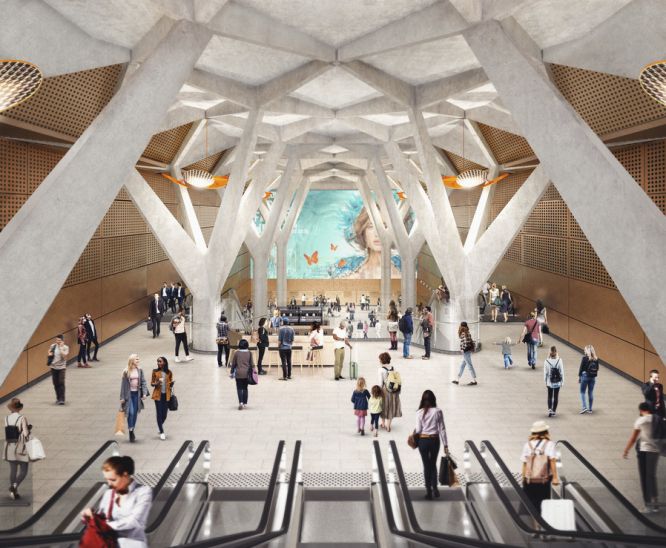 The new State Library Station connects the northern end of Swanston Street to the CBD, with entrances on La Trobe Street (at the corner of Swanston Street) and Franklin Street. Passengers can slipstream into the bustle of the city, amble onto campus at RMIT, or retreat into laneways awash with secret histories and treasure troves of culture.
Underground, the station will be remarkable for its wide aisles and sweeping arches that recall the monumental State Library of Victoria above. At street level, the station's Latrobe Street entrance will echo the gravitas of the library with a large, concrete framed portal. The extension of Literature Lane will connect La Trobe and Little La Trobe streets, where new cafes and shops can flourish.

Reconfiguring the road space above State Library Station will create 3,500 sqm of new public space laden with 50% more mature trees across the precinct. Eclectic, energetic promenades and laneways transform the area, opening up the city's north where new and immersive shared zones improve the neighbourhood for pedestrians, cyclists and the growing local community.
Along Franklin Street, a modest portal entrance provides convenient access into RMIT for students and boulevard-style planting will establish a native, bio-diverse tree-lined promenade to encourage walking between the station and Queen Victoria Market, and into the northern end of the CBD. A'Beckett Street will be recast as an uptown pedestrian/cycle-friendly plaza for community activity.

"Water sensitive urban design principles have also been integrated into the design of the State Library Station precinct to lessen flood risk in low-lying areas, reduce stormwater runoff and provide passive irrigation to plants, thereby reducing demand for potable water. Areas that receive high stormwater runoff will be landscaped to cope with heavy rainfall, and new tree pits will contain large soil volumes to provide passive irrigation."
For more on the State Library Station precinct, public artworks, construction progress and more, visit: Victoria's Big Build > State Library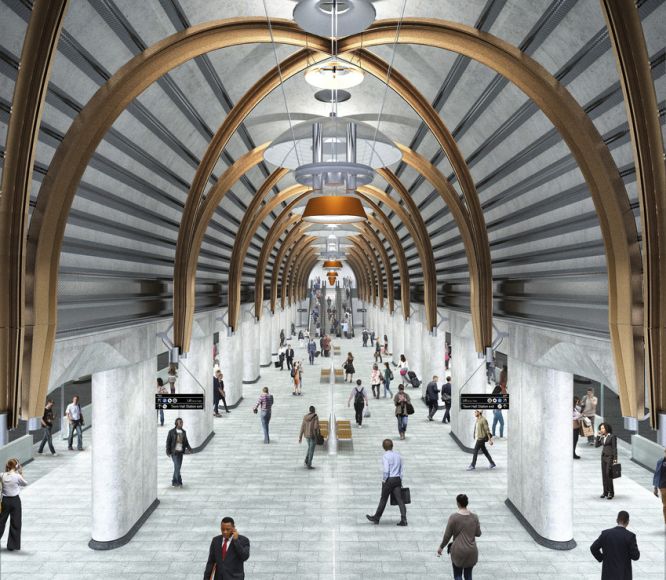 For the first time ever, Parkville's world-class education, research and healthcare hub will be connected into Melbourne's train network. Parkville Station is a much-needed metro transit node for the many thousands of students, patients, workers and other travellers who visit the precinct every day.
Upon completion, passengers from as far away as Sunbury, Cranbourne and Pakenham – and stations in between – will be able to get to Parkville without changing trains.
Parkville Station's glass feature roof will let abundant natural light into the station concourse and the landscape will connect the tree-lined view of Grattan Street. Visitors and residents will benefit from the precinct's abundant public spaces for encounters, learning, and healing.
The metro station underpass will provide a safe and accessible connection to the doorsteps of the University of Melbourne, Royal Melbourne Hospital, the Victorian Comprehensive Cancer Centre, as well as some of Australia's leading medical and healthcare facilities. These institutions will also be better connected at street level with Grattan Street, which is being reimagined as a more pedestrian-friendly boulevard.

A grand promenade and biodiversity corridor to complement the city's flourishing health and education quarter — a place of exploration and ideas. Generous streetscape design will connect Metro with the many tram, bus, cycling and walking routes; a gateway to the University of Melbourne and hospitals.
For details on Parkville Station's location, public artworks, construction progress and more, visit: Victoria's Big Build > Parkville
Breathing new vigour into North Melbourne, Arden Station will create a sustainable transport hub within walking distance of the North Melbourne Recreation Centre, Arden Street Oval and the route 57 tram.
In terms of design, Arden Station's bold, red brick archway reflects the area's industrial heritage while creating a distinguished landmark for the new Arden precinct. The new station is part of a significant urban renewal, creating a vibrant residential, commercial and retail precinct on the city fringe.
In fact, Arden Station is destined to be the centrepiece of Victoria's new knowledge and innovation precinct, which is expected to generate up to 34,000 jobs and be home to around 15,000 residents by 2050.
Pursuing best practice sustainability factors includes delivering daylight deep into the underground platforms via three enormous skylights nestled within the public realm. Our material selection specifies locally-sourced, low VOC options along with water-efficient fixtures and fittings, which together drive the sustainability performance and outcomes for the project.
Around the station, the public realm will be activated by a sequence of welcoming plazas, landscaped terraces, and tree-lined streets with materials that reference the local industrial character. Our landscape approach is an ​'urban sponge' that incorporates sunken gardens and native plants that tolerate water inundation, which will work with site's natural flood systems.
Ongoing community and stakeholder feedback has resulted in station precinct design updates, outlined in an amended Development Plan, that include:
retaining 15 more trees, bringing tree savings to 47 more than in the station's Environment Effects Statement
creating a new series of public grassed areas interspersed with tree planting
improved station access with repositioned entry gates and the reorientation of entry ramps on Laurens Street
a separated, raised bike path on the west side of Laurens Street
widening of Station Lane to make more space for vehicles
improvements to materials and finishes for the station services building.
Source: RailExpress
In addition, the station will provide wide pedestrian paths, drop-off zones and taxi bays, and more than 120 bike parking spaces.
For details on Arden Station's location, public artworks, construction progress and more, visit: Victoria's Big Build > Arden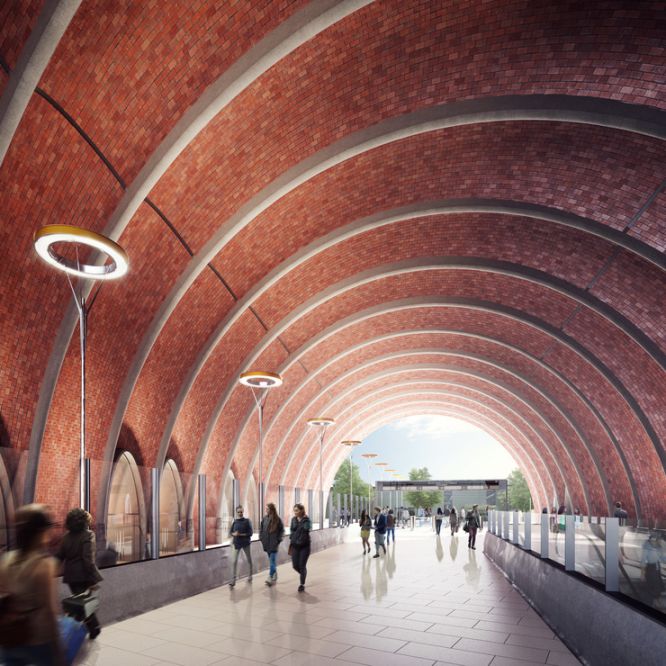 The CYP Design and Construction Joint Venture (CYP D&C JV) – led by Lendlease Engineering, John Holland and Bouygues Construction Australia – has been contracted to design and build the tunnels and stations for the Metro Tunnel Project.
The design for the five stations is a world-class collaboration between leading international design practices Hassell, Weston Williamson + Partners, and RSHP, as part of the CYP joint venture.
We provided an in-depth contextual response to each of the station locations with a strong line-wide approach within the stations that the station look and feel being crafted by RSHP.
Our concept is centred around the ​'Open Metro', where the public realm is connected into the station via daylight, natural ventilation, sightlines, and clear wayfinding for an enjoyable and intuitive commuter experience.
Chris Lamborn, Ingrid Bakker, Harley Vincent, Mark Loughnan, Matthew Watson, Ross de la Motte, Ben Duckworth, Andrew Low, Mark Haycox, Craig Guthrie, Geoff Crowe, Tam Dao, Bobby Wong, Paul Rea, Brian Felgate, Alix Smith, Anthony Thevenon, Madeline Joyce, Jerome Delaunay, Juan Fernandez, Linzi Kik, Jackson Wylie, Richard Moore, Adam Roggero, Adam Kim, Richen Jin, Rory Sheppard, Mia Willemsen, Biljana Lojanica, Julia Allen, Nick Owen, Georgia Chisholm, Alastair Jaffray, Avril Cravioto, Kyal Erdman, Lauren Geschke, Stuart Davey, Andrew Lee, Nathalie Diaz, Chris Harty, Justin Chiu, Dean Beattie, Anya Lee, Hannah Green, Ash Roberts, Samee Sultani, Laura Culianez, Philip Tridente, Leyla Beiglari, Johnny Long, Shiqi Tang, Tam Dao, Jianing Zhu, Xiaoyan Wang, Mena Kubba, Bisi Ashiru-Smiles, Edward Connelly, Duana Fisher, Cody Cartwright, Tiange Li, Kim Lee, Arthur Camus, Michael White, Michael Luders, Michael Blancato, Manfred Cheng, Ben Charlton, Doug Pott, Patrick Yao, Olivia O'Donnell, Ke Yan Cora, Joe Ferrante, Jean-Christophe Petite, Hong Lee, Emma Mydaras, Emily Shaw, Dion Gery, Bryn Jones, Brenton Beggs, Benjamin Horne, Adam Gardner, Emily Dudman, Emily Townsend, Frank Smith, Johanna Picton, Matthew Watson, Michael Ruehr, Mariam del Castillo, Yiling Jiang, Hayley Cross, Hayley Grummitt, Sallyann Allman, Warren Birchell, Sam Tomkinson, Annie Scapetis, Natalie McDonald, Emma Williams, Michael Curran, Joanna Richardson, Matty Kapeleri, Amanda Minter, Hannah Beverage, Chris Phillips, Carine Macleod, Eoin Maguire, Tom Inwood, Stephen Tan, Carmen Du, Duyen Nguyen, Yi Song, Rita Fernandez, Nick Pearson, Andrew Ewington, Eoin Maguire, Oli Petite, Jack Healy, Brendan Murphy, Joe Chapman, Anissa Webb, John Williams, Phillipa Byrne