The beauty of rail: creating a 100-year legacy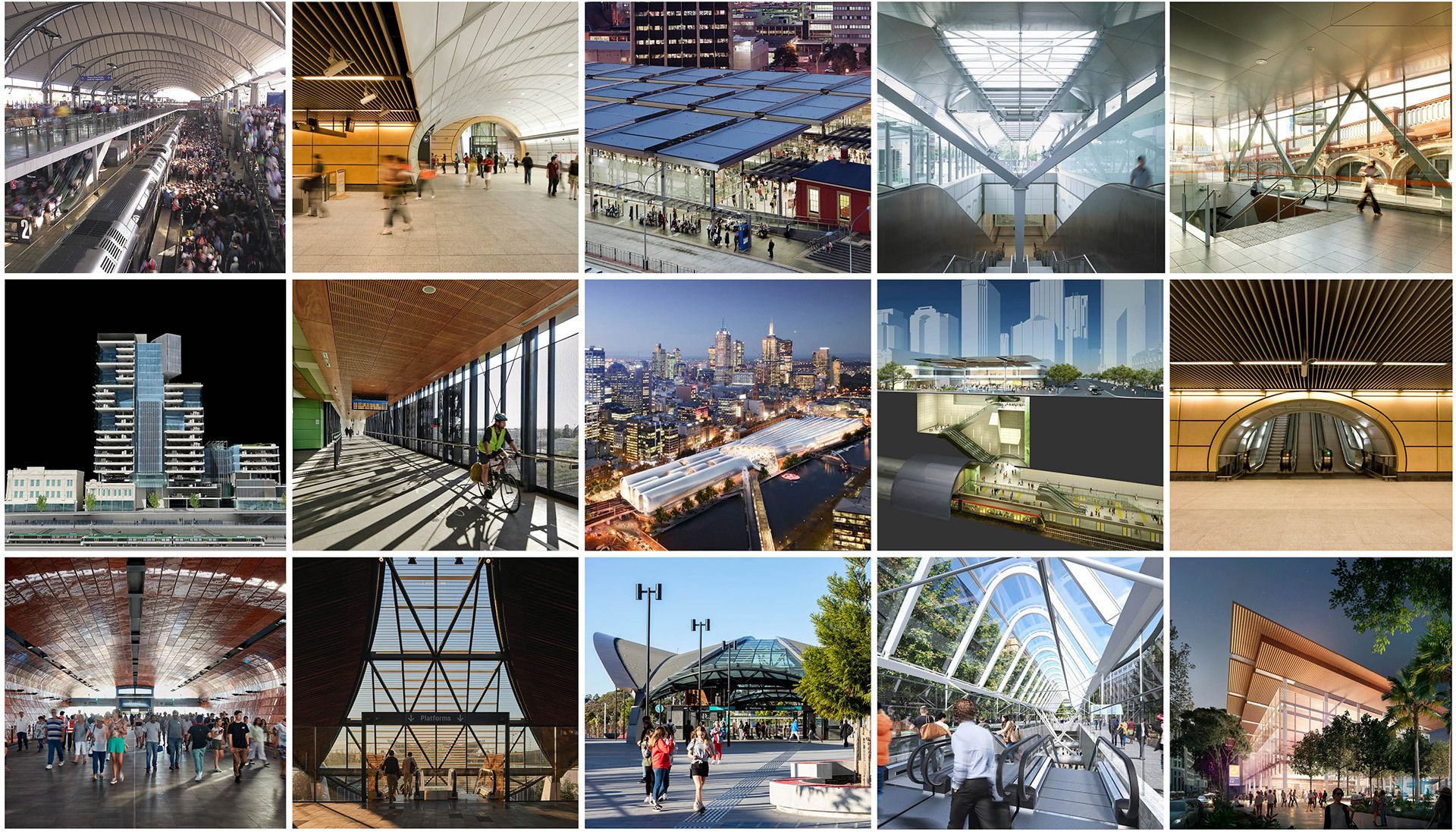 Great rail design always starts with people. It's in our DNA and has guided us over our 25-year history of creating award-winning urban transport experiences.
When it comes to rail design our international team of designers continually push the boundaries of the urban transport experience. And that means thinking holistically to create a seamless integration into the existing urban landscape, from strategically assessing the best corridor alignment and station locations to the industrial design of furniture and lighting installations inside stations and interchanges.
Good urban transport design is about city-shaping. It's also about collaboration and the magic that results when our multidisciplinary teams spanning architecture, landscape architecture and urban design come together to create something supremely functional yet genuinely unique.

"

We don't just treat rail as infrastructure. The beauty in our cities comes from creating places that people love."

Peter Morley, Managing Principal and Sector Lead for Rail

"Ultimately, we're designing a hundred-year legacy for the city," says Peter. ​"And it's often about making difficult decisions now that in the long-term result in an enlightened experience for everyone."


If designed well, railway stations can become the catalyst for urban growth and development. They become great spaces, a defining part of the city — think Gare du Nord in Paris, Grand Central in New York or the reimagined St Pancras International in London. In our recent research report, Six Qualities of Great Urban Places, you can find out more about our design approach for creating places that capture hearts and minds and become integral to our lives.

"When people think of cities, it's quite often as a series of railway lines," says Peter. ​"When you think of London, for example, everyone thinks of the Underground map. And neighbourhoods are often thought of in terms of their memorable, place-making stations; Waterloo, Kings Cross, Paddington."


GUARDIANS OF THE PASSENGER EXPERIENCE

Ultimately railway stations must be functionally brilliant in terms of safety regulations, security and a multitude of practical specifications. Yet, it's essential, says Peter, to also create a space where people feel comfortable. ​"No one," he says, ​"should feel excluded. And when you design for people with other viewpoints or abilities, you often make the experience better for everybody."

We recently partnered on a study by XYX Lab in Australia, which reviewed railway stations from a female perspective with the aim of developing a deeper design process to support better safety outcomes for women and girls. Generally, safety at rail stations is approached by painting a big yellow striped box on the floor, with signage saying it's a safe place to stand. The study found that this has the adverse effect of making women feel like a target on the platform.

The research concluded that stations, which are active, dynamic and well lit, with retail facilities and cafes, are the places that feel safest because they become self-policing.
"It's about creating a place that feels like a town square with lots of people around, rather than just a place to queue for trains." says Peter.
One such project is Cross River Rail in Brisbane, Australia, which is due for completion in 2025. Hassell designed each station as a series of rooms, starting with a threshold experience and then moving into a gallery experience, a concourse, a great hall, and finally, the platform. ​"The journey through these ​'rooms' helps build a narrative for the passengers," says Peter.
The threshold is about the interface with the city and features a coffee shop, seating and landscaping. It's the welcome or departure experience. The gallery is where people often stand still because they're on an escalator travelling up or down. ​"Here, we've introduced an art program on the walls," says Peter, ​"working with local Indigenous artists to tell the history of the area and its connection to Country."
A SUSTAINABLE FUTURE
By its very nature, urban transport is inherently sustainable, enabling a carbon-free future. ​"It's an exciting time to be challenging ourselves and our clients to be doing much more with less," says Principal Ewen Wright whose work includes major urban transport projects such as Sydney Metro Northwest, the Epping to Chatswood Rail Link in Sydney, and Cross River Rail in Brisbane.

Thanks to advances in technology, construction, prefabrication, operations, and maintenance, we're on the cusp of the next generation of stations. These stations allow daylight into concourses and induce the stack effect for naturally exhausting hot air and smoke in emergencies. They enable a view of the sky and landscape and promote biophilic design. In Australia, these future-facing spaces will be co-designed with First Nations people creating places for everyone and leaving a legacy for future generations.


"

It's rewarding to be elevating the experience of urban transport to make it not only as easy and intuitive as possible but unquestionably the first choice of transport for people who live and visit our growing cities."

Ewen Wright, Principal


For more industry insights from our team of international designers and updates on new and in-progress urban transport projects visit our Transport news pages.