Cool, calming and connected: the award-winning UQ Student Central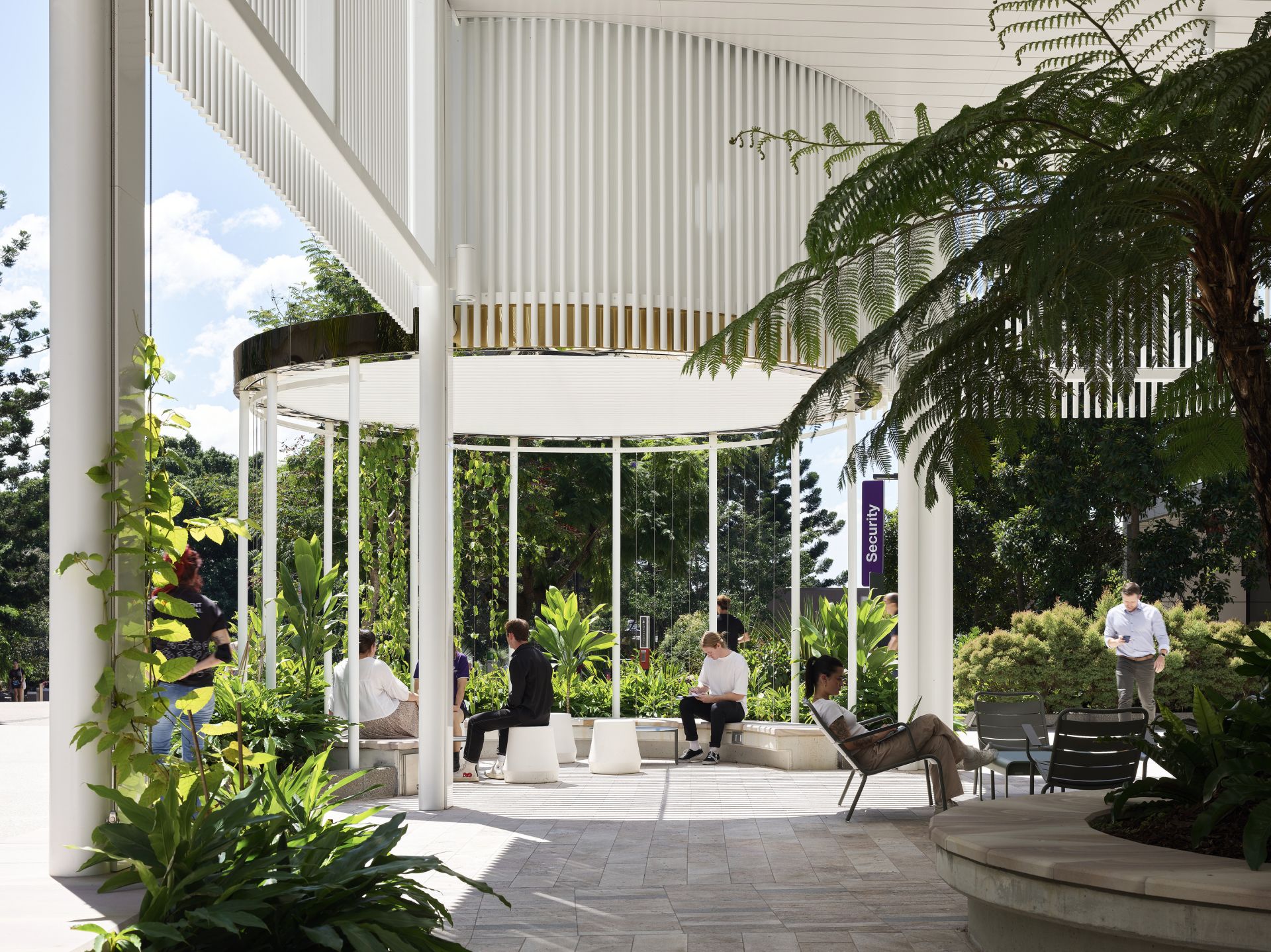 The University of Queensland's Student Central has been awarded the 2022 Australian Institute of Landscape Architects (AILA), QLD Chapter, Landscape Architecture Award for Health and Education.
Collaboration is at the heart of our transformation of the recently completed hub for the delivery of student services at The University of Queensland into new calming, immersive spaces.
The design places the holistic student experience at its core by bringing together administration, employability and wellbeing support.
Led by a team of architects, interior designers, and landscape architects we connected three University of Queensland buildings — the Prentice Building, Physics Annexe and the former Staff House — and added an extensive shade canopy, forecourt, and sub-tropical landscape.
In the process, key central services for students formerly dispersed around the campus were consolidated in one location and unified by a student-friendly outdoor realm.
"

The project affords a relaxed fit-for-purpose setting while contributing to sustainable social, environmental and economic outcomes that enhance quality of life for students."

- Jury citation, Australian Institute of Landscape Architects

Principal and lead architect on the project, Lucy O'Driscoll says that a key priority was creating a place where students would choose to go and spend time. ​"Using so much outside space was a game-changer, allowing us to create UQ Student Central alongside a heavy footfall area," says O'Driscoll.

While the canopy and gardens establish an inclusive setting where students are greeted and directed to services inside, outside the plaza can adapt to host events and informal activities.
"

The circular garden draws on the idea of placing landscape at the centre and not just around the edges. It also provides an ​

'

outdoor room' experience beneath the tree canopy."

- Tarek Barclay, Associate and Landscape Architect

A subtropical visual identity expressed through mature planting, sandstone terracing and extensive use of timber has created a unique and dignified student environment sought after by the UQ community as a place for celebrating, gathering, studying, and support-seeking.