Reinventing Margaret River: small in stature, big on vitality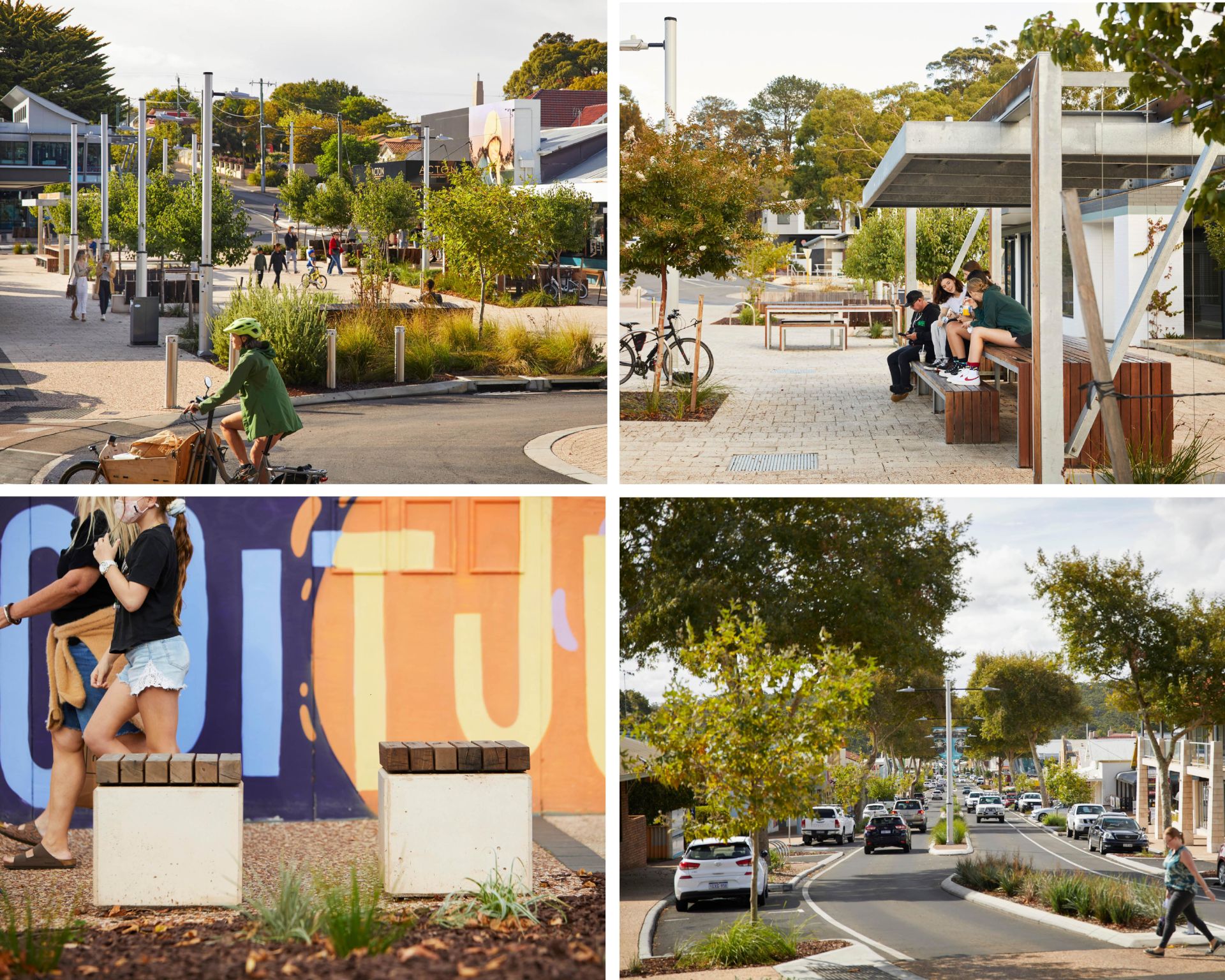 How do you transform an outdated town centre with a global reputation as a travel hotspot into a thriving celebration of community, local heritage and culture? We started by asking the community.
To re-energise the much-loved town centre of Margaret River in Western Australia, the main street needed to reflect the region's rich history and natural diversity — and be a place for people to reconnect to the community and bring much-needed vibrancy back to local businesses. To do this, we asked the Shire of Augusta-Margaret River and the town's people for their vision of the main street.
"We wanted to represent the community who are integral to the character and culture of Margaret River," says Principal Anthony Brookfield. ​"It was important that their needs and vision for the main street and the region were integrated into the design. They are the ones who have much to gain from the outcomes of this project.
"Their brief was relatively straightforward; the street had to be a safe, inherently welcoming public space for the community — and tourists which businesses rely upon."

"

Great places have a true sense of place, cultural and historical interest, community involvement and a vision for tomorrow. They spark an individual sense of pride and contribute to community well-being. Great places bring people together."

Jury citation, Planning Institute of Australia, WA Chapter.

A holidaymaker's dream, Margaret River has been named one of Condé Nast Traveller's top ten travel destinations worldwide. Located within the Shire of Augusta Margaret River, this remote wine and surf township with a population of almost 9,000 may be small but along with the rest of the region, it welcomed more than 1.5 million visitors last year. Its abundance of stunning bushland and forests, panoramic coastlines, thriving art scene, and award-winning wineries make the region, and the town of Margaret River at its centre, a source of immense pride for the local community.

Our design response to Margaret River's refresh was the creation of three distinct precincts from north to south titled River, Festival, and Hill, which when combined aim to create a vibrant town centre with a green heart. As their names imply, each individual precinct seeks to embody characteristics based on the themes of water, public spaces for events and social gatherings, and local landscape.

DESIGNING FOR TOGETHERNESS

Creating a new town square at the junction of Millmott and Fearn Avenues answered the town's need for more communal space to host special events, markets and social gatherings. The square can now also act as a venue for world-class festivals to reinforce the region's standing as a global travel destination.

Aligning with the Margaret River's strong connection to nature, locally sourced timber and recycled materials unique to southwest Western Australia were used to create street furniture with a rustic, earthy bespoke feel. Sustainable principles were embedded throughout the design, including redirecting water runoff into lushly planted, low-lying landscapes to strip pollutants from the water before reaching groundwater and river.

A year since the completion of Margaret River's main street refresh, the township is showing a resurgence of activity, a case-in-point being the recent $8.5m commitment to upgrade the town's oldest surviving hotel, the heritage-listed Margaret River Hotel.
"

Since the project finished, there has been a rapid increase in new businesses opening and the sale of businesses to new owners, indicating optimism in the vitality of the street."

Saul Cresswell, Sustainable Economy Officer, Shire of Augusta-Margaret River

In 2021, the Margaret River Main Street project was awarded a Commendation in the Great Place category by the Planning Institute of Australia (WA) Awards for Excellence.

At the 2023 Australian Institute of Landscape Architects' WA Chapter Awards, Margaret River Main Street was honoured with Civic Landscape Award of Excellence.
"

…a distinctive, vibrant place​… The outcome is testament to the strong collaborative relationship built between Hassell and the Shire over the several years that this project has been in the making."

— 2023 AILA WA Chapter Awards Jury
Location
Perth, Australia
Date
June 30, 2023