Riverside Green's outdoor spaces include:
The river lawn - a significant new green waterfront space next to Brisbane's central heart. With views of the river and the Parklands, it's an everyday space to relax, picnic and play, or to host special events.

The rainforest deck and pavilion - a sheltered and welcoming place designed for Brisbane's climate, where the community can enjoy the river view while nestled in a shaded rainforest setting. The pavilion's elegant copper skin complements the rainforest setting, and brings durability and timeless appeal to highlight the civic function of the space. With moveable furniture and communal barbeques, these democratic spaces adapt from everyday use to events mode, transformed into a dining room or stage.
Rainforest - we extended the existing parkland rainforest by 650spqm, creating a lush backdrop for Riverside Green. Together with more than fifty new trees, the rainforest extension boosts the urban tree canopy of the Parklands - and all planting is irrigated from a non-potable water source.

The grotto, a sunken retreat immersed in nature. The vine covered pergola shades the space with 80 hanging plants, which change with the seasons and showcase Brisbane's endemic species.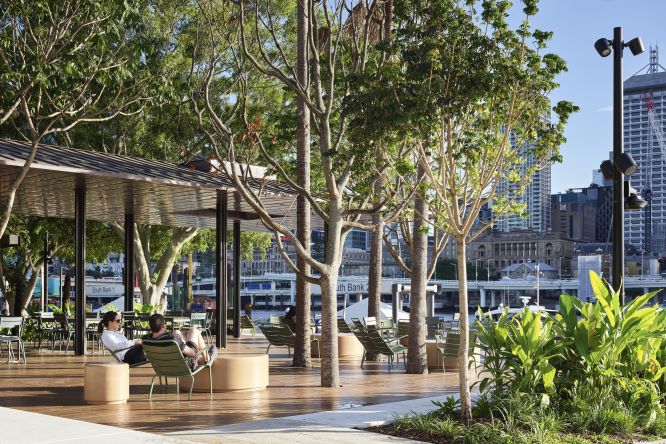 2021

AILA

QLD

Landscape Architecture Awards - Landscape Architecture Award for Parks and Open Space
2021

AILA

National Award of Excellence for Parks and Open Space