Meliá Chongqing Hotel and Resort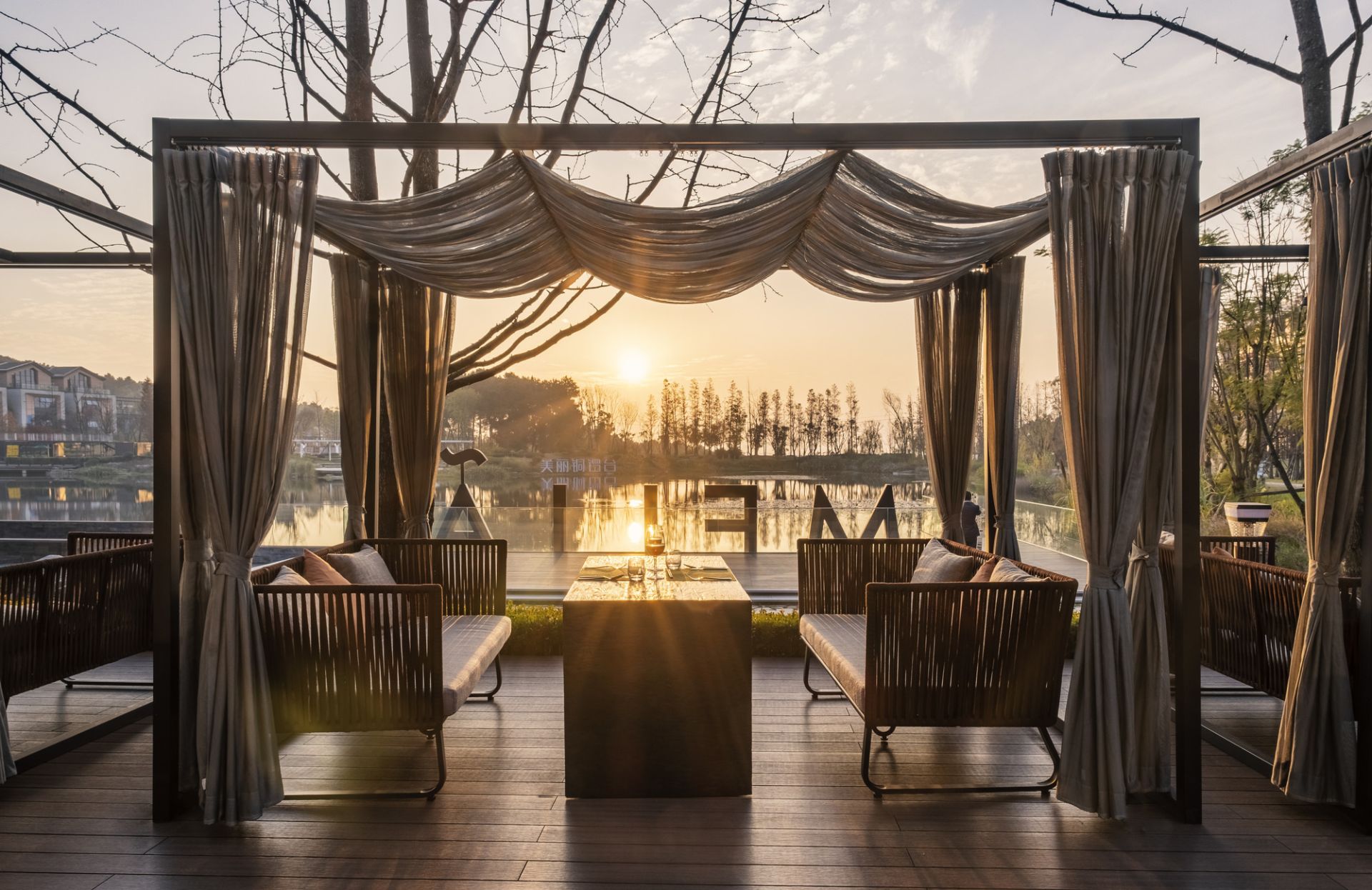 Our design for Meliá Chongqing, a five-star mountain resort in the heart of China's scenic Tieshanping Eco Area, reflects the Spanish hospitality group's award-winning sustainability credentials — and the rich natural resources of the surrounding landscape.
Hidden within a verdant forest and accessed via a winding path through tall cedar woods, everything about our landscape architecture and interior design for this lakeside resort aims to emphasise a calming, seamless connection to nature.

The biophilic theme, a signature aesthetic for Meliá Hotels International, is emphasised via a cross-disciplinary collaboration between our interior design and landscape architecture teams. The result is an effortless extension of the exterior landscape into the heart of the resort's interior spaces — spaces imbued with an architectural simplicity enhanced by the textures and patterns of nature and the use of local materials and indoor plantings of native species.

Client
MCC Real Estate
Location
Tieshanping Eco Area
Chongqing, China
Status
Completed
Year
2021
Scale
46,670 sqm
Design team
David Tsui, Roya Zhuang, Frank Feng, Yang Yu, Shelley Gabriel, Sean Lin, Monk Zhuang, Joiry Guan, Ming Cheng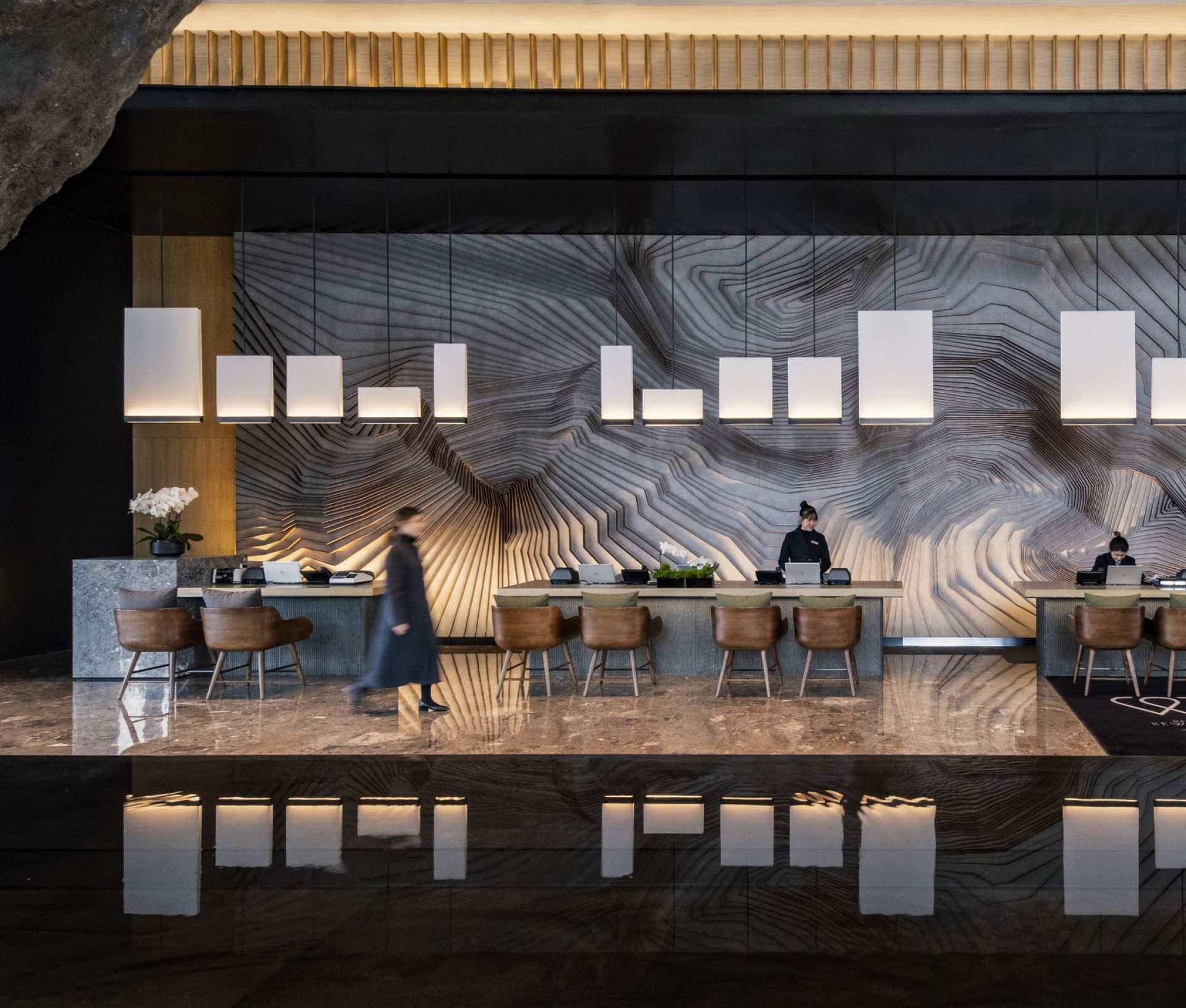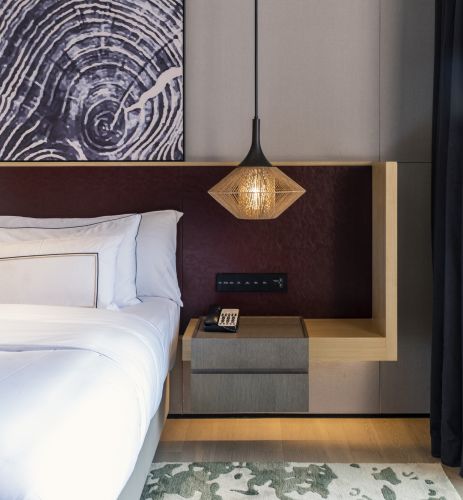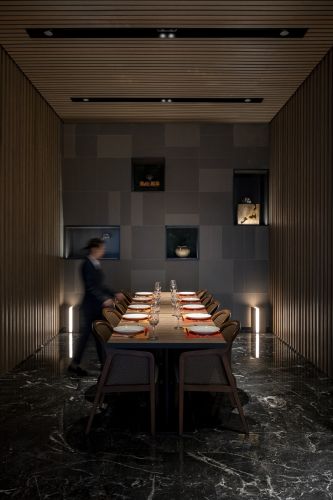 ELEVATING THE GUEST EXPERIENCE
Created around the concept of a floating palace — a nod to the resort's lakeside location and the unique weather conditions in Chongqing, also known as the city of fog — the resort features a dramatic engraved mountain-scape behind the reception area, secluded rooms with water views and floating headboards, a bamboo forest in the atrium of the guestroom building, and a gravity-defying rock installation suspended from the lobby ceiling.
All of these elements combine to elevate the guest experience. The large, modern guestrooms feature open style bathrooms that enable connectivity and flexibility and a true resort-like experience.
Our design builds upon the original landscape topography of Chongqing to truly immerse the built environment within its natural surrounds.
Local stone paving, which flows in a pathway from the exterior to interior, continues the sensation of immersion in nature. At a number of points along the footpath we've embedded a rich variety of wetland plants to further connect visitors with Chongqing's stunning natural setting.
BUSINESS AND LEISURE: THE BEST OF BOTH WORLDS
In addition to the appeal of its lush, green, mountainous surrounds, the resort is also conveniently accessible from the central business district of Chongqing, and so cleverly positioned to meet the needs of the rising ​'bleisure' — business and leisure — traveller (see our report, The Bleisure Principle to learn more), catering to people who may visit for an industry conference and then add a few days to their stay for a post-work retreat.
A spa, a serene, cloud-like swimming pool, and event spaces including a ballroom are just some the offerings available for this growing group of travellers who are blurring the boundaries between work and play.