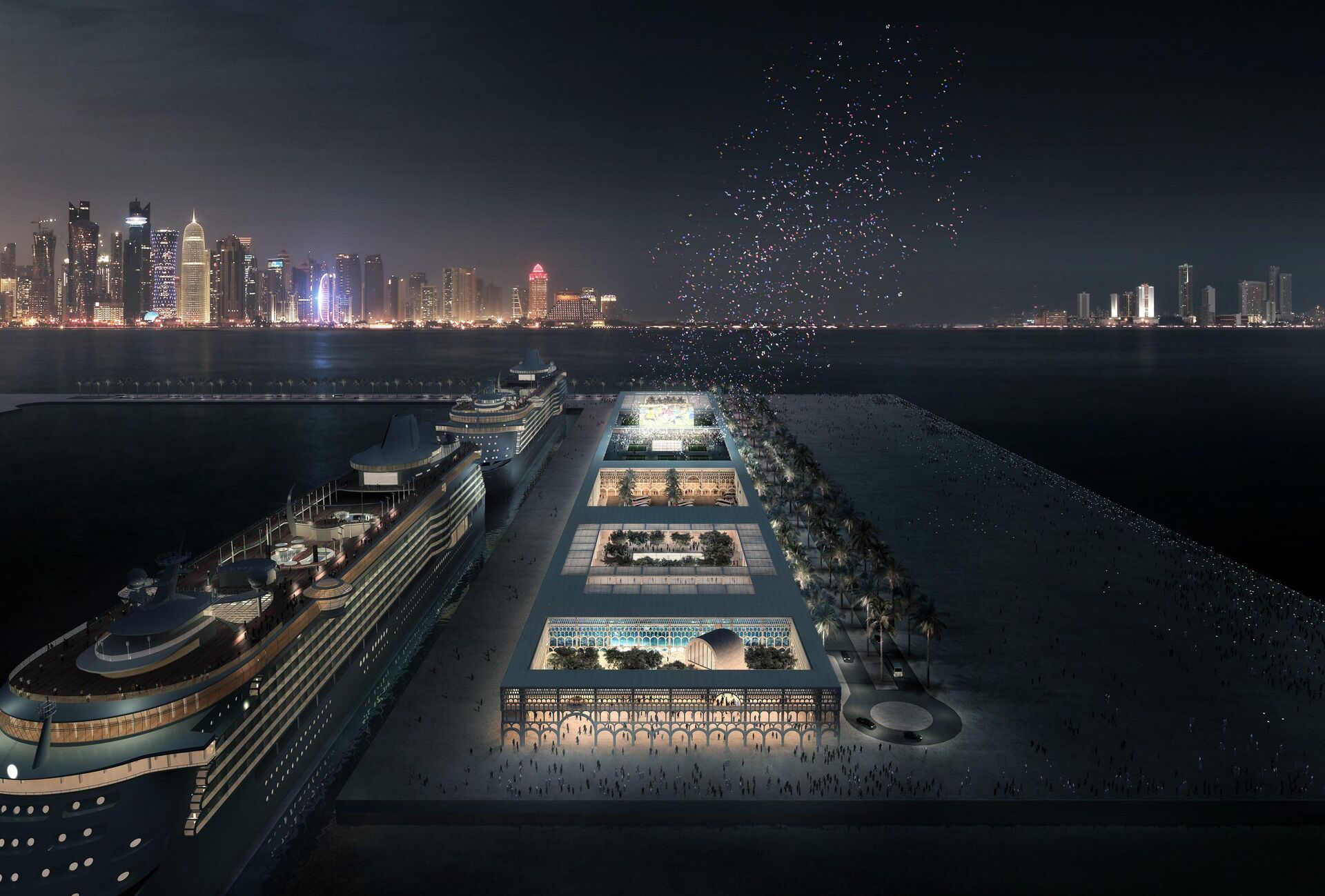 Designed to draw people to the waterfront, the new cruise terminal creates a vibrant new multi-use public place for Doha.
Doha's new Grand Terminal operates year-round as a cultural, civic and leisure facility and as a cruise ship terminal in the winter months. Beyond its elegant architectural statement, its flexible program and design enable a variety of different activities that will make it a much-loved part of the city.
Over two levels, the new building includes a series of large open halls for departures and arrivals and houses major attractions including the National Aquarium and City Museum. Future phases will include a Botanic Garden and Panoramic Restaurant with spectacular views of the West Bay skyline.
These facilities are woven together by a network of public courtyards dedicated to culture, transport and horticulture that will provide each with its own dedicated outdoor space and ​'front door'.
The building façade comprises a filigree of polished concrete arches that define a permeable envelope, which casts a strong daytime silhouette and emits a lantern like glow at night. The arched cloisters will create a ​'holding structure' that allows the building to be delivered in phases.
The open courtyards can also house temporary structures to bring different activities and vibrancy to the waterfront, even before the building is complete.
Client
Supreme Comittee for Delivery and Legacy Doha
Location
Doha, Qatar
Status
Completed
Scale
32,000 sqm
Collaborators
Moffatt Nichol (Port and Terminal Logistics), Dar (Engineers and Executive Architects; Landscape)
Design team
Ashley Munday, Kristijan Cebzan, Daniel Yu, Evelyn Choy, Nicola Albertin, Yirao Lee, Chris Chesters, Elizabeth Makinson, Julia Chang, Eliza de Silva
YEAR
2023
IMAGERY
Studio Lux