The latest addition to the award-winning stadium is a 42-metre-high viewing platform dubbed VERTIGO, opened in early 2022.
The universally accessible platform is designed so everyone can enjoy a unique experience walking beyond the edge of the stadium roof. Our aim was to physically express the pure joy and excitement of seeing your team competing.
Located on the stadium's western side, the platform extends out five metres beyond the roof. Direct lift access ensures everyone can reach this one-of-a-kind attraction.

Vertigo also features a lean-out experience allowing visitors to see out over the field of play as well as the potential for operator-led activities like abseiling.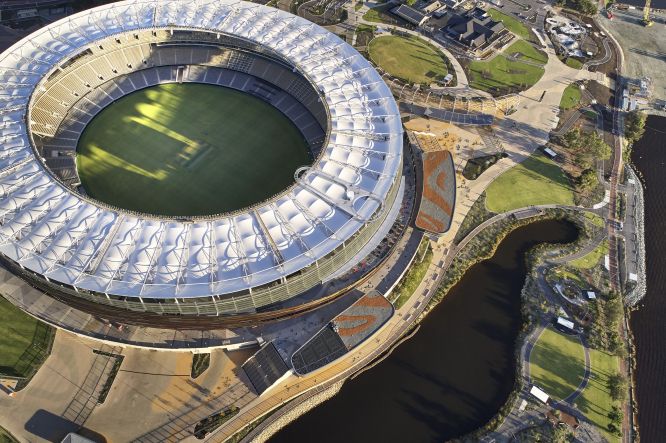 Stadium
Multiple seating configurations for different events – from 60,000 up to 70,000 people
450 wheelchair and 327 enhanced amenity seats
More than 70 food and beverage options
Façade reflecting state's unique geology by day and home team colours by night
State-of-the-art

LED

lighting system
More than 1,000 screens for uninterrupted coverage
Two 340sqm ​

'

super screens'
First all-LED stadium in world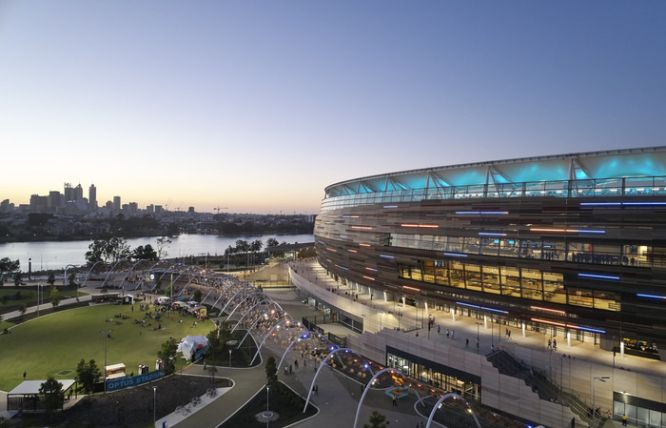 Open 365 days a year – for all kinds of activities and events
Covered community arbour links new Stadium Station to Swan River
More than 150 ancestral homes of Indigenous language communities recognised in artwork throughout stadium and parklands
Children's playgrounds with integrated indigenous artwork
Network of walking and cycle tracks plus more than 600 bike racks
1,500-seat waterfront function room
A public bar and café open for event and for non-event day functions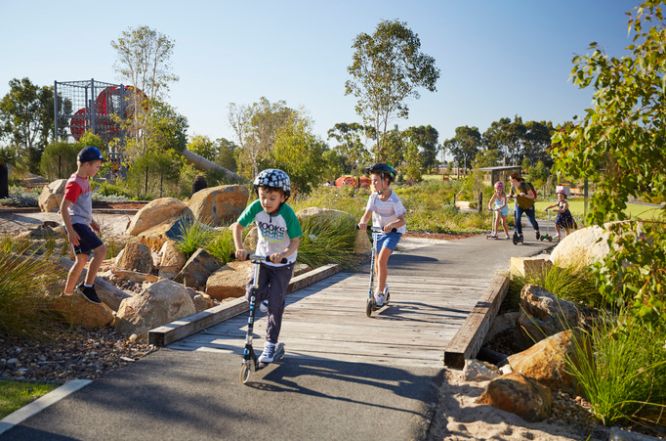 2019 Stadium Awards - Australia's Best Stadium
2019 Stadium Awards - Best

AFL

Stadium
2019 Stadium Awards - Best Major Stadium
2019 Prix Versailles – World Title – Sports
2019 International Olympic Committee, International Paralympic Committee, International Association for Sports and Leisure Facilities (

IOC

IPC

IAKS

) Architecture Prizes – Silver (

IOC

IAKS

) and Distinction (

IPC

IAKS

)
2019 Good Design Award – Gold Winner – Architectural Design: Commercial and Residential
2019 Planning Institute of Australia Awards – Winner – From Plan to Place
2018 The Stadium Business Design and Development Awards – Project of the Year
2018 Australian Institute of Architects National Architecture Awards – National Award – Public Architecture
2018 Australian Institute of Architects National Architecture Awards - The

COLORBOND

® Award for Steel Architecture
2018 Australian Institute of Architects (

WA

) Awards – George Temple Poole Award
2018 Australian Institute of Architects (

WA

) Awards – Colourbond Steel Award
2018 Australian Institute of Architects (

WA

) Awards – Jeffrey Howlett Award for Public Architecture
2018 Australian Institute of Architects (

WA

) Awards – Wallace Greenham Award for Sustainable Architecture