Tanzania's One Heart Village to establish a safe home for 250 vulnerable girls and young women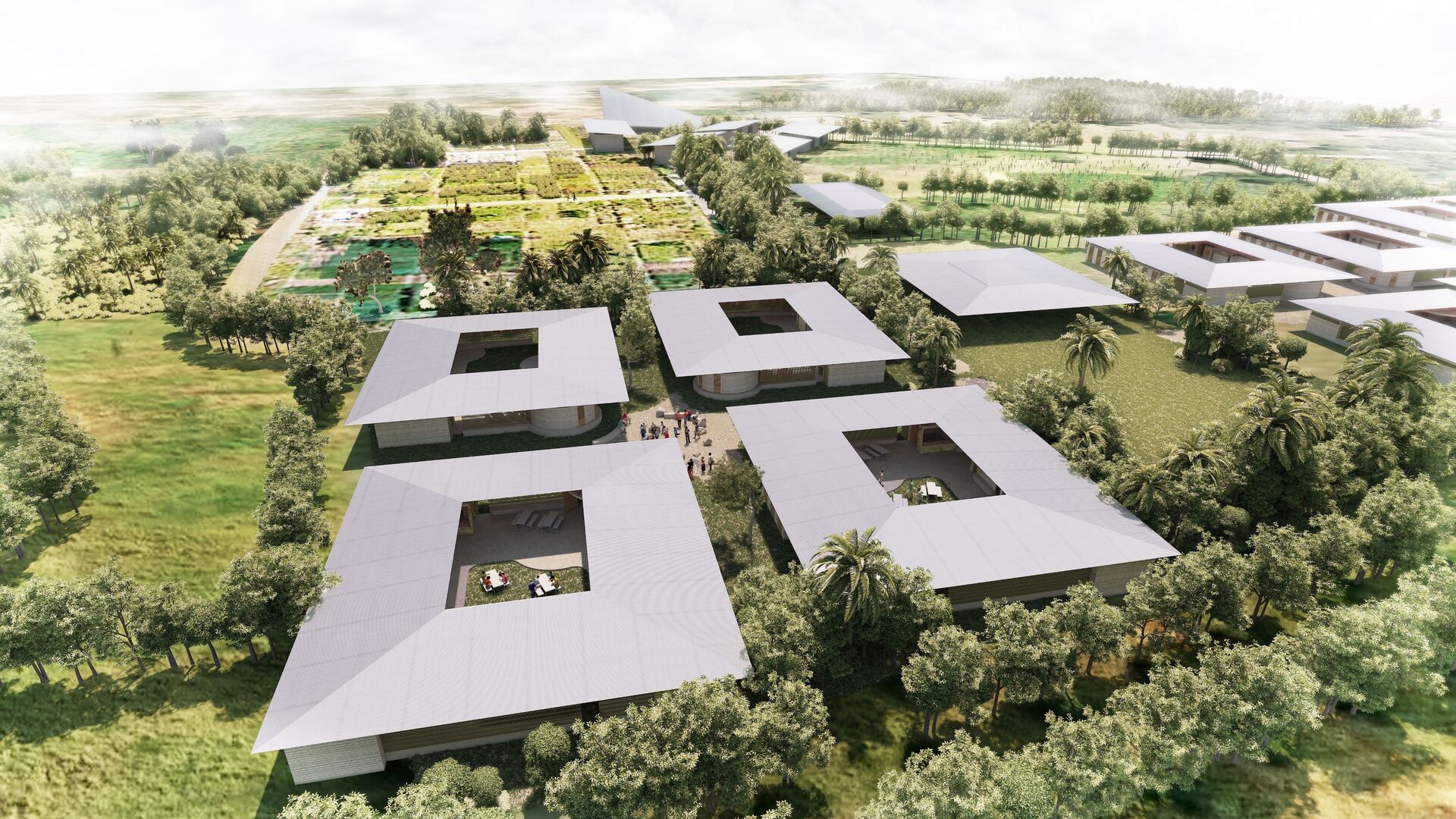 We've marked an important milestone with the official ceremony for the cornerstone laying at the new One Heart Village, Tanzania.
One Heart Village in Dar Es Salaam, Tanzania, aims to establish a permanent, safe home for up to 250 vulnerable girls and young women so they can escape extreme poverty and abuse. Set for completion in 2025, the new development is zoned into housing, play, gathering, education, health, sport, and farming areas across the site. Sensitive and sustainable design makes the buildings and the entire village feel genuinely connected to the location, community and culture.
The passion project was born out of a conversation between philanthropist Simon Costa OA and a local woman (who due to safety issues cannot be named) close to the cause who envisaged housing up to 250 at-risk girls and young women, empowering them to live self-sufficiently off the land. Inspired by this altruism and vision, Simon approached Hassell in 2020 to come up with a design concept, which has evolved and become reality through the not-for-profit One Heart Foundation, and a collaboration with architects ClarkeHopkinsClarke along with Tanzanian firm ALAMA Architecture.

"

About 30 acres of land has been acquired to form the foundation for the masterplan which will provide homes, schools and community facilities for the young women and girls. We are thrilled that the first stage of construction, including the homes, is soon to commence."

— Mark Loughnan, Principal

Our masterplan and building designs comprise 10 homes across the quarters, each housing 24 girls and young women. All buildings are sustainable and self-sufficient, with natural ventilation, solar panels and water retention. Local materials are used throughout, celebrating local craftspeople and techniques. Each dwelling has a house-mother and is designed to emulate a family home. When complete, One Heart Village will provide safe housing, a high school, a sports and soccer field, a community centre, and day care set within the site.
"

I am so excited. I feel like I am already at the village hearing the voices, excitement and the continuous joy of our girls. [Your design] covers almost everything that I have dreamed of."

— said the local woman when she saw the original concept (and cannot be named due to safety concerns)


The President's District Commissioner Mr Nickson John Simon kicked off the launch on Tuesday March 21 and was joined with Village Elders and national media to share the story of this important project across Tanzania and the region.

One Heart Foundation is an Australian not-for-profit organisation that was established in 2007 and works in Kenya, Uganda and Tanzania. One Heart's primary focus is to change the future of vulnerable and abused children living in poverty in East Africa, and in turn see whole communities transformed through education, leadership, empowerment and most importantly — love.