Big changes ahead for Perth Zoo as construction commences on its new Playground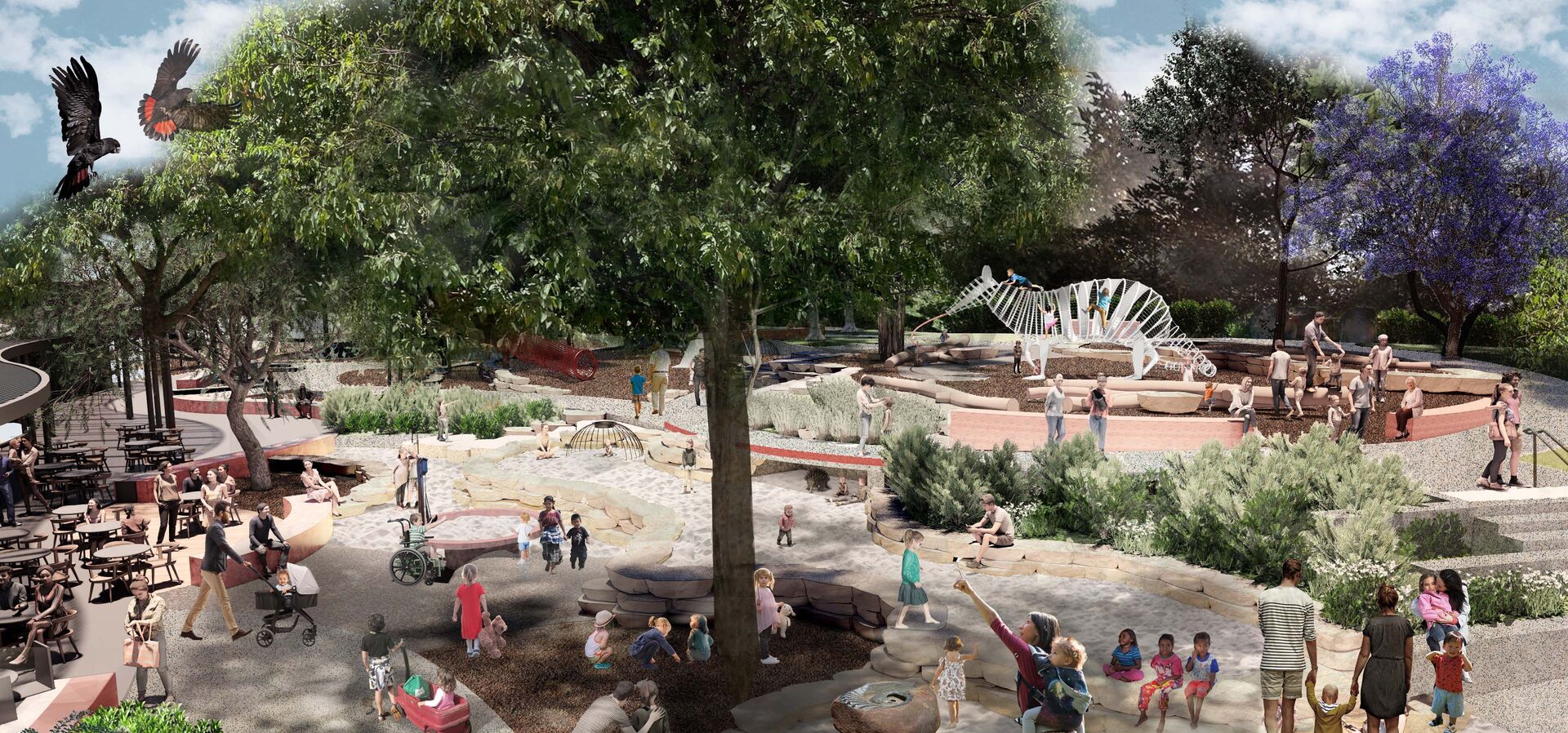 Climbing, swinging and birds' eye views from the clouds are soon to enhance the playful experiences at Perth Zoo on Whadjuk Country in Western Australia, where construction has commenced on the Hassell-designed all-ages, all-access, nature-based Playground.
The $3.8 million playground is part of the first delivery phase of the Zoo's Master Plan 2040 — a comprehensive and ambitious project aimed at enhancing the Zoo's facilities and experiences for visitors, while also focusing on animal welfare, conservation efforts, and community.
The Playground is designed to mimic and celebrate the animals at Perth Zoo, bringing visitors closer to nature while highlighting the important conservation work the Zoo undertakes. It features playful, interactive elements such as a climbable giant Numbat, rope tunnels, swinging ropes and feather hammocks, as well as model cockatoos flying over an elevated ​"Cloud Deck" equipped with a cooling mist system that simulates the feeling of being in the clouds.

Set to complement the new café at the heart of the Zoo, the new Playground is expected to be completed just in time for the Perth Zoo's 125th birthday later this year.
Perth Zoo's Master Plan 2040 has been designed by Hassell in collaboration with Iredale Pedersen Hook and outlines a series of inter-connected projects that align with the Zoo's future growth and strategic goals over the next 20 years. These projects aim to enhance exhibits, upgrade the grounds, and improve the overall visitor experience while ensuring the welfare of the animals and prioritising conservation efforts.
Following the completion of the nature-based Playground later this year, the next stage of the Master Plan will see construction of the Primate Run, due to start in 2024. This innovative crossing will provide overhead rope pathways for Gibbons, allowing them to explore and swing in an expanded territory. As well as improving the welfare of the Gibbons, the Primate Run will offer an exciting experience for Zoo visitors as they pass through the primate area.
Other planned developments in the Master Plan include the expansion of the African Savannah exhibit, Orangutan Asian Rainforest Precinct, and the Conservation Science Precinct. Each of these stages will further enhance the Zoo's position as a global conservation leader and a vital community educator, while providing visitors with enriching and captivating experiences.
Location
Australia
Date
August 10, 2023
"

Construction of the new playground is another exciting step into the future for Perth Zoo and I'm proud to see it start to come to life. The new play space will be fun, vibrant and educational. It will allow Western Australian children and their friends to connect with nature and explore."