Verdant ecosystems and resilient cities: lessons from the subtropics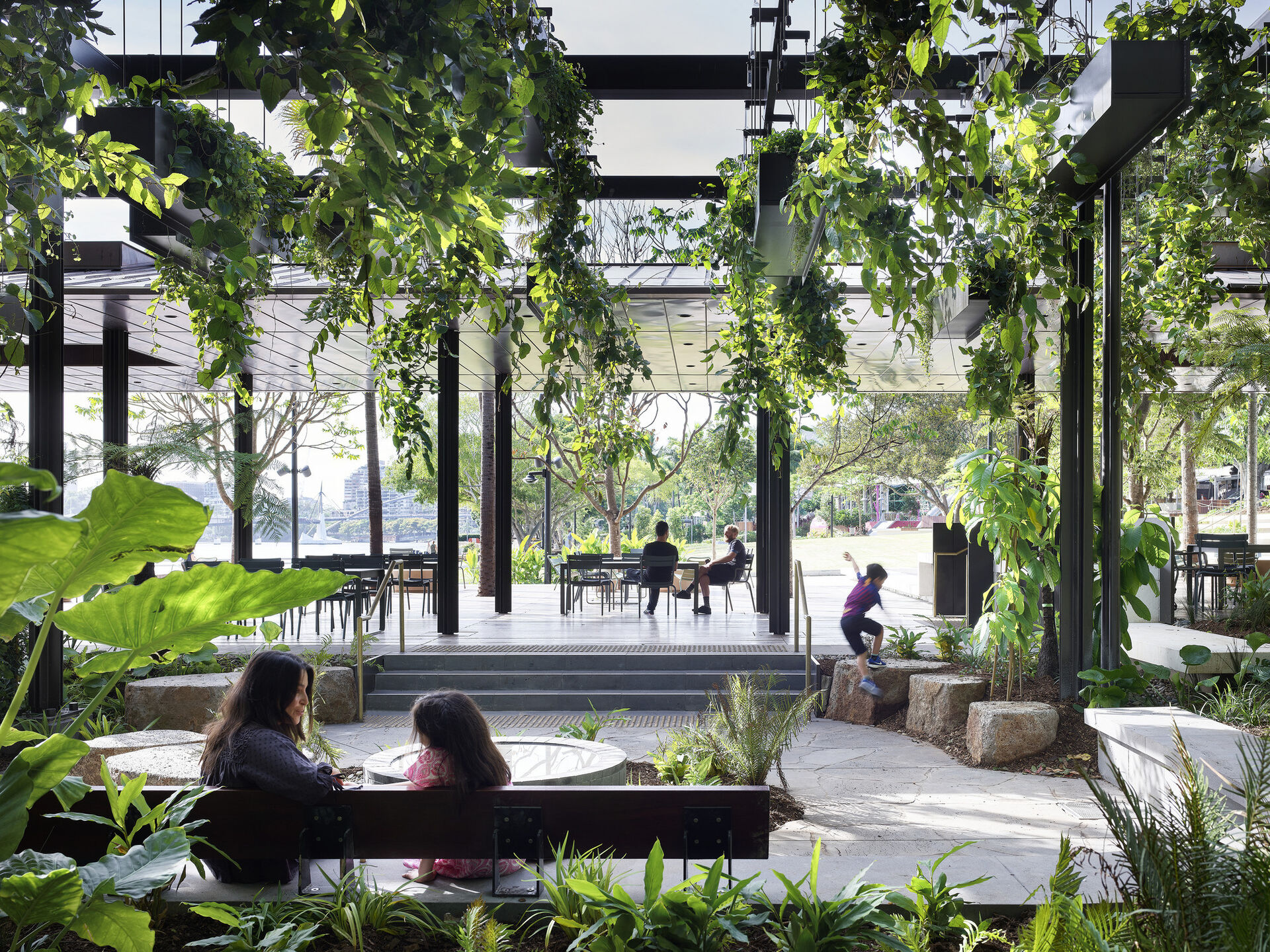 Perched between the mountains and the sea on Australia's Pacific coast, South East Queensland and northern New South Wales exist in a subtropical ​
'

sweet spot'.

Here, we find ourselves in a unique climate, where health-giving nature connections are enabled by year-round outdoor living culture. Our subtropics support an ever-expanding appetite to be together as communities in public spaces, giving rise to a unique indoor/​outdoor architecture, and to shade-giving parks and gardens.

Places like Riverside Green (pictured above) and the Herston Surgical, Treatment and Rehabilitation Service (pictured below) encapsulate a verdant urban culture, embracing common, flexible spaces while connecting fluidly with nature right in the heart of the city.

But our climatic ​'sweet spot' is shifting.

We are warned to expect hotter days, longer heatwaves, more flooding, wilder weather, more ecological degradation, and sea level rise as part of climate change. At the same time, Shaping SEQ — the Queensland government's plan to shape the future growth of South East Queensland (SEQ) — tells us we need to accommodate an additional 2.2 million people by 2026 within a compact urban footprint.

More people, more density, in a hotter place with wilder weather and more frequent floods: in a bleak dystopian scenario, we might adapt to these changes by building over natural ecosystems and greenspaces, further engineering our creeks, ramping up our use of air-conditioning, locking ourselves inside and building levee walls; a ​'target-hardening' approach that uses more resources and expends more carbon.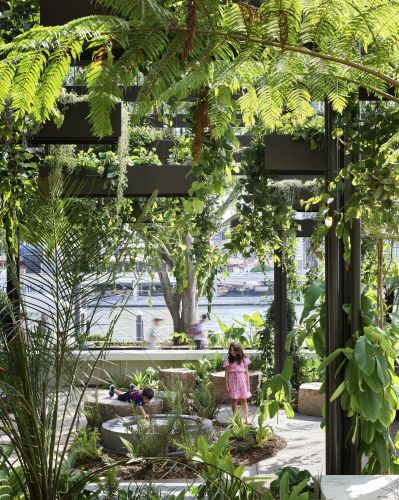 What if, instead of using more of our city's scarce resources and finances to fight climate change, we work harder to strengthen our natural ecosystems?
By investing in our natural ecosystems, we continue to enrich our networks of open community spaces, while reducing our carbon emissions and planning for extreme event recovery. Looking at South East Queensland as an example, we can unpack how this could possible.
Covering 240 kilometres of Australia's coastline from Noosa in the north to the Gold Coast in the south, this area of 24,081 km2 is laced with creek corridors which are framed by fragmented green. Steadily, urban sprawl is eroding these natural systems. So, what's the solution?
By connecting, rewilding, and fortifying our blue and green corridors we could help mitigate flood impacts and ecology destruction.
These vital east-west, green and blue links could augment our predominantly north-south running settlement pattern and be combined with green streets to create a mesh of active and low impact green connectors, while greatly improving our community space networks. New, denser infill housing could be focussed around these areas, maximising access to green corridors as healthy living resources. Denser housing would also counter urban sprawl and could be designed appropriately to ensure protection of ecological corridors.
A ​'green grid' of cool, tree-lined, shaded streets, where water is filtered not channelled, could connect to our ecological corridors.
Completing this ​'green grid' could be buildings and spaces that ​'breathe green', cooling and shading our urban environment while providing us with the outdoor lifestyle we love in both our private and public spaces. All of this could be overlaid with a network of safe spaces for disaster management and community resources in the places where we need them.

This work would future proof our environment while simultaneously strengthen our ecological systems and improve their chances of ​'bouncing back' from climate related shocks. Ecological diversity, habitat and human health are supported while our cities are cooled, flood impacts are reduced and most importantly, communities have even more spaces to come together — strengthening our capacity to recover from severe events by providing expanded community disaster resource.
It's vital that this conversation around alternative city design approaches is held far and wide.
Identifying ways to adapt and mitigate against climate change throughout our region will ensure a holistic approach that strengthens what we all love about living here, rather than eroding it.
The actions that warm-climate zones like ours are taking now will become more relevant to cities and communities around the globe as we face universal warming of our urban centres.
These ideas were presented by Caroline Stalker at the 2023 Planning Institute of Australia, Queensland State Conference, Gold Coast, 13-15 September, under the title, Designing the 21st Century City In Nature: Prospects for a Climate Resilient Urbanism in SEQ.