Snøhetta + Hassell design a new future for Harbourside in Sydney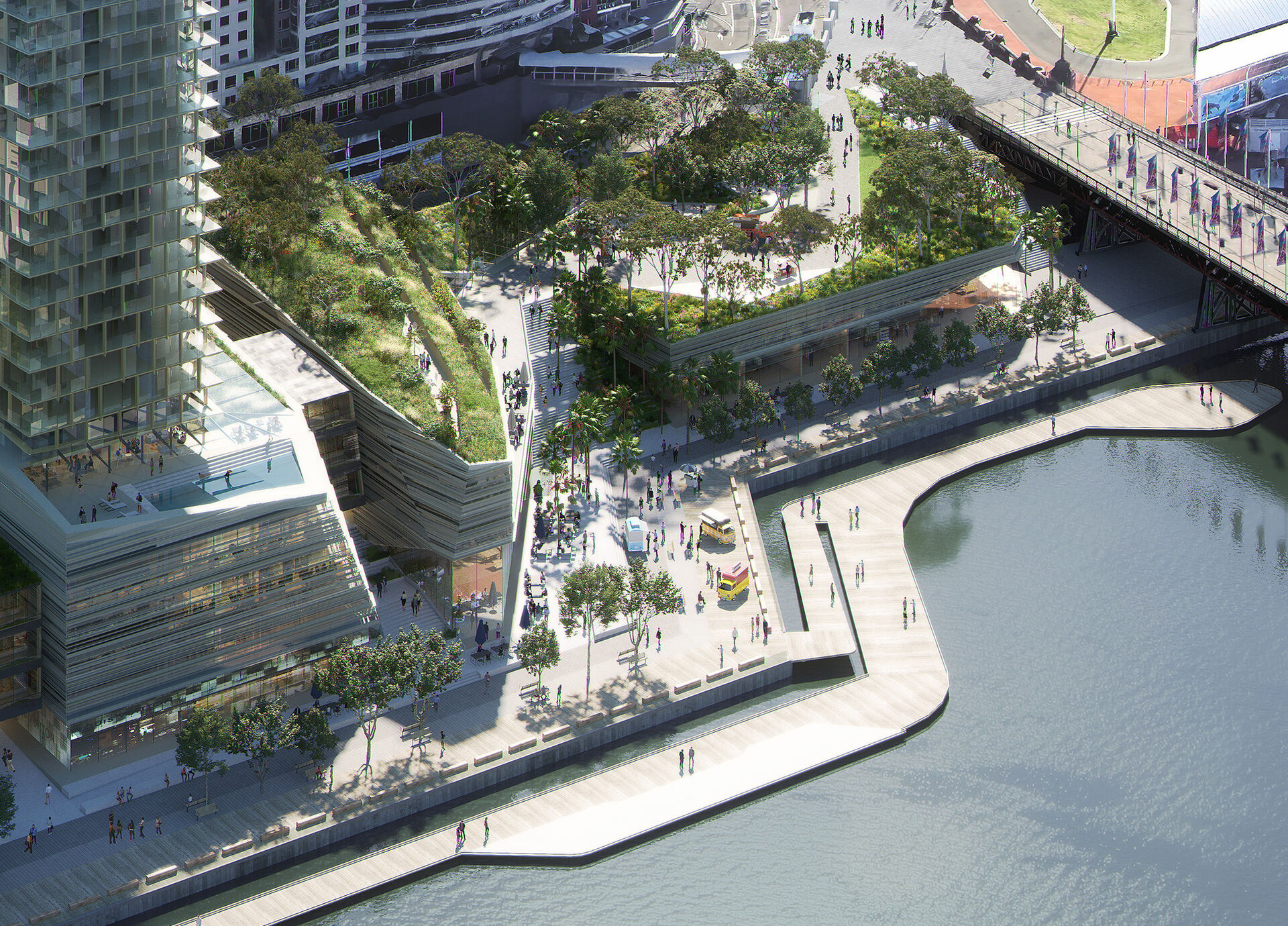 Design collaborators Snøhetta + Hassell have won an international competition to transform Harbourside, a retail development spanning over 240 metres of Sydney's waterfront at Darling Harbour.
The concept aims to create an iconic, inviting destination and one of Australia's most sustainable precincts, in line with property developer Mirvac's vision for Harbourside.
A mixed-use redevelopment will combine premium shopping, hospitality and entertainment with a 42-storey, high-end residential tower, along with upgrades to public spaces on the waterfront and a new public square connecting the precinct to Pyrmont Bridge.
The competition's jury said the Snøhetta + Hassell entry was selected for embracing a vision of Harbourside as a place that brings people together.
Our concept is defined by a network of welcoming open spaces for public use featuring natural materials and vegetation. At its heart is Guardian Square – a space that will become Pyrmont's new neighbourhood park and a vital community meeting place, just as it was for First Nations people living in and around the area for thousands of years.
The diverse Snøhetta + Hassell team brought together architects, landscape architects, interior designers, art curators, product, furniture, and graphic designers, and experts in social, financial, and environmentally sustainable design and research.
Dr Daniele Hromek from Djinjama Indigenous Corporation was integral to the group, consulting on all aspects of the design and expanding our understanding of how to design for ​"Connection to Country" at Tumbalong, now known as Darling Harbour.
"This concept continues the tradition of shared public space, honouring the First Nations' Gadigal and Wangal people who saw this as shared country", added Kaare Krokene, Managing Director of Snøhetta Australasia.
"

The landmark Sydney site has a long, rich, and layered history, which provides a unique context for world-class architecture and place-making to inspire future story creation"

— Principal Liz Westgarth

Construction of Snøhetta + Hassell Harbourside is expected to start in 2023 once approvals are secured.