National Gallery of Victoria and Hassell collaborate on Melbourne Now exhibition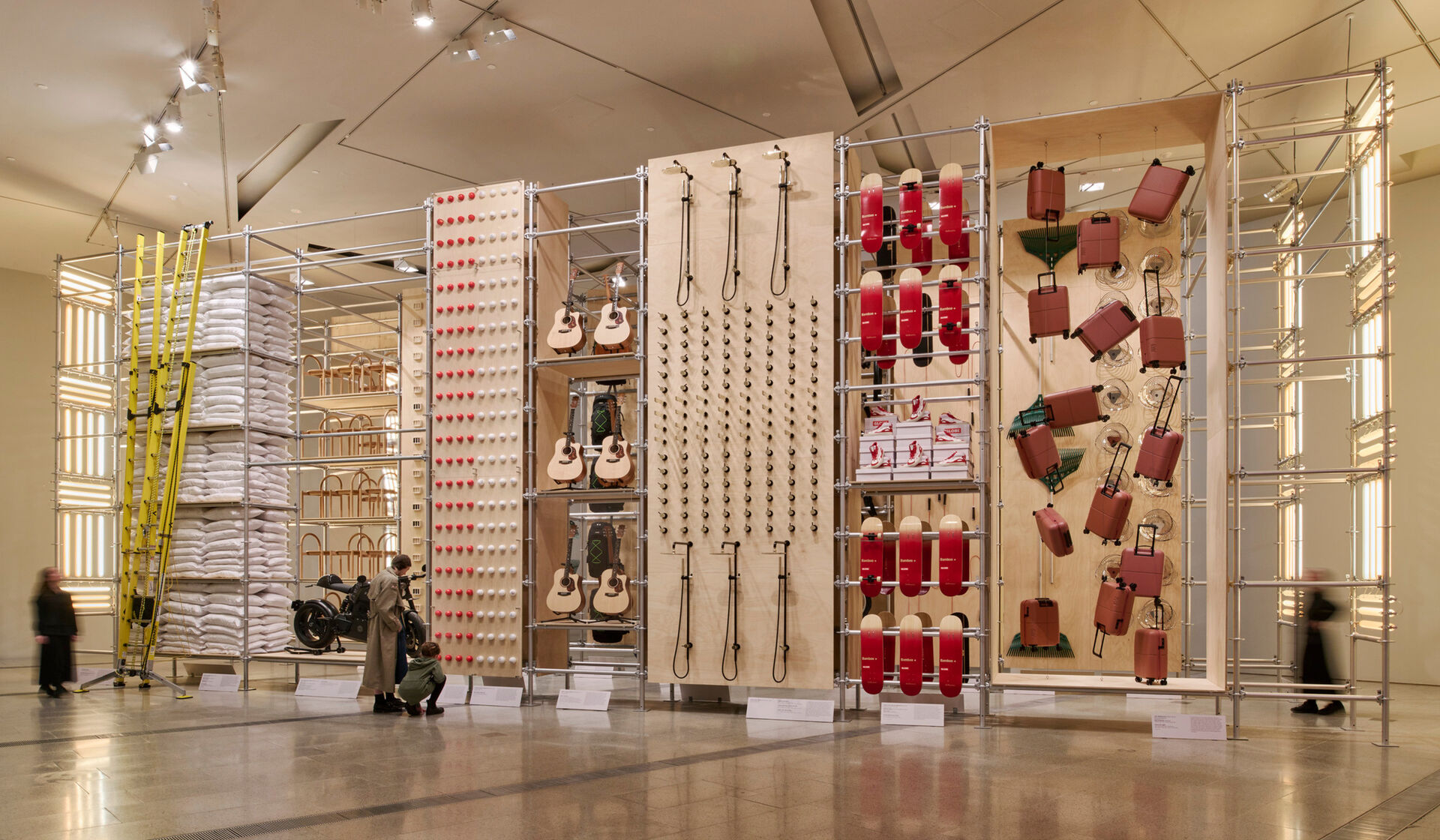 In a city renowned for its creative energy, the NGV invited Hassell to collaborate on the exhibition design of the Design Wall 2023 an installation celebrating innovative product design from Melbourne as part of NGV's Melbourne Now exhibition.
Design Wall 2023, is on display until 20 August at the Ian Potter Centre: NGV Australia as part of the ambitious Melbourne Now exhibition which showcases the extraordinary talent of more than 200 Victorian-based artists, designers, studios and firms.

Offering insight into the factors influencing contemporary product design in Melbourne, the collection on display as part of the Design Wall 2023 seeks to demonstrate how everyday goods can embody the qualities of place and the value of those who live there.

Designed to be disassembled, the six-metre-high installation consists of a galvanised scaffold framework with raw ply inserts — an ode to the first iteration of the Design Wall conceived by architect Edmund Carter and curator Simone LeAmon in 2013 for NGV's inaugural Melbourne Now exhibition.

In this iteration, the installation is placed diagonally through the centre of the gallery, which allows products to be viewed from every angle and creates an immersive experience for visitors. It's an installation that celebrates the spectacle of mass-production and the discovery of design details.

​"We wanted the Wall to speak the same language as the products it would showcase – and so looked to systems that were already in production and fixings that could be purchased off-the-shelf," says Prue Pascoe, Associate at Hassell.

"

Deliberately elemental in its detail, the Design Wall 2023 provides an orderly backdrop to the colour and pattern of the product design displayed en masse."

— Prue Pascoe, Associate

To limit waste, we rented the galvanised scaffold and sized display bays to suit a ply sheet width. Proprietary brackets enabled ply sheets to be fixed over the frame, not cut around it. Nothing is custom, ply is left raw, fixings are mechanical and the wall is sized to a standard scaffold system. Cables, connections, fixings and ply sheet edges are all voluntarily exposed. Upon exhibition completion, the products will either be re-homed or donated, redistributed or taken back to the manufacturer for on-sell.

Curated by Simone LeAmon, Design Wall 2023 explores how society, culture, geography and marketplace interact to influence what is being designed in Melbourne through four themes: Change and Stability, Localities and Markets, Process and Proximity, and Creative Currents.

Thirty-five projects by twenty-five design studios are on show, spanning new product models and product iterations from the homewares, healthcare, trade, sporting, furniture and lifestyle sectors. Design Wall 2023 offers a view into how Melbourne designers, companies and brands are taking their products from concept to market — and making valued contributions to the dynamic landscape of applied creativity in Melbourne.

The Design Wall 2023 is free to enter and is located at The Ian Potter Centre: NGV, Federation Square. Melbourne Now runs until 20 August 2023, open 10am-5pm daily.