Hassell wins two of the top five Singapore Landscape Architecture Awards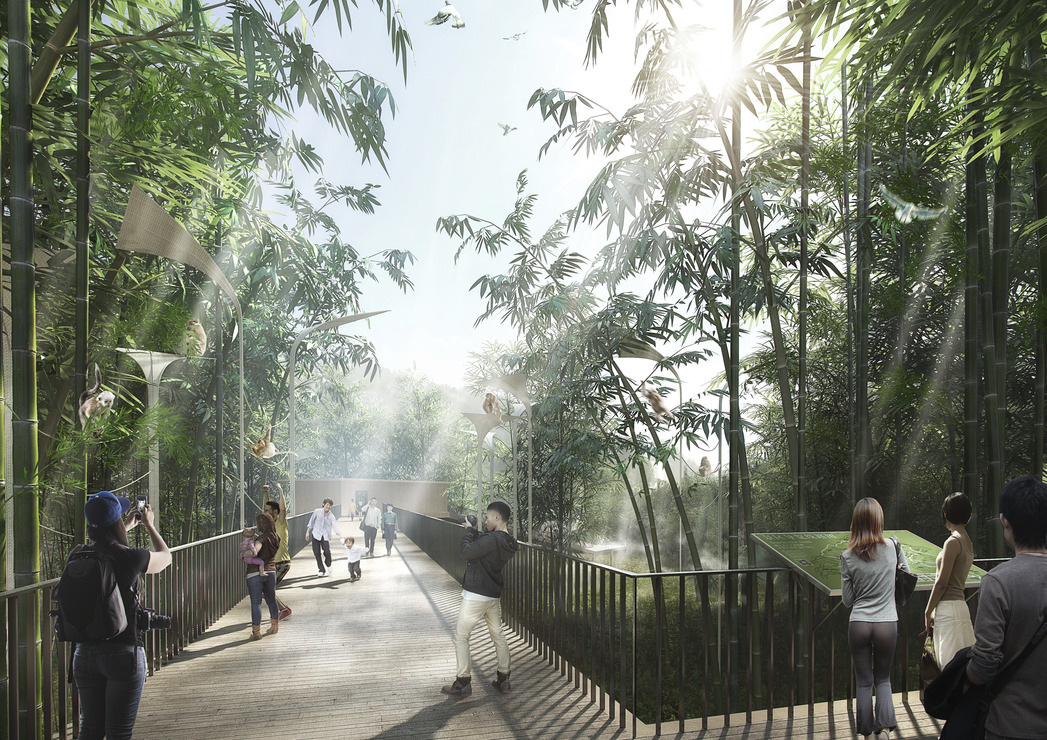 Hassell has received two of the top five awards presented at the 2019 Singapore Landscape Architecture Awards gala held at Raffles City Convention Centre on 26 September; with the Chengdu Panda Land Master Plan, China, and Collect and Connect: Resilient South City, San Francisco, both receiving Outstanding Awards of Excellence for Analysis and Planning.

The Hassell-designed GSK Asia House, Singapore, and Darling Harbour Public Realm, Sydney, also received Silver Awards in the Commercial Landscape and Parks and Recreational Landscape categories respectively.

The awards jury praised the Panda Land Master Plan's holistic scheme for prioritising conservation, saying it presents ​"a very strong vision" for Chengdu's environmentally-sensitive and sustainable development that includes community education, physical planning, promotion and branding that recognises and builds upon the attraction of the giant pandas.

​"As a landscape master plan, it succeeds in formulating key strategies, and fulfilling them by creating a large variety of spaces for different experiences, using nature to link the various important panda habitat areas with a consistent story for visitors," the jury said.

With ​'Resilient South City', the jury were impressed by the way the project ​"galvanized collaboration and inspired a roadmap" that presents a new paradigm in designing for resiliency, to tackle the larger issues brought about by climate change and weather conditions.

​"This scheme is a very comprehensive, sensible community-centric approach with understanding of the existing community. It turns the natural elements into potentially excellent public spaces, used as mitigating measures against flooding. This proposal reinforced the notion that public spaces are key to building resilience in the areas of Water, Ecology, Community and Emergency," the jury said.

Hassell Head of Landscape Architecture Angus Bruce said the awards signify the great importance Hassell places on renewal, resilience, and sustainability in design and their relevance in South East Asian cities.

​"In Singapore, and across the wider region, landscapes that function beyond ​'green amenity' are vital. We must design-in and maintain natural systems – as essential ​'service providers' within the built environment – to help clean the air and water, mitigate the impacts of weather events, and sustain vulnerable urban ecosystems." Angus said.

​"It's through the work of SILA and other industry programs that the crucial contributions of landscape architects are given greater prominence. These awards are a testament to our team's ability to create landscapes that positively impact the wellbeing of their environments and the wider community," he said.

The biennial Singapore Landscape Architecture Award aims to showcase the best works of the Singapore Institute Landscape Architects (SILA) recognised practices and promote landscape design innovation across various disciplines. In 2019, SILA received a record 76 project entries.

Imagery by Hassell, Hassell+, Peter Bennetts, and Simon Wood.
"

It's through the work of SILA and other industry programs that the crucial contributions of landscape architects are given greater prominence."