Back to the future — of work: Can design boost productivity and solve the empty office crisis?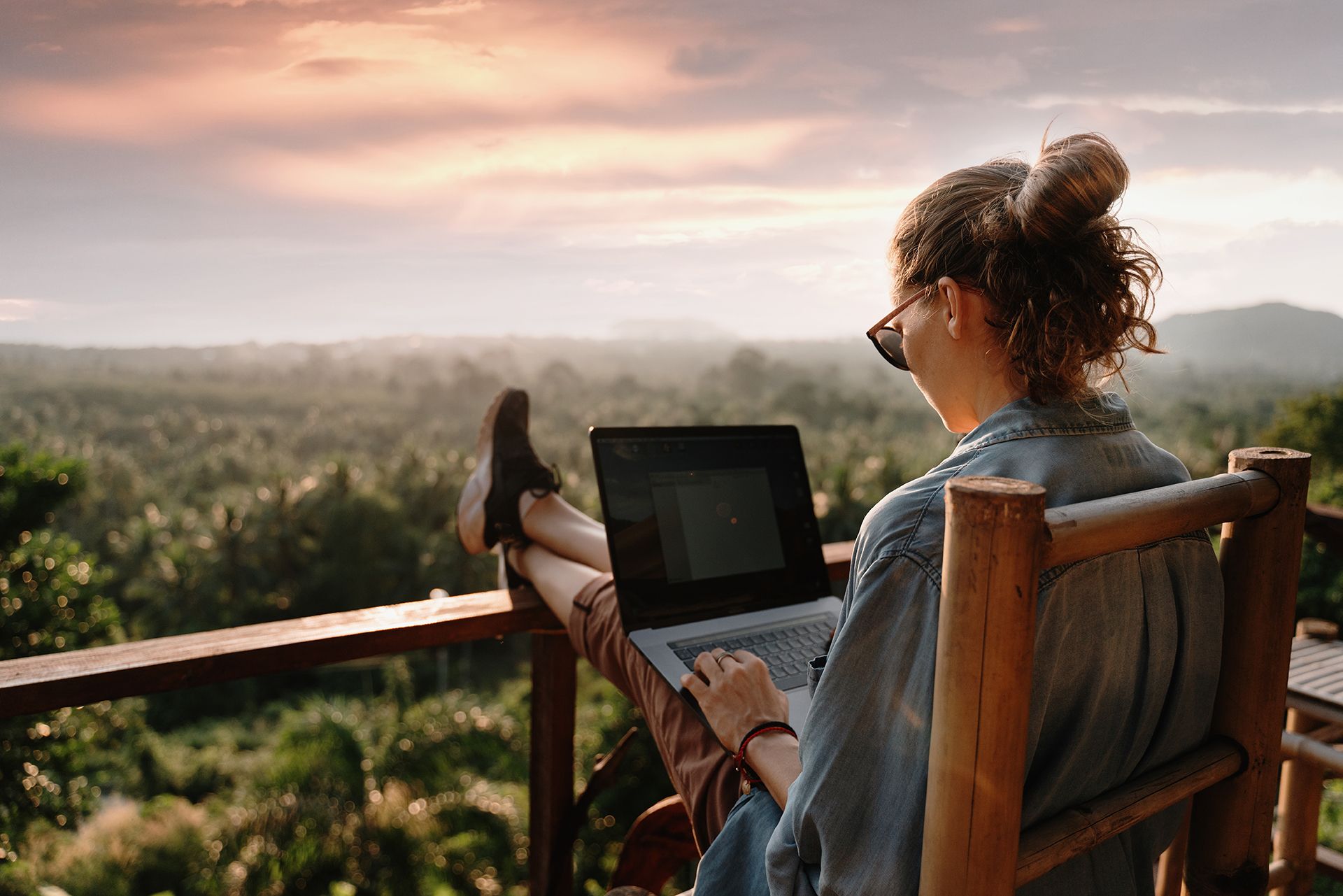 Are your feet back under the desk? Getting your holiday-dazed head into work-mode for 2023?
While many of us reconnect with colleagues and stoke the productivity engines after the festive season and a well-earned break, we're also noticing how the office landscape is changing.
Working from home? Logging in at the beach? Heading into the office? Or mixing it up? There's no one way to work since COVID shook up the world of work.
Across the globe, hybrid working has become the norm. Business owners, leaders, and commercial property landlords are juggling staff and/​or tenancy requirements vs empty floor space and wondering how they can entice more workers back to the office.
We take a look at recent news articles and research reports that offer post-pandemic work predictions, observations on what makes workplaces attractive, and whether there's an upside to the downturn in downtown office desirability. These insights tally with findings in our latest research reports into ​'magnetic workplaces' and ​'hybrid working'.
Our 2022 Workplace Futures Survey asked thousands of employees and employers what would make the post-pandemic office attractive. The results hold the keys to creating ​'magnetic workplaces' that attract and retain happier, more engaged workforces.
Time Well Spent identifies key social trends and scenarios emerging as hybrid working reshapes urban and regional development patterns across the globe.
Bloomberg offers three predictions for a healthier, happier, more productive workplace as ​'a new model of where and how to work is emerging'.
1. Consign presenteeism to history. ​"What matters is creating a culture of trust and transparency between bosses and employees to reach solutions, not as dry policy but by mutual agreement. There's no place for ​'flex-shaming' in 2023".
2. Make hybrid work, better. Property consultancy JLL's global data suggests ​'some 25% of hybrid workforces feel socially isolated and 59% expect wherever they work to pay attention to their health and wellbeing'. Joanna Swash, Group CEO Moneypenny, has built a pub in her Wrexham headquarters in Wales to make her office as attractive as possible. Despite that, she's all about balance and wellbeing, whatever the workplace. ​"I'm a big believer in the office, but I'm also a big believer in wherever somebody's working, it's got to be the right environment for them."
3. Make spaces inviting. Smart employers and property owners are taking cues from hospitality to create workspaces that are big on conviviality. If ​'culture' is a manifestation of both purpose and people, it can be meaningfully enhanced when the workspace offers inviting, shared social spaces for more than just meetings, snacks, hot drinks and occasional face-to-face contact.
'

People need a reason to come to the office. That reason is simple: Other people.'
Forbes also echoes the importance of the social workplace in their recent article ​'What Offices and Employers Can Learn from the Hospitality Industry'.
"With the increasing importance of a more holistic work experience, now is the time to find ways to make the workplace a destination with hospitality-focused and wellness-forward amenities and spaces."
"

Employees want and need an office experience they consider valuable — something worth commuting to… Focus on what works for employees and how to ensure they have a purposeful return to the workplace."

By embracing the welcoming ethos of the hospitality industry, employers and property managers can dial into the desires of their workforces and deliver inviting spaces complete with impactful amenities. We call these ​'magnetic workplaces' and the results of our 2022 Workplace Futures Survey reveal the keys to creating spaces that make for happier and more engaged workforces.

"People have spent a long time working at home and are expecting more from their workplace. They want more fresh air, gardens and green space, quality coffee, social spaces and time to focus without distraction — all the things they get when working at home."
"

Home has become more like the office so the office needs to become more like home."
All of these predictions hold potential for forward-thinking businesses and future-oriented commercial property owners with top tier premises, but what of the tracts of older and less than optimal office buildings that make up the majority of our cities? The ones where landlords stubbornly refuse to upgrade facilities, often opting to leave buildings empty in the vain hope things will return to the way they were before COVID hit.
On a city-wide scale, a glut of empty commercial buildings and the corresponding drop in commuters and foot traffic has dire consequences for urban areas including downturns in retail, food and beverage hospitality, and city services as well as a potential uptick in crime and dereliction.
Our Singapore-based Senior Associate Razvan Ghilic-Micu has been busy investigating the renewal prospects for existing buildings in his paper: From Ordinary to Extraordinary – Toward a New Iconicity. In it, he outlines six essential steps that can transform mundane buildings into sustainable landmarks through bold, architectural interventions.
"

Positive change can be incremental and tactical, from the scale of a single floor light-touch intervention to a more holistic rejuvenation of an entire precinct."

"As cities are moving into a post-pandemic future, there's a growing appetite to move the needle on the development of more sustainable buildings in a controlled and tangible way, focusing on measurable outcomes," says Razvan.
And there's promise beyond commercial rejuvenation. Business Insider reports on ​'the architect whose algorithm could solve the crisis of America's empty office space' – and beyond.
Driven by an interest in sustainability and urban resilience, Stephen Paynter, a principal at international architecture firm Gensler, has created an algorithm to assess whether offices can be converted into apartments. Location, existing layout/​s, and the feasibility of updating the exterior and arrival spaces are all contributing factors in conversion viability.
The algorithm also has potential to help solve the housing affordability crisis. Most urban centres lack sufficient housing, so turning office buildings into apartments helps add units that can be made available for rental or purchase.
"

If we can find the perfect buildings for conversion, you start to be able to correct the market, you start to be able to bring people back to neighborhoods."
— Stephen Paynter
"And then, actually, the demand for the remaining office buildings goes up, because you're creating scarcity by taking some out of the market."
A triple win! For people, business and a sustainable future.
This data-driven innovation tallies with the findings in our latest research report Time Well Spent. As well as highlighting how hybrid working is re-shaping urban and regional development patterns across the globe, this report outlines unique opportunities for ​'spaces well used' in central business districts, satellite cities, suburban centres, small towns and rural areas.
"

By analysing the benefits and trade-offs of key social trends and development scenarios emerging in the aftermath of the pandemic we can start to proactively plan and design to ensure our time is well spent, our places are well used, and our communities are well connected while also protecting the health of the planet."

— Hassell research lead Camilla Siggaard Andersen
Download the Time Well Spent report