Over 80+ years we've worked on projects of every scale and type, from iconic public buildings to entire city precincts – and everything in between.
Back in 1938, Hassell was founded in Australia by a small group of architects with a big vision. Today, we're a multi-disciplinary design practice with a talented team working together around the world.
There have been many highlights along the way. More than anything, we're proud of the many exceptional places we've created with clients and collaborators over the decades. That body of work and accumulated experience are the foundations for our practice today - and tomorrow.
Our history
1938, Bank of New South Wales, Adelaide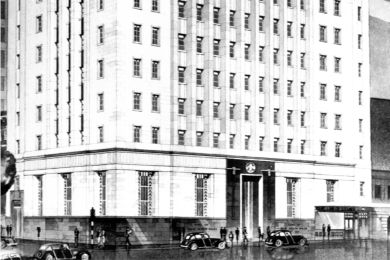 One of the city's tallest structures and earliest examples of modernism, the bank was refurbished by Hassell in 2013.
1949, International Harvester, Dandenong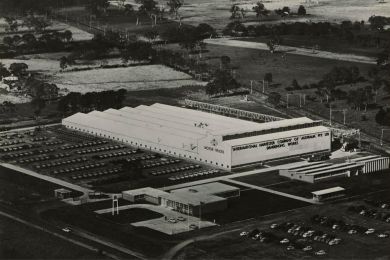 The company still operates out of the building - a typical modernist, industrial design by our practice at that time.
1955, ANZ Bank, Adelaide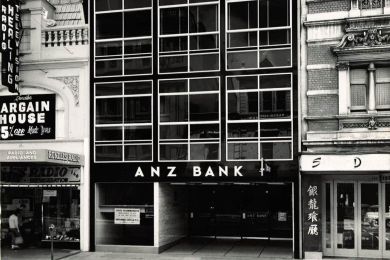 With a paneled façade of tinted glass and aluminium-framed windows, this bank has stood the test of time - and still sits on Adelaide's best-known street.
1955, Kodak Offices, Adelaide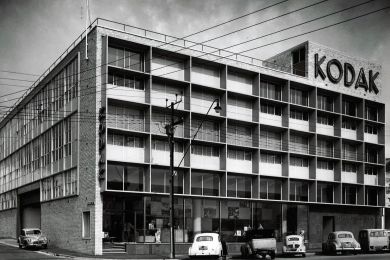 Originally an office and now a hotel, this classic design is still providing Kodak moments more than six decades after its completion.
1963, Channel 0, East Burwood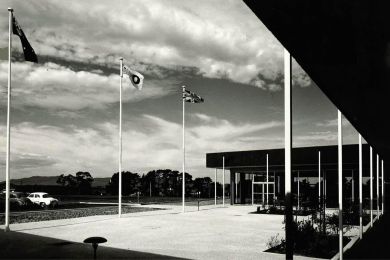 The modernist design won the 1965 architecture medal from the Royal Australian Institute of Architects. It's still standing - now home to Channel 10.
1965, Adelaide Festival Centre, Adelaide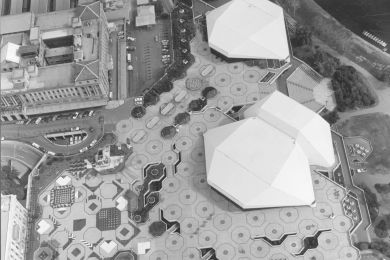 Australia's first major performing arts centre - and still acknowledged by audiences and performers as the best of its kind in the country.
1968, Flinders University, Adelaide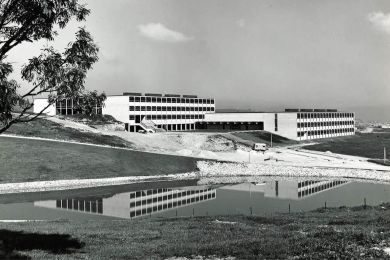 Opened by Queen Elizabeth, the Queen Mother, in 1966, this campus was designed to give Australia's newest university room to grow.
1975, River Torrens Linear Park, Adelaide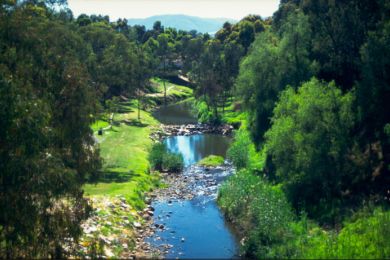 We mapped out the future for 32 kms of degraded river catchment, planning a wildlife corridor and recreation spaces to turn around its fortunes.
1980, Sir Samuel Way Law Courts, Adelaide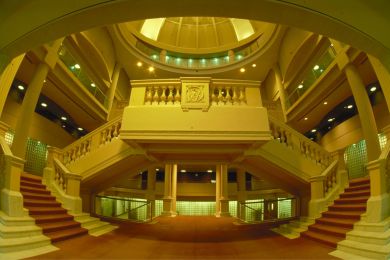 In the heart of South Australia's legal precinct, the 1890s-era building was revitalised by Hassell but its defining original features remain.
1986, 120 Collins Street, Melbourne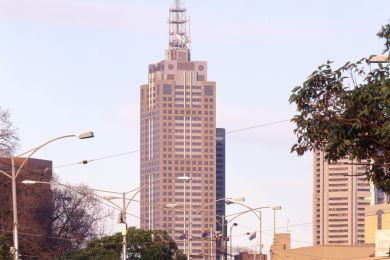 The 54-storey tower at the top end of Melbourne's premier street pays tribute to the grand Art Deco buildings of New York.
1991, St Vincent's Public Hospital Redevelopment, Melbourne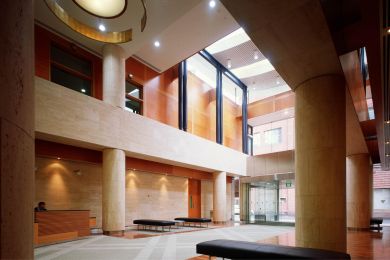 A model for future public and private hospital design in Australia, the project attracted international attention.
1997, Tai Po Waterfront Park, Hong Kong, China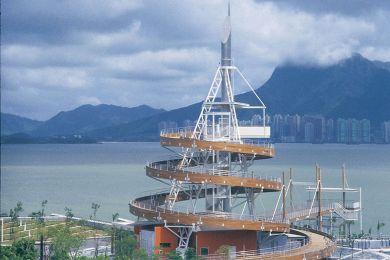 The park's spiral lookout tower gives visitors panoramic views over Tolo Harbour to the landscapes of mainland China.
1998, Olympic Park Station, Sydney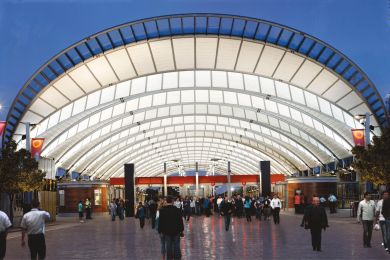 This gateway to the Sydney Olympics site served 80 percent of the 1.2 million people attending the games in 2000.
1998, Commonwealth Law Courts, Melbourne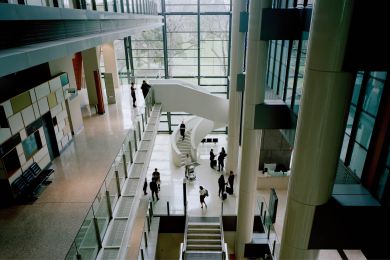 A watershed in the history of Australian courts, it's a building looking to the future - not the past.
1999, Millennium Parklands, Sydney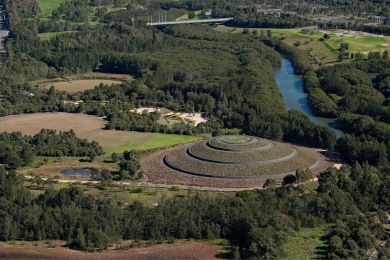 This 450-hectare site – now Sydney Olympic Park – is a model for conservation that's leaving a lasting legacy for future generations.
1999, Qantas Domestic Terminal, Sydney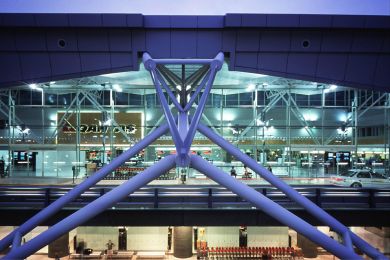 More than 20 years after completion, it's arguably still the most iconic airline terminal in Australia.
1999, Kelvin Grove Urban Village, Brisbane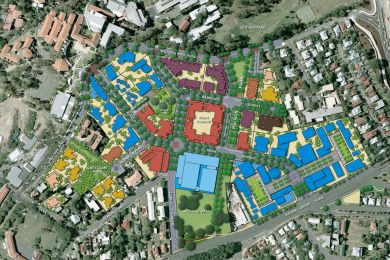 This master-planned community was the first inner-city development of its kind in Australia.
2001, Roma Mitchell Arts Education, Adelaide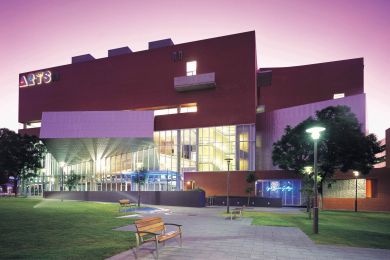 Named after Australia's first woman judge, the building's art gallery, library and museum add a rich mix to the cultured North Terrace boulevard.
2002, Victoria Park Public Domain, Sydney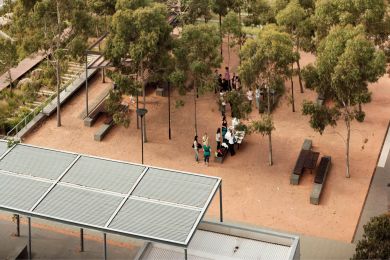 Since it was established in 2002, the 24-hectare park has grown to include a mixed-use development with housing, businesses and retail.
2003, New city of Ningbo, China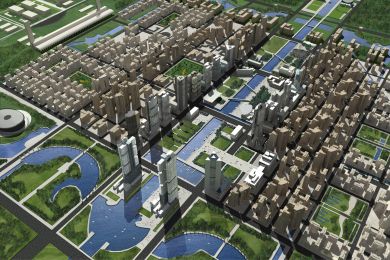 Hassell + Hyder mapped out a new future for 350,000 people on a 40sqm site, complete with cultural, entertainment and sporting facilities.
2004, Darwin Waterfront, Darwin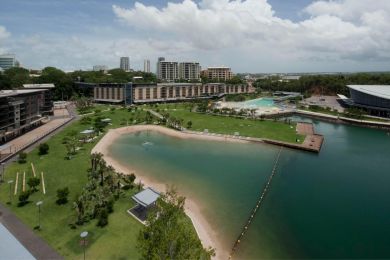 We transformed a disused industrial port facility into a world-class, mixed-use urban ​
'
magnet' for residents, business travelers and tourists.
2005, Adelaide Airport T1, Adelaide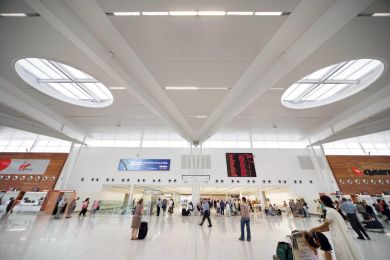 The 750-metre-long building with glass ​
'
aerobridges' makes clever use of space and natural light.
2006, Westpac Place, Sydney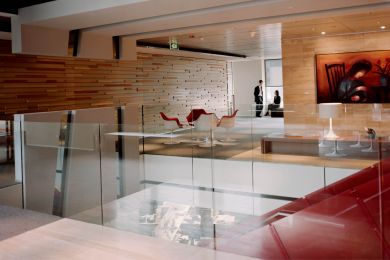 With 5,000 staff across 32 floors, this building is like a city within the city - a rich, diverse urban workplace and a community.
2006, Paramatta Transport Interchange, Sydney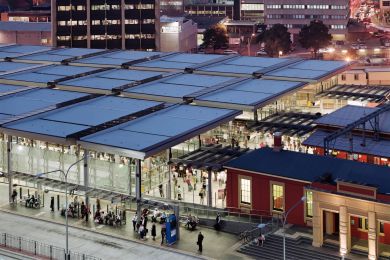 Our challenge: To double the capacity of a key part of Sydney's rail system without disrupting operations - and respect the character of its 1859 building.
2006, Radisson Hotel at Century Park, Shanghai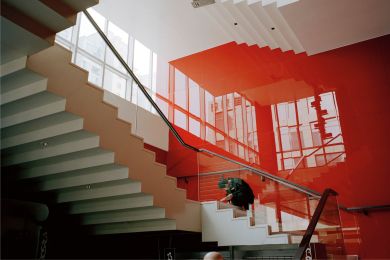 At this hotel, the client's passion for contemporary art comes across clearly in every layer of the design.
2006, Maddocks Lawyers, Melbourne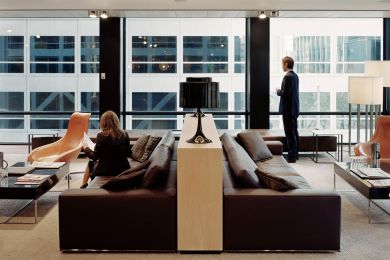 This workplace proved that lawyers are willing to leave tradition at the door - to give staff and clients a more personal, welcoming experience.
2007, Adelaide Zoo, Adelaide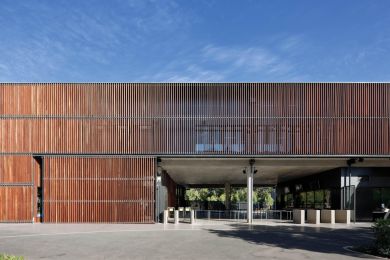 Education and conservation were strong influences for this popular destination - home to the Southern Hemisphere's only giant panda zoo exhibit.
2008, St Vincent's Hospital Cancer Centre, Sydney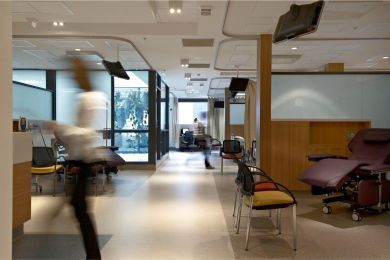 We worked with patients and staff to design a different kind of hospital, where people feel more at home and everything they need is in one easy-to-use place.
2008, SA Waterhouse, Adelaide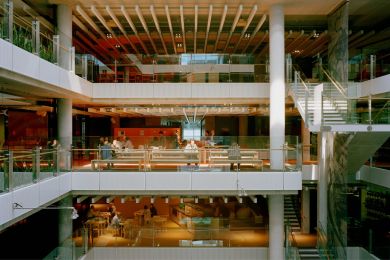 This trailblazer was the first South Australian building to earn a 6 Star Green Star – Office Design rating from the Green Building Council of Australia.
2009, Dtac House, Bangkok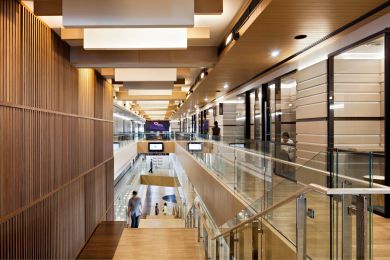 Across this 20-floor workplace, the company's ​
'
play and learn' approach comes through clearly - from the indoor running track to the open terrace overlooking Bangkok.
2009, PTTEP HQ, Bangkok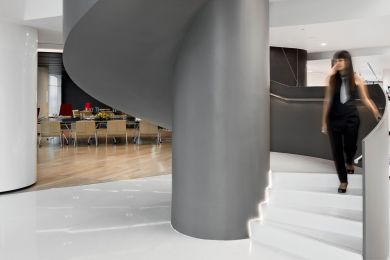 This competition-winning design revolves around the sinuous internal stairway linking every level of the 45,000sqm workplace.
2009, Epping to Chatswood Rail Link, Sydney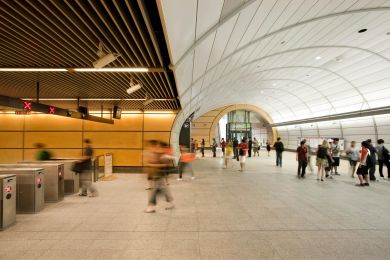 Our multi-award-winning design puts passengers at ease as they head deep underground - proving that rail travel can be an enjoyable, uplifting experience.
2009, Alibaba Headquarters, China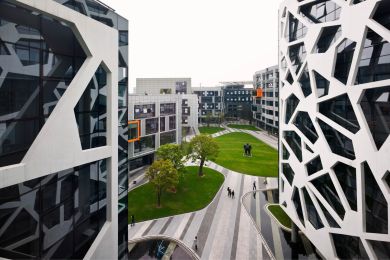 It's a sprawling 150,000sqm in size, but this corporate campus still feels connected and communal - setting a new benchmark for workplaces in China.
2010, Europe Bank, Hong Kong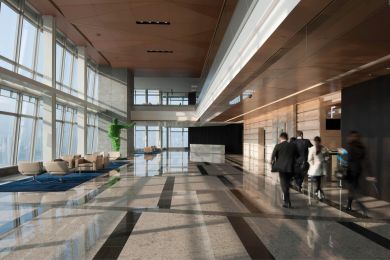 Sustainable materials such as locally-sourced stone flooring and bamboo - plus sweeping views of Hong Kong Harbour - give this bank a strong sense of place.
2010, Adelaide Oval Western Grandstand, Adelaide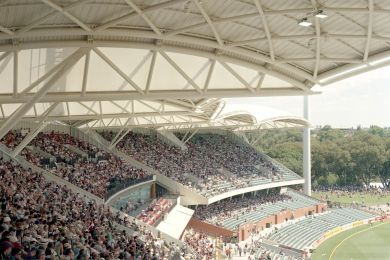 A grid of diagonally intersecting beams forms the grandstand's roof shells, keeping spectators cool and dry over all four levels.
2010, One40 William, Perth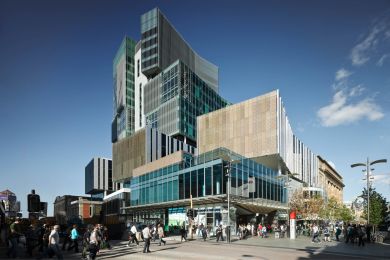 One of Perth's landmark projects, it set a benchmark in environmentally sustainable design and brought new life to the city's retail centre.
2010, Ecosciences Precinct, Brisbane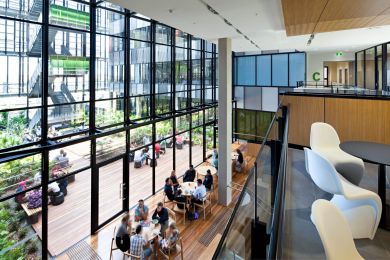 Around 1,000 scientists from multiple agencies come together in this facility ​
'
without walls', sharing space and knowledge every day.
2010, ANZ Centre, Melbourne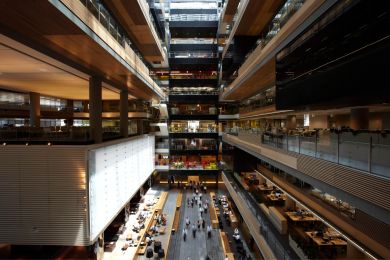 The largest single-tenant commercial office building in Australia,
ANZ
Centre is an innovative, sustainable ​
'
urban campus' organised around a central common.
2011, Shenzhen Affordable Housing Design Competition, China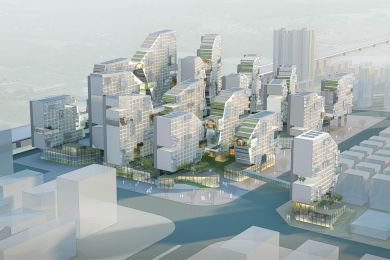 Our concept for a ​
'
reciprocal living' community of shared spaces was designed to help this city tackle rapid, record growth.
2011, Australian High Speed Vehicle, Australia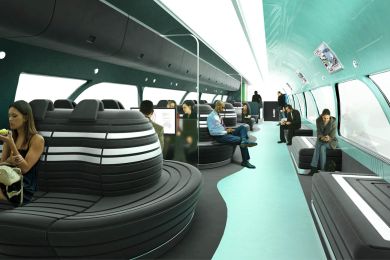 Our concept for a double-decker train is safe and low carbon - and makes the 870km trip from Melbourne to Sydney in under three hours.
2011, Chasing Kitsune, Melbourne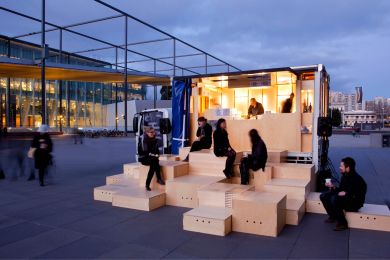 For this playful festival pop up, the public used social media to find the secret location of our mobile Japanese eatery.
2013, Flinders Street Station, Melbourne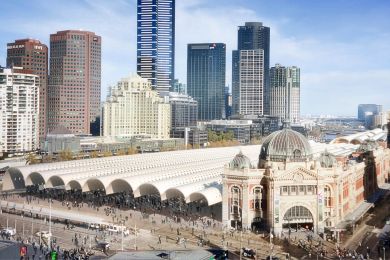 Our global team's concept for transforming this 19th century Melbourne landmark was unanimously selected as the winner out of 117 international entries.
2014, Medibank, Melbourne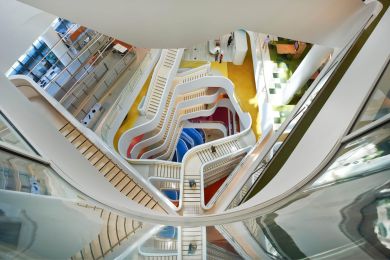 More than just a building, Medibank Place is a gateway to its city precinct - and one of the healthiest workplaces in the world.
2014, Longjia International Airport Terminal, Jiutai City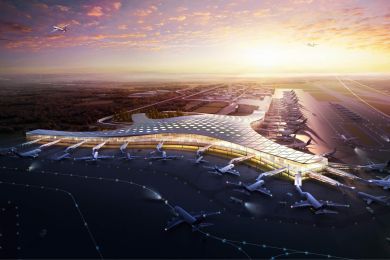 Our design merging architecture with landscape allows the terminal to be ​
'
mirrored' - doubling in size to suit rapid expansion.