Adapting retail spaces for life after COVID-19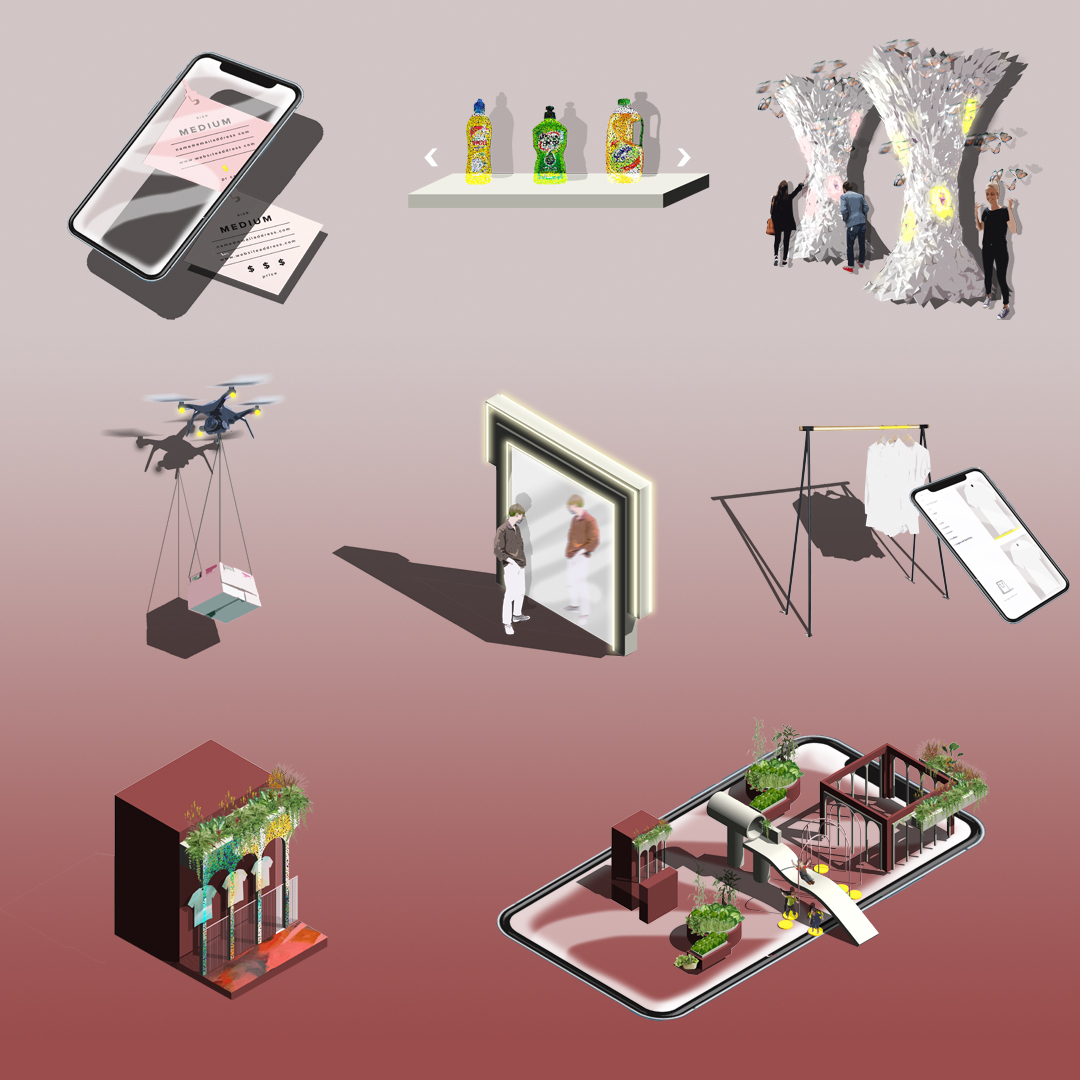 How do we design for the lasting impacts of changed social – and shopping – needs?
By Carrie Ho with illustration by Sammy Barry
In highly dense cities like Hong Kong, Tokyo, Shanghai and Seoul, shopping centres are as much communal spaces for people to socialise as they are economic hubs – a ​"Third Place". The trade mix has progressed from product sales focus to social experience, and retail trends have shifted accordingly.
The COVID-19 pandemic that broke out across Asia in early 2020 has shaken the global retail industry. In the Asia Pacific region, over 60% of people were already using e-commerce platforms before protracted lockdowns made their marks on people's ongoing habits. In the US, downloads of grocery delivery apps increased as much as 218% in March 2020, as the pandemic intensified. And a report from Brickfields Consulting in April showed that in Australia, 73% of customers wouldn't visit a shopping centre in the midst of the pandemic.

HOW DO RETAIL SPACES NEED TO RESPOND?
The Brickfields research from Australia also showed the outlook wasn't entirely bleak. Only 2% said they would ​"never' resume typical retail habits. So even if most people would return to pre-pandemic retail patterns, shopping centres and retail spaces need to be flexible enough to adapt to this and other crises.
Since the COVID-19 pandemic hit, we've seen increasing examples of infrastructure flexibility and resilience across the globe – like stadiums being converted into emergency response centres and temporary care facilities. The future of retail design will need to create places that are responsive to changed social needs after pandemics, civil unrest or even security emergencies.

FRESH AIR AND INDOOR/OUTDOOR SPACES
Indoor air quality will become a greater focus to help address concerns about transmission of viruses via air circulation. A greater mix of indoor and outdoor settings is therefore crucial when planning a retail complex, like including multi-purpose balconies along facades for natural ventilation. As the research shows, dining is still a major activity – one that will pull customers back to retail spaces, so outdoor spaces that can be used for weekend markets and al fresco dining are an advantage. Roof gardens with children's playgrounds and urban farms (like K11 Musea Roof Farm or Hysan Place Urban Farm) create positive social environments, while operable facades can accommodate open shopfronts and integrate indoor and outdoor spaces.
MULTI-CHANNEL SALES AND CUSTOMER SERVICE
With delivery services and mobile shopping apps booming during lock-down, shopping centres can create loyalty by offering increased pick-up and delivery options to support social distancing, especially as the number of people using e-commerce platforms increases. The Brickfields research in Australia suggests that over 50% of people would consider home delivery from retail centres with face-to-face drop off, nearly 70% are open to contactless home delivery and over 20% would opt for personal delivery to lockers.
To respond to this trend, considerations could include centralised drive-ins or self-service pick-up counters sensitively positioned near public access points. Pick-up and delivery with almost zero contact could be possible via automated systems using hidden pendant tracks in the roof space that centrally connect the carpark loading dock and convenient customer pick-up points.
SMARTER SHOPPING DISTRICTS
As people begin to return to retail malls, technology that limits social contact will be integral. For example, smart parking options that allow a car to be dropped at a travelator and robotically moved to and from a carpark to designated drop-off/pick-up lobbies. This is convenient for customers, helps manage numbers and flow of people, and increases carpark spaces within limited GFA.
PLACES FOR NOW THAT CAN ADAPT
It's important that we apply what we have learned from the COVID-19 crisis to the way spaces should function after any major event. When designing – or redesigning – new retail centres, we must remember the needs of people who rely on them as vital social spaces for shopping and socialising, even during health and security crises.