Brutalist beauty of the Barbican's gardens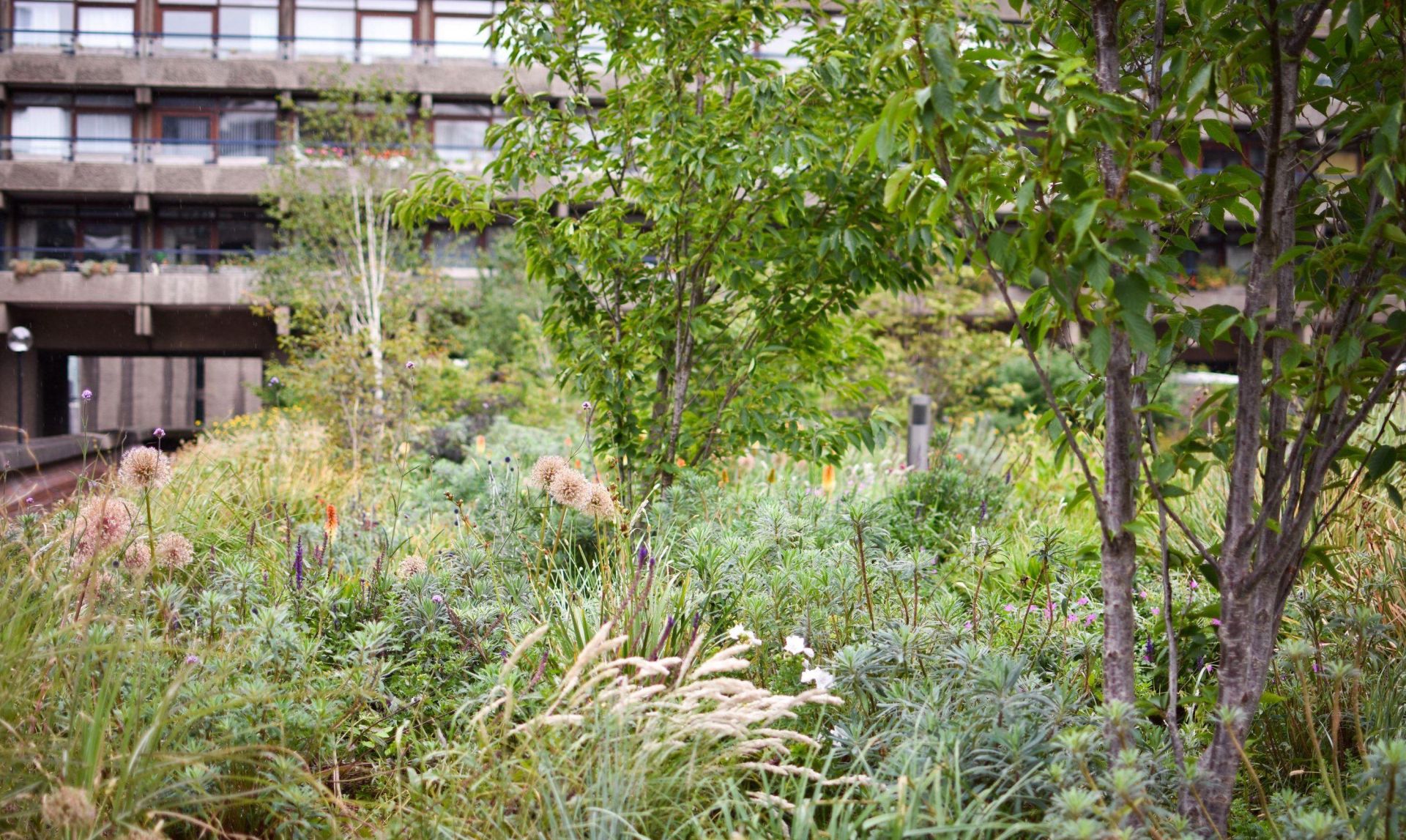 In this age of curated experiences, the Barbican's gardens give rise to the unique journeys that keep place-makers and modern designers awake at night.
Words and photography by Jon Hazelwood with additional photography by Angus Bruce
Perhaps it's a reaction to growing up on a farm in the wilds of Northumberland, or spending the last twenty years around the natural setting of Sydney's sparkling harbour. But when I think about the one place in London where I'm consistently drawn, it would be that poster child for late 20th century brutalism, the Barbican.

I don't intend to give a thesis on the architectural merits, history or importance of the Barbican. I don't want, nor am I qualified, to do that. These aren't the reasons for my constant return, because there's something more instinctive about its draw.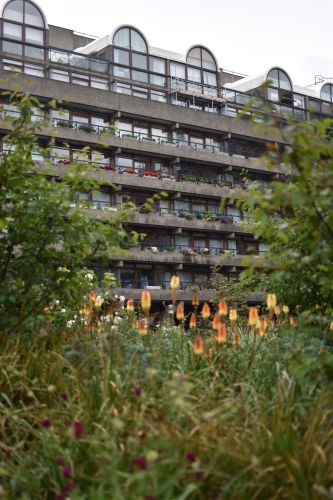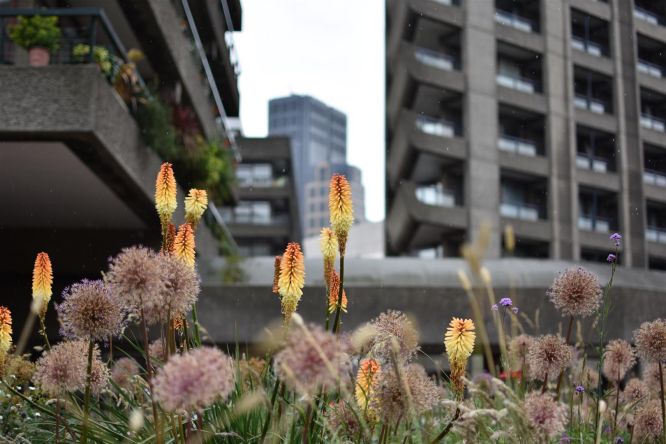 Of course, the architecture is resplendent and iconic. And unlike the shiny edifices to finance that dot London's horizon, the Barbican's solidity and permanence give it more in common with Clarence House or the Palace of Westminster. It feels as though, in 400 years time, a visitor to London will still see the Barbican's serrated silhouette on the skyline, a reminder of a time when such solidity was affordable.
It's the unexpected that keeps drawing me down Whitecross Street. It's the slight concern that I won't find the spaces that delighted me last time, while anticipating that I'll find something else, possibly something new. Getting lost there is an enchanting experience, in spite of best efforts to follow the pavement's painted yellow line. Discussing the Barbican with others, this ​'getting lost' effect comes up time and again, and I'll always embrace this aspect, giving myself over and seeing where its walkways take me.
In this age of curated experiences, its convoluted walkways and confusing levels are refreshing. They give rise to unique experiences that keep place-makers and modern designers awake at night. It wasn't until my third or fourth visit that I came across the Conservatory, a humid greenhouse of tropical plants in the city centre. I suspect it wasn't until many trips later that I found it again, and re-lived the delight of that first encounter. (By the way, anyone can experience this virtually by watching the fantastic music video for John Grant's song, ​'GMF' - although it comes with a language warning! More recently, the Barbican's meadows featured in a Dua Lipa video.)
There's a multiplicity of experiences to be had at the Barbican - indoors and outside, some planned, others not. Despite the mildly claustrophobic nature of the place, it feels incredibly open, civic and generous. I can wander up and down stairs, both inside and out, relax alone on plush red seats or sit and work in more bustling public spaces. There are few locked doors, although the Thomas More and Speed gardens are for residents only. Perhaps one day I'll be allowed to discover these two huge gardens, created in reference to London's gated garden squares.

As a landscape architect, it's the Barbican's gardens and public realm that resonate, or at least those I can access. In this risk-averse age of public space design, I watch my daughters jump and clamber over brick walls, getting perilously close to lake water and fountains. I remember the laissez faire supervision style of our parents' generation, and although I fail to channel their approach, instead watching my children like a hawk, there's something refreshingly wild about this place.
At a different scale, the personalised residents' gardens are a constant delight. Hordes of flowering tubs and pots spill out of back gates into communal areas, and the flowering window boxes, apparently part of the heritage listing of the building, are full of gazanias, hydrangea, jasmine, lobelia and nasturtiums.
In more recent times, much of the podium known as the Beech Gardens has been renovated for waterproofing. Five years ago, it was replanted in a naturalistic planting scheme designed by Nigel Dunnett. I must declare a tenuous interest at this point. As lead public realm designer on the transformation of the Melbourne Arts Precinct, I'm working with Nigel and his colleague at University of Sheffield, James Hitchmough. This precinct shares other affinities with the Barbican, with cultural institutions of similar era and architecture on aging podium.
A striking moment is created from the contrast of Nigel's naturalistic planting with the Barbican's brutal architecture. The constant change of the planting scheme is another drawcard in the Barbican's armoury of the unexpected. One month the gardens are covered in bright purple balls of ornamental onions, the next month it's the metallic bubbles of Echinops ​'Veitch's Blue' and fireworks of bright orange Red Hot Pokers.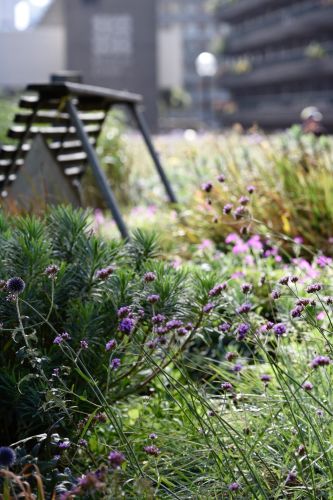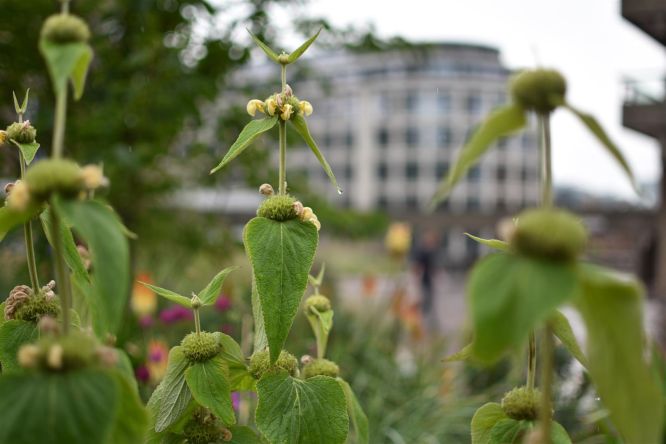 "

Continuous and successive waves of colour over long periods of time, orchestrating a series of dramatic colour washes over the entire site, from spring through to late autumn, and then to finish off the year with a textural array of seeds heads."
- Planting designer Nigel Dunnett on the Barbican's planting scheme
It's interesting to see and hear how people respond to and interact with the Barbican's planting. Watching people during the day, sitting quietly on benches or taking the inevitable selfie to post on Instagram. It's worth noting criticism from some residents who preferred the stasis of the original green shrub planting over the constant change of the naturalistic planting style, which some see as ​'messy'. Whatever the response, this planting stimulates engagement and connection with nature. It's more than just green ​'stuff' that's walked past and forgotten.

What will I find on my next visit? Another peculiar corridor through a forgotten door? Another enclosed courtyard garden with planters full of Asparagus? Will I ever find the Conservatory again? Who knows, and that is the joy of the Barbican.