From Office to Oasis: how landlords and developers can transform workplaces with green spaces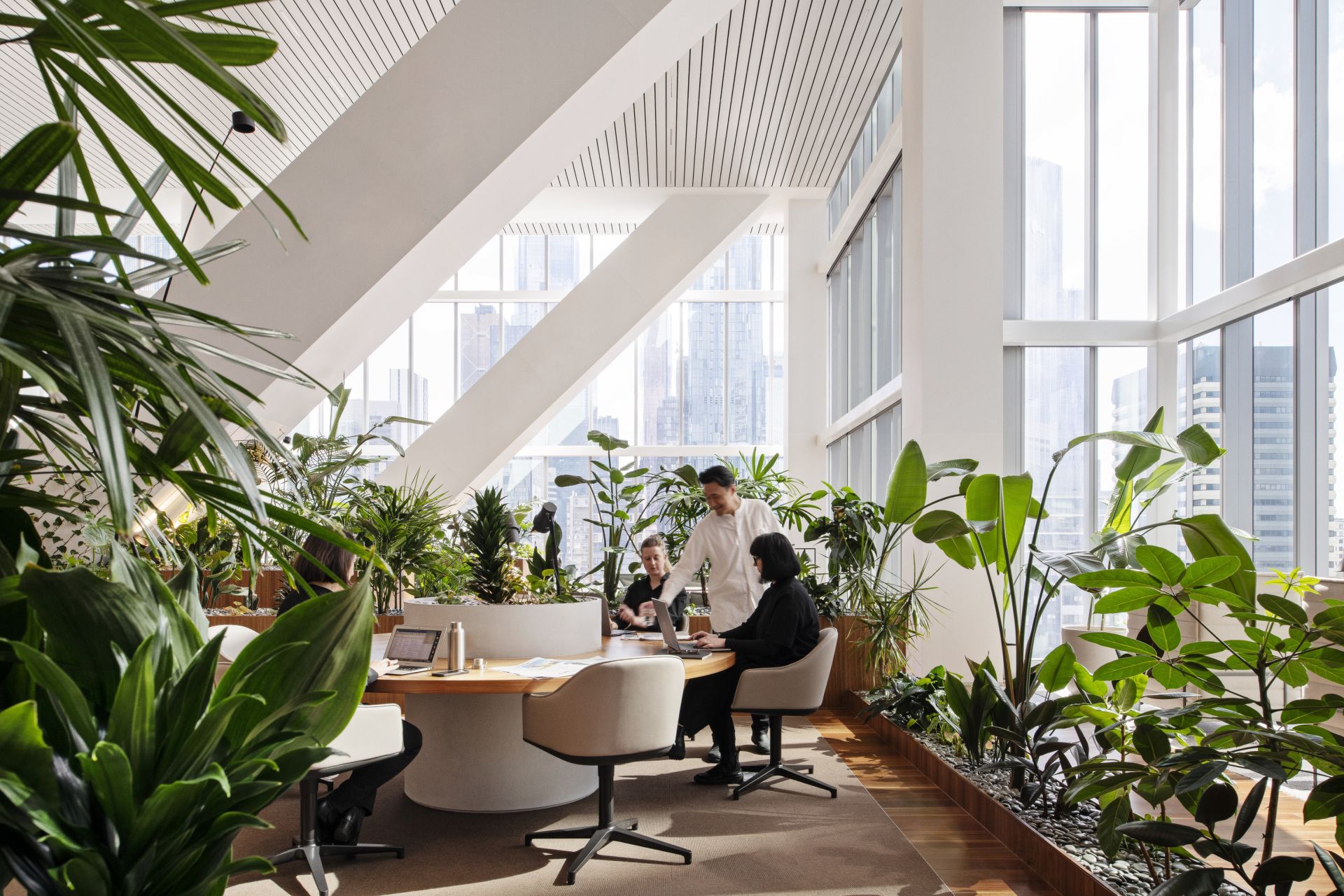 Workplaces with leafy terraces, indoor planting and green rooftops attract employees, improve wellness and productivity and help meet environmental commitments. But how do you make them a success?
In workplaces across the world, employers are looking for ways to entice employees back to the office. High on the wish lists of many employees — and prospective workplace tenants — are green spaces, which include everything from green roofs to terraces, winter gardens, and indoor planting.
In our new report, From Office to Oasis: how landlords and developers can transform workplaces with green spaces Hassell Senior Researcher Dr. Daniel Davis surveyed landlords, developers, designers and workplace tenants to uncover valuable insights into the most successful design strategies for adding green spaces to office buildings.
"Green spaces aren't always cost-effective," says Dr. Davis. ​"They can be expensive to maintain, and if they're poorly designed, they often sit unused.
"

By publishing this report, we hope to provide answers on how to make green office spaces places that benefit tenants, the environment and the bottom line."

— Dr. Daniel Davis, Senior Researcher

The report is a deep dive into the finding from Hassell's 2022 global workplace survey that fresh air and green space are the two most desired amenities in offices across Australia, China, Singapore, the United Kingdom, and the United States.

It highlights the trends driving the desire for green workplaces from attracting employees and entertaining clients to improving employee wellness and productivity and meeting environmental commitments.

Amongst the report's key findings are:

• Tenants are paying a premium for green space. If a tenant has exclusive access to a rooftop, they'll typically pay a premium. (In 2019 CBRE calculated the premium for an outdoor space was 14% in New York.)

• Urban greenery boosts property prices. Rent premiums for offices with street-level greenery is 7.8% compared to 5.6% for those with no greenery. (Source: MIT Real Estate Innovation Lab, USA, 2021.)

From Office to Oasis provides checklists on how to get greenery right — and what to do when greenery goes wrong. Case studies show the importance of diverse outdoor spaces, how climate impacts these spaces and how to create productive outdoor workspaces.
The three key ways of adding greenery to a workplace
1. Rooftops, terraces and streets: One of the most common ways to turn otherwise unused space into a valuable amenity. The best rooftops, terraces and streets are more than places to access the outdoors. They offer variety. They have a range of spaces for different activities, whether that's collaborating, eating, resting, or working out.
2. Winter gardens: Plant-filled conservatories that sit just behind a building's façade, winter gardens can be used year-round in most climates. For landlords and building owners they also have the advantage of being counted as part of a tenant's Net Lettable Area (NLA).
3. Indoor plants: A simple and cost-effective way of adding greenery to an interior space. Recent research shows that indoor plants were consistently shown to boost workplace productivity anywhere from 6 to 35%.
Dr. Davis says engaging workplace tenants early in the design process, making sure you're set up for ongoing maintenance and operations, and hiring a designer that has done something similar and understands the challenges are just some of the ways to create a successful green space.
"Ultimately, if you want people outside, you've got to design the space with the same care as you would something inside," says Dr. Davis.
For a copy of the full report, From Office to Oasis, register below to access now.
Author
Dr. Daniel Davis
Photography
Nicole England