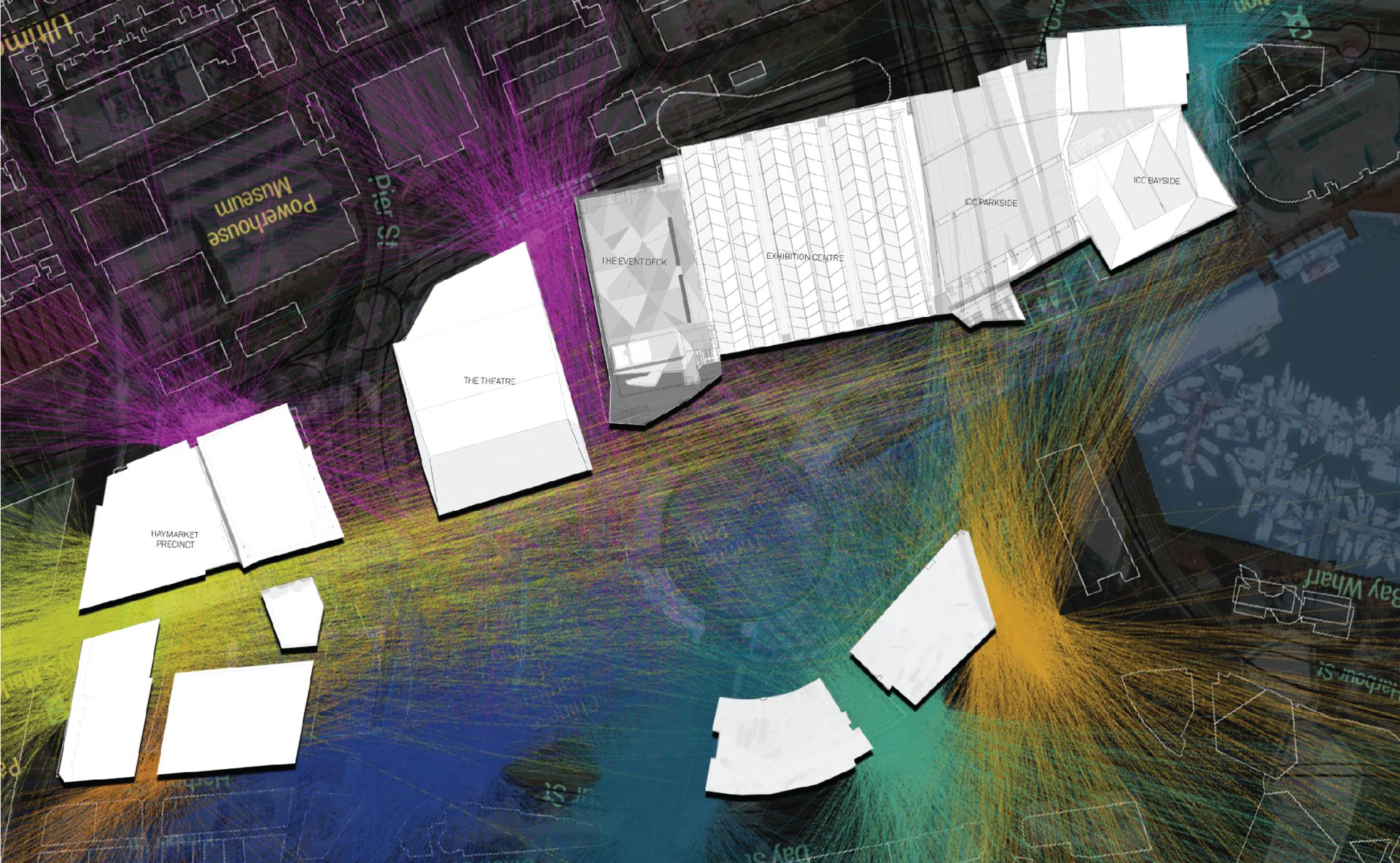 '

Big data' has played a role in shaping buildings and places since the dawn of digital technology. With the pandemic creating entirely new patterns in how people use civic spaces, that data has never been more important – or more beneficial.

By Angus Bruce, Principal, Board Director and Head of Design

It's been a familiar sight over the past year: small gatherings of masked people spread out across city parks, plazas and streets, grabbing a rare chance to catch up in relative safety.

As the global pandemic surged, placing limitations on day-to-day urban living, the public spaces we've sometimes taken for granted had to work much harder to meet the needs of high-density populations.

Even as restrictions have lifted in many cities and they start to find their ​'new normal', this period of unprecedented change has made a lasting impact on the way we approach the design of public (and private) places. It's not only a more complex proposition today – it's also more speculative.

That's where data comes into play. It underpins an evidence base that allows us to learn from the past and more accurately predict what will happen in the future. It helps answer fundamental questions about how existing open spaces are functioning and performing against their intended briefs and programs, so we can identify any gaps or emerging patterns.

UNDERSTANDING USE, DEMAND AND VALUE

'Big data' and data-driven assessment are among the most powerful tools for determining place use and demand – and assessing design impact and performance. This kind of evaluation gives us solid insight and greater confidence as designers for the future.

Just as importantly, diverse data sources help us index the value of design and its impact on people and society.

Hassell is investing in new tools and capability development to access and utilise evidence-based approaches to design. One of the ways we're doing this is through a collaboration with Place Intelligence, an agency focused on leveraging advanced technologies and data science practices to unlock the capabilities of big data analytics to support evidence-based design in cities.
EVALUATING DARLING HARBOUR'S PERFORMANCE
Since 2010, we've been testing the waters on some of our global projects, collecting diverse data over time to see what design insights might emerge. In partnership with Place Intelligence, we've rolled out a series of site-use data studies at various project phases, from feasibility to post-completion.
For the 20-hectare Darling Harbour urban renewal project in Sydney, Australia, Hassell and Place Intelligence delivered a quantitative measurement study of the public realm's ​'place performance' post its 2018 completion. This research evaluated two primary place performance indicators: place use and place sentiment.
For the study:
We used Place Intelligence Metro Data, a national human mobility index representing up to 40% of all smartphone signal events and vehicle-based navigation systems – combined with open source traffic counts and light rail ridership data – to develop a validated, site-specific data set for the the next stage of the analysis. Advanced processing was then undertaken to develop a pedestrian-only data model that filtered out signals from underground highways and overhead vehicle bridges.
Geo-spatial tools allowed us to model data layers via movement maps, dwell time maps and place use heat maps.
We analysed publicly available online and social media data from 30 months of online conversations from over 5,900 websites across 95,550 pages, aggregated into a data lake of 188,000 place-specific reviews.
The data model references a sample set of over 218 million daily additional data points in the greater Sydney region during the study period. This provided advanced analytics of movement to and from the site.
We used social listening tools to look at various metrics, from digital reach (number of sites reached) and top channels (primary sources of social conversation data) to conversation timelines, volumes and origins, and analysis of main sentiments, emotions, themes and keywords.
We drew on advanced machine learning-based natural language processing tools to analyse conversation text. This allowed us to categorise community sentiment about the place, discover patterns within large text bodies and uncover leading themes, trends and emotions. From this quantitative assessment of the qualitative data set, we get a picture of public perceptions of the place.
Using this diverse data collection we developed a post-occupancy evaluation of the public realm to inform and enhance our design strategies for future sites.
STEPPING BACK TO SEE PATTERNS AND TRENDS
Heat mapping showed the most-visited spaces in the public realm, and we surmised the reasons why:

North and south entrances – Entry points as meeting points
Circular fountain – Calming white noise, plus views
Water features – The draw of water
Main pedestrian boulevard and seating – Places to see and be seen
Green areas of Tumbalong Park – A love of green space
Plaza space adjacent to south entrance – Gravitating to the periphery (and not the middle).
In addition to hot spots in Darling Harbour, we looked at dwell times, entry points, movement patterns and activity clusters. We found that:

Co-locating a large public venue with key public spaces helps ensure those spaces remain lively throughout the day and the week. For example, a likely reason for place use increasing on Fridays from 4-8 pm – and peaking at 6 pm – is events running at the International Convention Centre or other event sites after working hours.
The primary pedestrian corridor is a magnet for activity. The higher the rating (shown graphically as colour intensity), the greater the number of people frequenting the spaces, with visitation averaged over six months.
Nearly three-quarters of visits were made by one-time visitors, reinforcing perceptions of Darling Harbour as a key tourist destination in Sydney.
DEVELOPING A ​'PLACE PERFORMANCE' INDEX
In collaboration with Place Intelligence, we look at how big data analytics from Darling Harbour can feed into an evidence-based framework for a place performance index. We can then apply that index to public open space projects – from urban renewal precincts to civic improvement works for cities or boroughs.
One of our key objectives is to create a place-use trend assessment, informed by a multi-month, big data analysis of the site. That outcome can help ensure the public places we create offer the best urban experience – on day one AND over time.
Our practice had already been expanding our analytics toolkit after identifying the SITES rating system and sustainability framework – an initiative of the American Society of Landscape Architects – as the most suitable post-occupancy evaluation system for our landscape architecture projects.
The social sentiment analysis of Darling Harbour helps us better understand the benefit of community-based qualitative data to measure place use, adding a valuable extra layer to the accurate, quantifiable evidence base we can draw from to determine our design's impact.
LOOKING BACK / LOOKING FORWARD
As the world adapts to living with COVID-19, our civic spaces are playing a vital role, bringing us back together and helping us heal. The use – and usefulness – of open spaces has never more important, nor has the need for evidence-based evaluation to better understand of the impacts of design.
Our quest continues on that front, as we gather valuable new insights and knowledge to help urban planners and designers make the best decisions for places and people.
Hassell's ongoing work with Place Intelligence combines our decades of design and delivery expertise with their team's cutting-edge data science and place analytics capabilities. This is shifting how we work through a genuinely innovative new approach to understanding the public realm and the impact of design decisions on our lives, our environment and our economies.
By understanding when and how spaces are used, we can make them work harder and better at all times of the day for a greater variety of users.
By measuring what matters, we can make sure every place counts.