"

Beautiful, organic, rapid":
healing at Herston Biofabrication Institute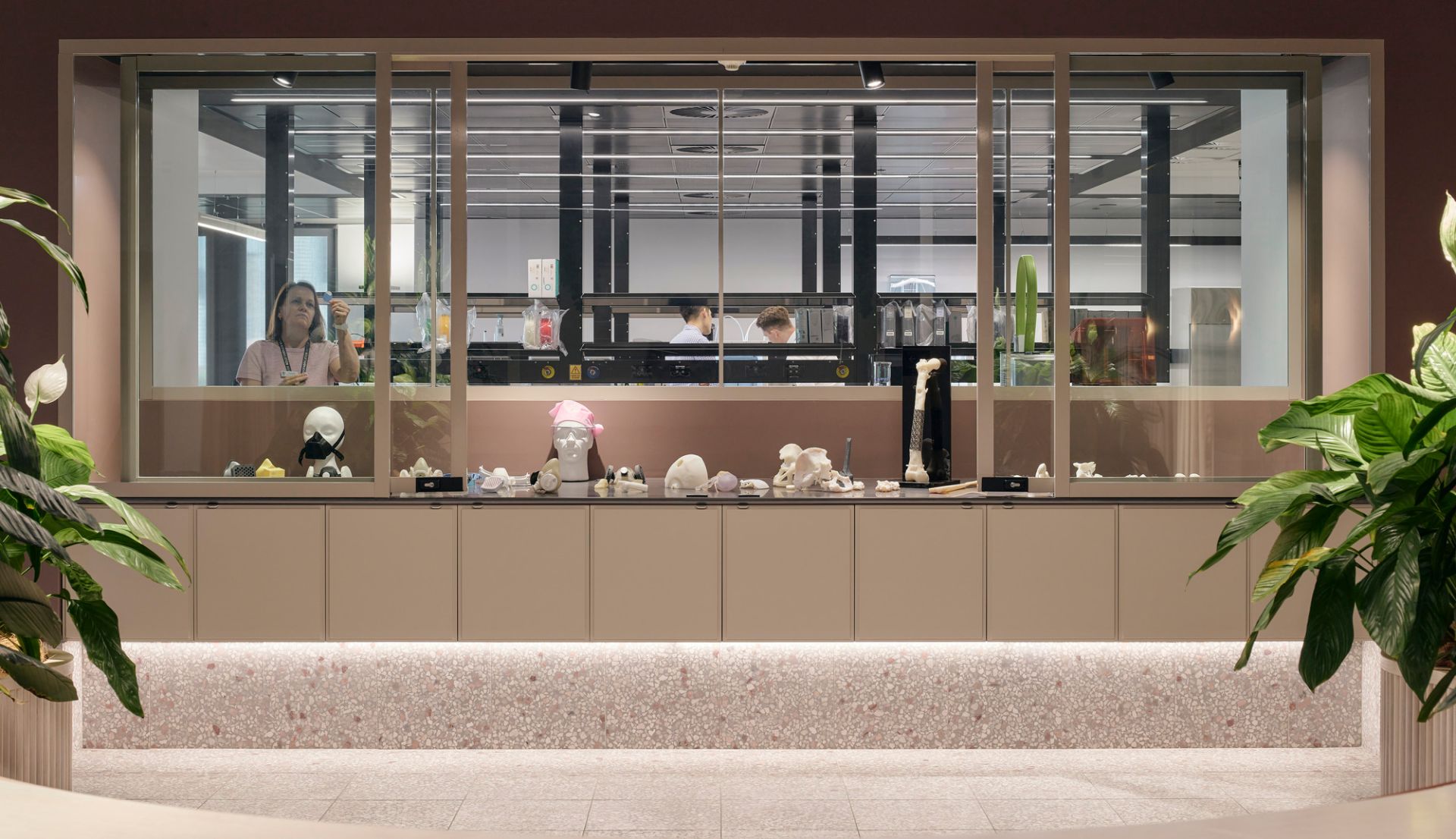 While technology rapidly advances - people, by contrast, remain constant.
Creatures of habit, we need others to survive. We are the sum of our skin, our organs and body parts. Our minds distinguish us and our intelligence is key to survival but it's our ability to work together that tells the true story of our potential.
The team behind Herston Biofabrication Institute in Brisbane, Australia knew this, and deliberately sought to remove the physical and mental limits that slowed down progress and innovation.
Given the right space, resources and design, the team has become more agile and, says Mathilde Desselle, General Manager of the Institute, ​"more multidisciplinary than ever before". They've helped a patient talk for the first time in 30 years, and worked together on the design-print-test-iterate-create process, finding a solution in days rather than months. They've celebrated the solutions to problems that Mathilde says have been solved ​"beautifully and organically" in minutes.
It is a far cry from the era of specialists working in silos, in different locations across a city struggling against the tyranny of distance.

"

The Institute is so many things to different stakeholders… it's a place for public transparency, education, innovation and healing."

Carolyn Solley
Principal

In this episode of Hassell Talks, Mathilde Desselle General Manager of the Herston Biofabrication Institute, tells Carolyn Solley Principal, how the transparency and malleability of the Institute's interior design has fostered smooth interactions between researchers, technicians and surgeons and made dignity and trust touchstones of the healing process.


The Institute, in a previously unloved Brutalist building, have been given another life, and now encourages collaboration between specialists and patients in designing health solutions. It is a space that welcomes groups - such as burns survivors - to come and share their experiences of healing while they watch the lab at work on latest 3D printing technologies for burns care.
"

That ability to very rapidly develop ideas, rapidly prototype, test and evaluate on site, helps us respond really, really quickly and action what iterative design means."

Mathilde Desselle
General Manager of the Herston Biofabrication Institute

Listen to the podcast via the player below. You can find Hassell Talks on Apple, Spotify, iHeart, PodBean or on your favourite podcast app.
"

The problem was solved in four minutes through a beautiful, organic, free flowing, multidisciplinary collaboration between engineers, designers and the surgeon - which we would not have been able to do before we had that opportunity for co-location."