Converting vacant CBD offices into apartments could create up to 12,000 Melbourne homes.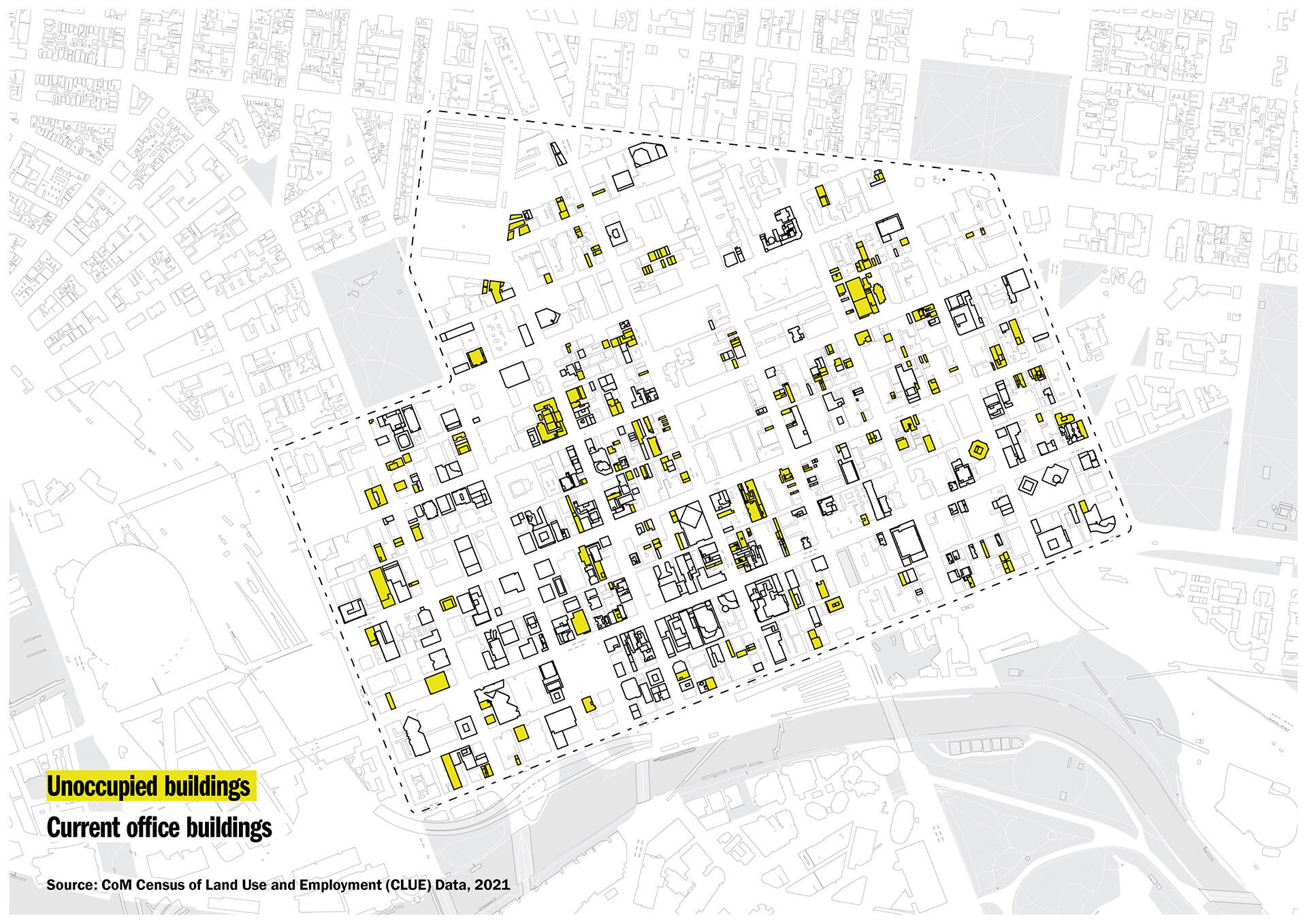 Hassell's recent research has found that converting vacant office buildings in Melbourne's CBD into apartments could lead to the creation of over 10,000 new homes for up to 20,000 people.
Conducted over the past few months, a comprehensive property audit of the city centre on Wurundjeri Country has identified approximately 90 buildings built before 1990 that have the potential to be repurposed.
According to Hassell Principal Ingrid Bakker, adaptive reuse can contribute to reactivating the city and, if done well, offers a sustainable approach to regenerating existing buildings.

"

A radical rethink is needed to make these buildings the most sustainable, socially useful assets they can be."

— Ingrid Bakker, Principal

"We see this as a big opportunity to work with the whole sector to drive more sustainable solutions for existing buildings in our cities. We're not saying every office building in the city can be converted into residential, but there are some that definitely can – and we're now demonstrating how," explains Ingrid.

The study, conducted by international design studio Hassell on behalf of the Property Council of Australia and in partnership with Ethos Urban, found that subject to individual feasibility studies, 86 office buildings are ​"ripe for adaptive reuse". The study focused on buildings constructed before 1990 since they are more likely to require upgrades and are often a suitable scale for residential purposes.

"The post pandemic reality poses many challenges for the Melbourne CBD and the future of older commercial buildings. This transformative period, defined by strong demand for premium office space, has resulted in a lot of sub-prime office space being severely underutilised," says Cath Evans, Victorian Executive Director at the Property Council of Australia.

Nick Brisbane, Regional Victorian Director at Ethos Urban joined the call for industry wide action citing crisis level demand for housing and long-term sustainability as equally urgent drivers.
"

The environmental benefits are significant while it also addresses housing supply and affordability, CBD revitalisation, and breathes new life into hard-to-lease office spaces."

— Nick Brisbane, Regional Victorian Director at Ethos Urban

"This is a global discussion, and the industry here also needs to review with a view to action planning policy reform that incentivises adaptive reuse for the benefit of Melbourne," says Nick.

Victoria is currently in the grip of a housing affordability crisis, placing significant strain on many Victorians at the same time as they are being squeezed by the rising cost of living.

"With sustainability also at the forefront of decision making for many businesses, the environmental dividends gained from keeping embodied carbon in place in these buildings are substantial.
"

With innovative planning, building and tax policy changes, the industry will have more ability to make these building conversions a much-needed reality."

— Cath Evans, Victorian Executive Director at the Property Council of Australia

While adapting existing buildings to create homes presents an important opportunity, it's only one way that office buildings and buildings in general can be re-lifed to ensure our developments have longevity.

Hassell has been responsible for other examples of different types of adaptive reuse, such as Computershare Global HQ, Westlab Experience Centre, 120 Collins St and Sir Charles Hotham Hotel in Melbourne, Sydney Theatre Company's The Wharf and The Department of Lands Building in Sydney, plus ANU Birch in Canberra.

"

The best new buildings should be hyper flexible, have repurposing built in and consider how the building adapts and can be re-used over time."

— Ingrid Bakker, Principal

地点
Melbourne, Australia
日期
2023年8月21日
Register for a copy of the full report.