Triple win for Hassell at Australian Institute of Landscape Architects Awards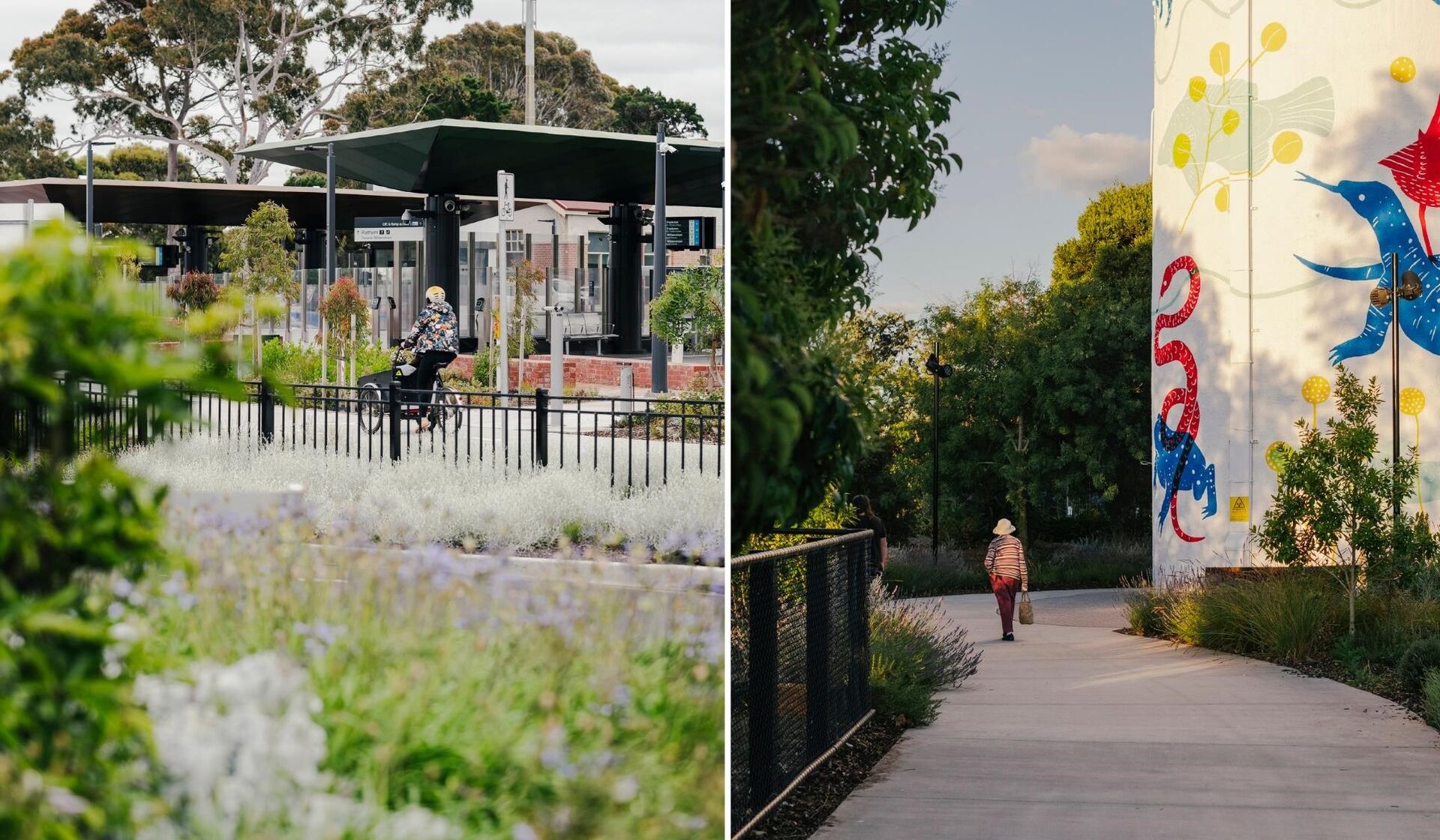 Congratulations to our landscape architecture team on winning three awards at the 2023 AILA Victorian Landscape Architecture Awards.
Wangaratta Station precinct in rural Victoria and the North Williamstown Station level crossing removal project in south-west Melbourne have won top honours at the AILA 2023 VIC Landscape Architecture Awards.
WANGARATTA RAILWAY PRECINCT
Our design for the Wangaratta railway precinct won two gongs: an AILA 2023 VIC Landscape Architecture Award for Civic Landscape and an award for Regional Achievement.
In close collaboration with the Rural City of Wangaratta and the local community, we developed a thoughtfully-designed Wangaratta Station precinct that caters to the specific needs and aspirations of the people in the area. This precinct includes expansive public spaces and a visually appealing streetscape, serving as a prominent entry point to Wangaratta and the surrounding regional landscape.
"Wangaratta Station's new environs have established a new image and inviting experience for locals and visitors for this important entry point into the city and the broader region. If the locals love it, visitors will too," says principal Mark Haycox.
By embracing the essence of the regional surroundings and its natural systems, the Station Precinct seamlessly integrates the experiences and visions of the local community, offering sustainable design strategies that convert three previously inactive transport corridors into vibrant green connections and inviting spaces for individuals to enjoy.

"

This project represents a significant investment in civic quality, climate sensitivity and urban amenity. More than that, it offers a radical departure from the conventional treatment of transport hubs in Victoria's regional centres, a new benchmark."

— AILA VIC Awards Jury

​"Hassell are commended on a design firmly founded in place, character, and a strong community engagement," said the AILA VIC Awards Jury. ​"This project enriches the urban experience and contributes to Wangaratta's identity through a verdant, layered and fine-grained landscape, spaces for access, events and respite, and improved legibility."

NORTH WILLIAMSTOWN STATION LEVEL CROSSING REMOVAL

With architecture by Denton Corker Marshall and landscape design by Hassell, the North Williamstown Station level crossing removal project won the AILA 2023 VIC Landscape Architecture Award for Infrastructure.

The Ferguson Street, North Williamstown level crossing in south-west Melbourne was removed in 2022 by the Level Crossing Removal Project. Our design team worked closely with local community and rail authorities to provide a sensitive, site-specific response to existing open space, residential character, and heritage-listed buildings surrounding the site.


"At North Williamstown station, we celebrate the local — plants, details and materials. All speak to the stories heard from the community, the site's heritage, and the Bunurong traditional owners of this land," says principal Craig Guthrie.

The new station building has a modest presence, prioritising open public space, which has been expanded and connected. A eucalypt parkland and a rich matrix of Indigenous plants wrap the station environs.
"

Incorporating a story of canoe journeys along the Birrarrung with a Heritage Station building, the Jury celebrates this level crossing removal project as distinctly ​

'

of its place'."

— AILA VIC Awards Jury

"Hassell is commended on combining both cultural and historical stories, told through a variety of recycled materials, QR codes and sensitive plantings," said the AILA VIC Awards Jury. ​"The station environment provides opportunities for people to engage with their surroundings regardless of their direct interaction with the transport infrastructure. A highly successful infrastructure project that enhances the day-to-day."

地点
Melbourne, Australia
日期
2023年7月17日
Images
Left to Right: Williamstown Level Crossing Removal Project and Wangaratta Railway Station Precinct
Photography
Sarah Pannell