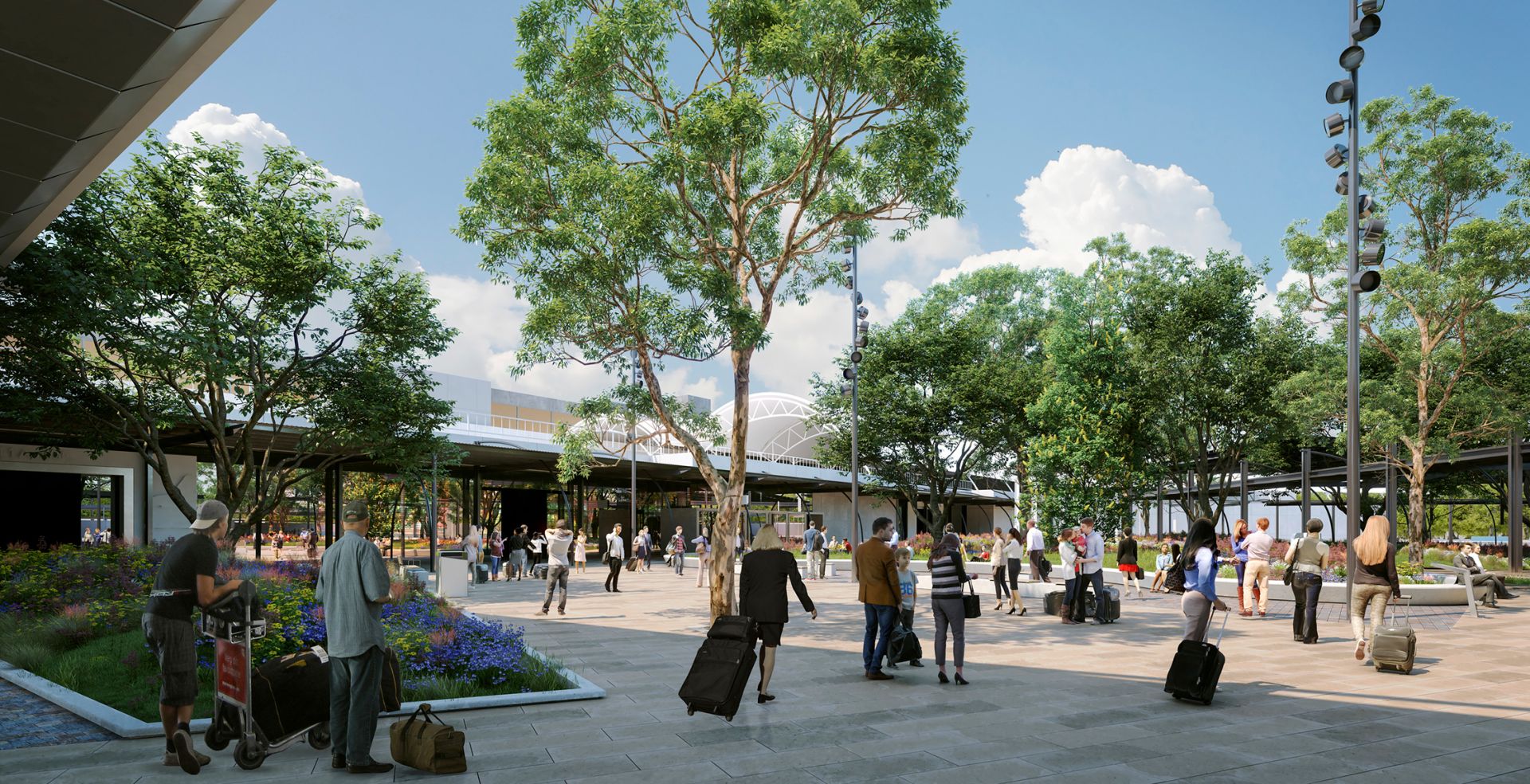 With international borders now open in Australia, what can we expect from the new generation of airports as travel re-emerges?
By Mark Wolfe, Principal and Sector Leader, Aviation
Australia's limits on international travel during the pandemic have been some of the strictest in the world and now, after nearly two years the borders are finally opening. While there's no doubt the big pause has significantly disrupted the travel industry, the upside has been the opportunity to reassess and renew the experience of travel - particularly when it comes to designing a more sustainable future.
Throughout the pandemic we've been working with clients to deliver projects that will enhance travel experiences and contribute to making journeys smoother, more enjoyable and more memorable. In Sydney, Adelaide and the Gold Coast, 2022 will see the completion of major projects that will transform the experience of airport arrivals and departures.
While there's no doubt there's been significant disruption to the travel industry, the upside has been the opportunity to reassess and renew the experience of travel.
While all these projects are different they do share themes around sustainability, improved and more efficient operations, exceptional experiences and amenities, increased choice, and an authentic sense of place which embraces the Australian Indigenous concept of connection to Country.
ADELAIDE TERMINAL EXPANSION
Adelaide Terminal Expansion reimagines the international travellers experience, delivering more choice and amenity spanning new stores, cafes and bars stocking local and regional produce including South Australia's world-renown Barossa Valley wines.
One of the highlights of the new high performing, low energy building includes an innovative façade system incorporating a mesh interlayer, which works to reduce solar heat gain and has the added benefit of changing character throughout the day, shifting from opaque in daylight hours to transparent after dark when the interior glow of the terminal's lights illuminates the building from within.
Part of a broader precinct revitalisation, we've also created a premium forecourt suffused with native planting and adapted a disused elevated road, pictured above, into a green landscaped space connecting the terminal to a new hotel.
GOLD COAST AIRPORT
At Gold Coast Airport we're wrapping up another major expansion that includes a highly flexible international departures and arrivals facility, which includes the airport's first aerobridges.
Key features include new departure gates, which – via a series of computer-operated door configurations – have the ability to swing between segregated international operations and domestic arrivals and departures as demand shifts throughout the day.
Our design for Gold Coast Airport, which sits between the coast and the hinterland is driven by its surroundings. By leveraging natural light and the location's expansive views we've created a unique international arrivals experience, which immerses visitors in the region's lush, sub-tropical landscape as they exit the terminal.
TERMINAL 1 INTERNATIONAL FORECOURT, SYDNEY AIRPORT
Whether visiting Sydney from overseas or returning home, passengers will soon be greeted with a fresh new arrival experience at the Terminal 1 International Forecourt at Sydney Airport.
Together with Sydney Airport's team we're embracing the location's natural environment and Sydney's brilliant blue sky with a new design underpinned by connection to Country.
A collaboration with Indigenous designers Jiwah is delivering a landscape of ecology and resilience that builds on the culturally significant planting of the Kamay region to create an authentic arrival experience that is of its place. And by decluttering the existing forecourt we aim to bring clarity to the way people experience the space and create a new range of moments to dwell, gather and celebrate.

As we start to move more freely in 2022 these are just some of our projects, which will make a notable difference to how we all experience airports and travel in the future. While we're excited to see these designs made reality and people out in the world again enjoying these new spaces we're equally invested in working with our clients to help deliver a more resilient and sustainable future for air travel.