Co-living - taking the share economy to the next level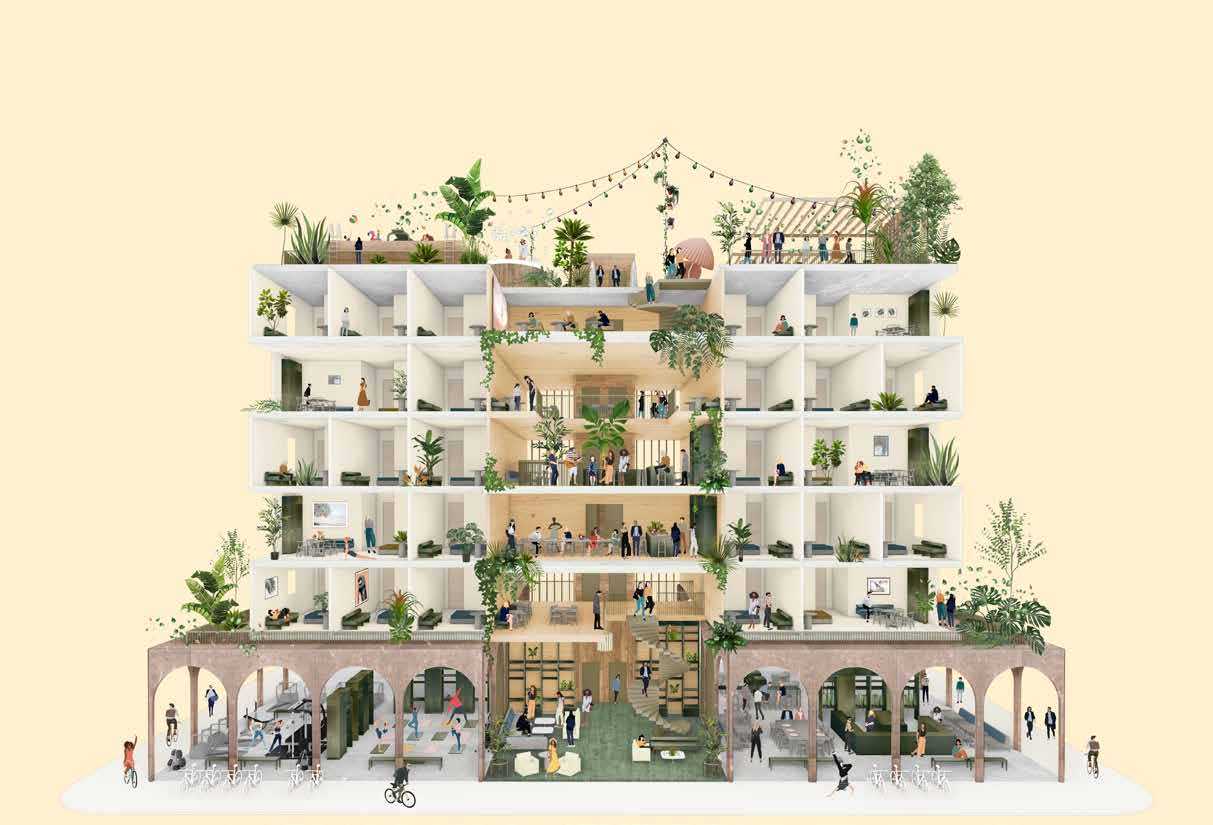 How do cities that priced out the creative communities who gave them their identities bring them back? How do we undo the hyper-digital obsession that has enabled an epidemic of isolation and loneliness? How do we make sure our cities are truly diverse, sustainable, and welcoming places? How has COVID-19 altered the type of housing the next generation are demanding?
The answer might just lie with Uber, AirBNB, Twitter – specifically, the share economy that's second nature to an entire generation and makes the concept of living with strangers not just tolerable, but desirable.
The rising costs of urban living have made cities less affordable than ever. At the same time, a hyper-digital society has enabled an epidemic of isolation and loneliness. Hassell and OpenDoor have been working together to address these issues through the creation of modern, shared living spaces, and further develop a platform to help reach the full potential of co-living.
Managing Director of Cushman Wakefield in the United States, Susan Tjarksen says Co-living is an emerging but quickly growing concept and variant of Build-to-Rent (BTR) specifically designed for the younger rental population.
"Co-living differs from BTR, sometimes known as ​'multi-family', in that tenants are able to pay less rent by exchanging private space for enhanced and premium shared communal space. The concept specifically targets a larger renter base and ​'missing middle' which is price sensitive and not currently served by either the top-end luxury apartment market or social housing supply. Further, this clientele values community as much as cost savings and they value experience over ownership and seek residential living as a service in a way that provides a sense of connectivity in a very busy urban world." Susan said.
The city is offered increased housing diversity through providing an affordable housing option for young professionals who are often priced out of desirable inner-city areas. In response to market demand, OpenDoor partnered with Hassell to further explore different typologies across tower and neighbourhood scale projects.
The larger scale implementation of the OpenDoor model may also be applied to a campus-style masterplan with multiple buildings arranged around a connected network of public green spaces to link the ground level amenity spaces back to the broader public realm and community at large.
Hassell Senior Associate, Jeremy Schluter says co-living is a concept that deserves attention as it provides an alternative mode for future living within a neighbourhood of like-minded souls that responds directly to market trends for human connection and community as some of the regional economies emerge from the pandemic.
"With housing affordability stretched as property prices continue to outpace salary and wages growth in major cities, co-living presents a needed alternative to work side-by-side with other housing typologies for a quality housing alternative for future generations and key workers in direct response to both the affordability crisis and the isolation many lived through during the pandemic," Jeremy said.
"The OpenDoor model is a win-win-win – delivering a rich living experience for its residents, a diverse workforce and alternative housing model for cities and a higher return opportunity for developers and investors relative to build-to-rent," he said.
While each development is unique, there is a range of amenities and programming that OpenDoor provides its residents. They shared the same design intent starting with an activated and integrated ground level welcoming the public into the building and vice-versa. Vertically stacked communal neighbourhoods of private, self-contained rooms share in semi-private spaces where residents feel comfortable developing community and new friendships. The shared spaces on each level are tailored in direct response to resident needs including dining and living rooms, quieter reading nooks, louder music spaces and vibrant entertainment spaces. Residents all come together on the rooftop with building wide amenities including pools, hot tubs, BBQs and group workouts like yoga, fitness and health and wellness areas.
OpenDoor CEO, Greg Manuel, says ​"building and maintaining extraordinary communities has been the central mission of OpenDoor for the past 7 years. As a result, we have delivered market leading resident tenures over 2.7 years (2.5X co-living average) creating a level of product stickiness which has allowed us to outperform Class A multifamily both before and throughout COVID across all operating KPIs (higher rent/​per sq ft, occupancy, rent collections and tenant referrals; shorter lease-up time; and lower tenant turnover). We look forward to continuing our partnership across Hassell's leading global design hubs".