Celebrating ten years of togetherness at Brookfield Place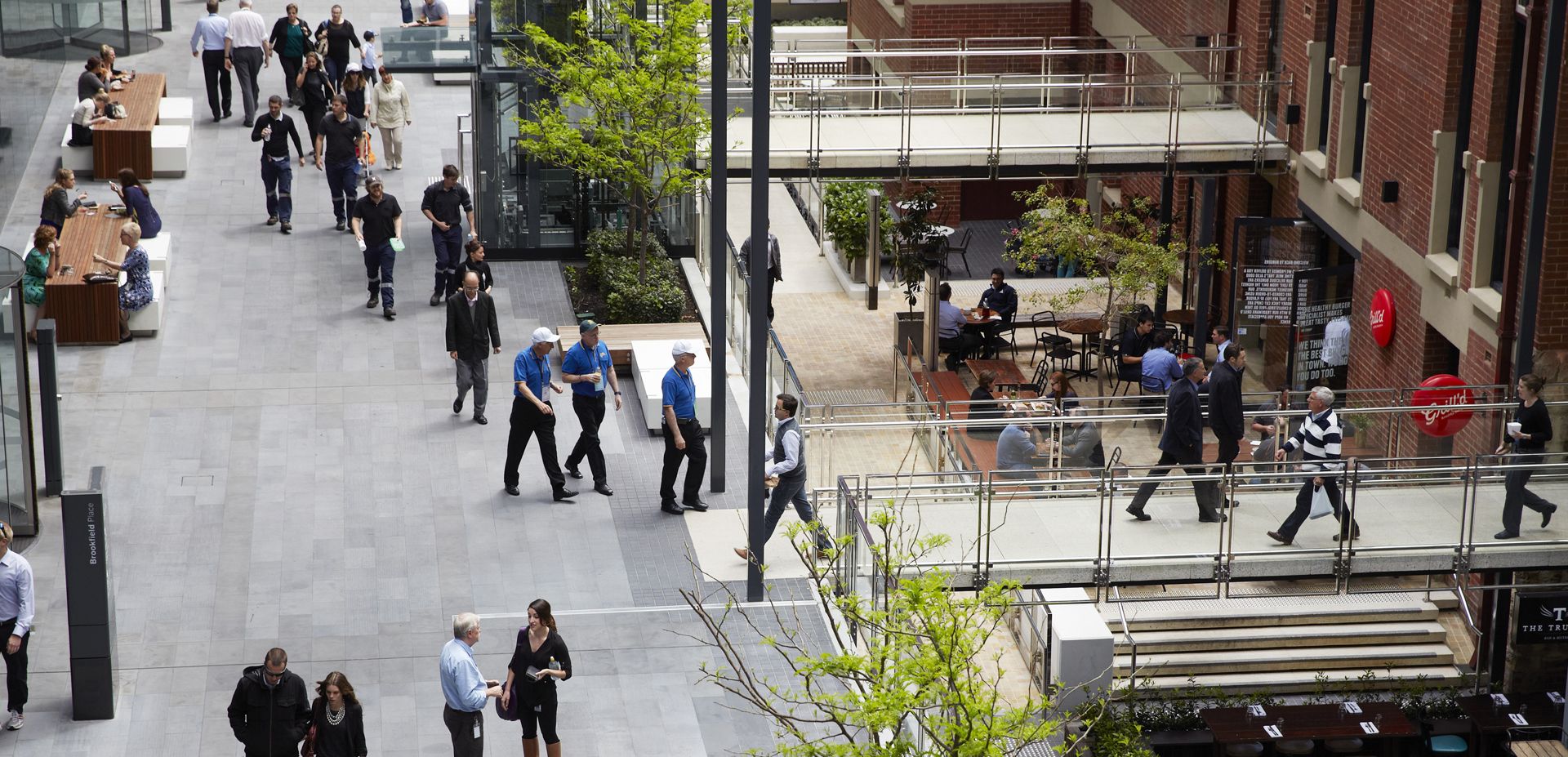 This year marks the tenth anniversary of our award-winning Brookfield Place Tower One in Perth, Australia, designed in collaboration with Fitzpatrick + Partners in 2012.
Now home to leading resource company BHP the 45-storey premium commercial tower and surrounding precinct has gained a reputation as one of Perth's most celebrated experiential, culinary, and shopping destinations.

Since its 2012 unveiling, Brookfield Place has expanded to include a second tower and refurbished heritage buildings fronting St Georges Terrace, a major street in the heart of the city's business district. A once lifeless neighbourhood, the renewed precinct now hums with activity and events, including the city's much-loved Winter Lights Festival.
Principal Andrew Low worked on the project and remembers the excitement of a unique opportunity to be part of what would be the central business district's first vibrant and connected precinct.

"There was much riding on the transformation of this site into something great for Perth," he says. ​"It had been a hole in the ground for over 20 years, and we wanted to make it a place that reinvigorated the area. We also wanted to ensure the building incorporated sustainable design that benefited the people who would use it well into the future."

Both Tower One and the restored, street-level heritage buildings incorporate energy-saving initiatives, recycle up to 10,000 litres of water daily via rainwater harvesting and grey-water systems and achieve a 5-Star Green Star rating.
"

It was humbling to see that upon opening, the project was embraced not only by the people who worked in the tower but also the workers from surrounding commercial buildings, visitors, and the wider community. It brought people together."

Andrew Low, Principal


Nick Ozich, regional director of Brookfield Properties says ​"The development of the Brookfield Place precinct was a truly city-shaping and transformational project. It not only reorientated the city skyline but also created a new destination that brings together people in various experiential settings from retail, food and beverage to modern office spaces and inspirational heritage spaces."

A decade on, the partnership between Brookfield Properties and Hassell is set to continue with the upgrade of the Tower One, including lobby, end-of-trip facilities and services. ​"This will ensure Brookfield Place — which is already one of Australia's most awarded properties — continues to exceed current and future market expectations in workplace and public realm design," says Nick.