Close to home – exploring 15-minute urban living in Ireland (and beyond)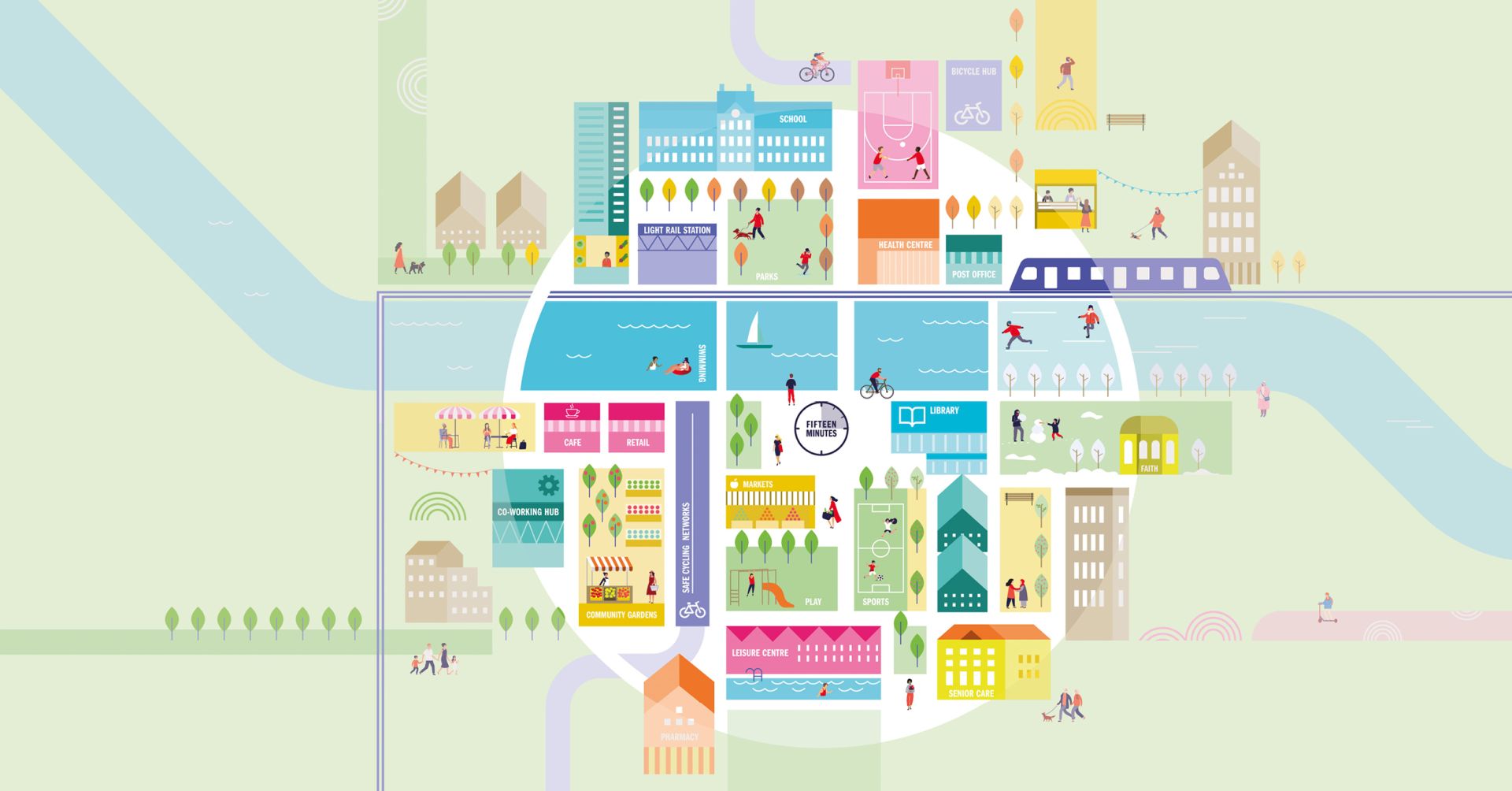 In a time marked by the impact of the coronavirus pandemic, rising inequality, and an escalating climate emergency, the idea of a ​
"

15-minute city" is capturing hearts and minds worldwide.

By Camilla Siggaard Andersen, Senior Researcher. Images by Matthias Widjaja and Camilla Siggaard Andersen.

Hassell's new report ​"Close to Home", written for Irish Institutional Property, explores what this concept means, why it matters, and how Ireland could contribute to shaping the future of 15-minute urban living.


The 15-minute city is defined as a place where everyone can access essential destinations and amenities within a relatively short walk or bike ride from home. From picking up a litre of milk at the grocery store to enjoying a quiet moment in the park, the concept is about daily life, lived locally.

At a personal level, the 15-minute city is a place of convenience, with more time to enjoy the aspects of life that matter. From the city's point of view, it's an opportunity to foster more balanced and equitable communities. And for our planet, it's a more sustainable way of life that can save resources and reduce per capita carbon emissions.

To unlock these benefits, the 15-minute city favours:
Compactness over sprawl
Active and public transport over driving, and
Small and distributed destinations over big, central cores
In technical terms, the 15-minute city is a proximity-based planning framework – also expressed as 10-minute towns or 20-minute neighbourhoods. Practically, it's a city-making approach that implores planners to ask: ​"What amenities do people need to live healthy and happy lives, and how easily can they get to them?"
These questions aren't new: the city of Portland, Oregon, USA, started working on a 20-minute neighbourhood plan as far back as 2006.
But in the shadow of COVID-19 and a looming climate crisis, ideas like these have found new life and relevance. Through our experiences of inhibiting lockdowns and extreme weather events, the impact of the local environment on our health and wellbeing has become startlingly clear to policymakers, developers, and citizens alike.
Yet, when it comes to developing more amenity-rich, sustainable neighbourhoods, the path forward is far from straight.
THE ENABLING ECO-SYSTEM OF 15-MINUTE PLACES
In ​"Close to Home", we examine the ecosystem that could help us create 15-minute places. Which amenities are required? How many people will be needed to keep these places thriving? How do we encourage people to walk, bike, and use public transport?

With a focus on Ireland – and original data from Ireland, the UK, the USA, and Australia – we look at public perceptions of the required urban conditions for 15-minute cities. Our sources include a survey of 5,577 people, with an extensive review of academic papers and articles from mainstream media.
Across six types of amenities in a 15-minute city, we found that:
People value access to places selling fresh food, leisure destinations, and public transport most of all. Places to work rank bottom.
In Ireland, those who are over 55 prefer leisure destinations offering retail and hospitality, while 18-34 year olds want recreational facilities.
Access to public transport is rated much lower in the USA than in the three other surveyed nations, and highest in Ireland; here, a third of the population would actually prefer to be within 5 minutes of a transport stop.
Overall, our findings suggest that the realisation of the 15-minute city is more complicated than simply putting everything within a 15-minute walking range of everyone. Some destinations might need to be closer together, while others can be further apart. People's needs also vary throughout their lives, and therefore the city must be flexible to supply services in accordance with societal change.
Further challenges arise when the full enabling ecosystem of the 15-minute city is taken into consideration. Though 3 in 5 people overall say that walkability makes a neighbourhood desirable as a place to live and work, only 1 in 10 want to live where there's a higher density of buildings on less space. This is clearly problematic, given that living closer together is a prerequisite for locating a variety of amenities within walking distance of everyone's homes.
Generally, we find that people in Ireland are more supportive of the conditions that enable 15-minute cities than people in the UK, Australia, and the USA, and younger people are also more supportive than older generations.
THE POTENTIAL FOR 15-MINUTE CITIES IN IRELAND

Ireland is known for its friendly culture, rich heritage, and beautiful landscapes. But it's also a country experiencing significant population growth, bringing the development of the five main cities into focus.
Dublin has long dominated as the nation's urban centre, with Cork second, and Limerick, Galway, and Waterford serving important regional roles. With a new National Planning Framework, the Irish Government aims to curb the continued sprawl around these cities in favour of a more compact, sustainable urban form.
The 15-minute city has the potential to be the people-centred version of this political agenda, ensuring that the benefits of living closer together are unlocked for everyone.
Through examining local planning documents, population survey data, and stakeholder interviews, ​"Close to Home" maps out the key opportunities and challenges ahead. These range from addressing a historic lack of investment in urban infrastructure to capitalising on existing natural amenities.
Most urgently, the Irish public planning sector needs to have an honest, informed, and engaging conversation about the urban future with both the citizens and the private development sector.
30 PRACTICAL IDEAS FOR A NEW URBAN FUTURE
"Close to Home" demonstrates the importance of taking a holistic, context-specific, and citizen-centric approach to implementing the 15-minute city idea. Urban planning and design must be considered alongside public engagement, with an ambition to meet environmental, social, and economic goals.
Taking the first steps requires courage and inspiration. The report closes with a catalogue of 30 practical interventions from around the world, showing how others have approached the triple-challenge of making more accessible, amenity-rich, and close-knit neighbourhoods.
For Ireland, this could be the beginning of a new era of urbanism altogether.
Download the full report here.