Metro Tunnel Project's Town Hall Station — and City Square — to open early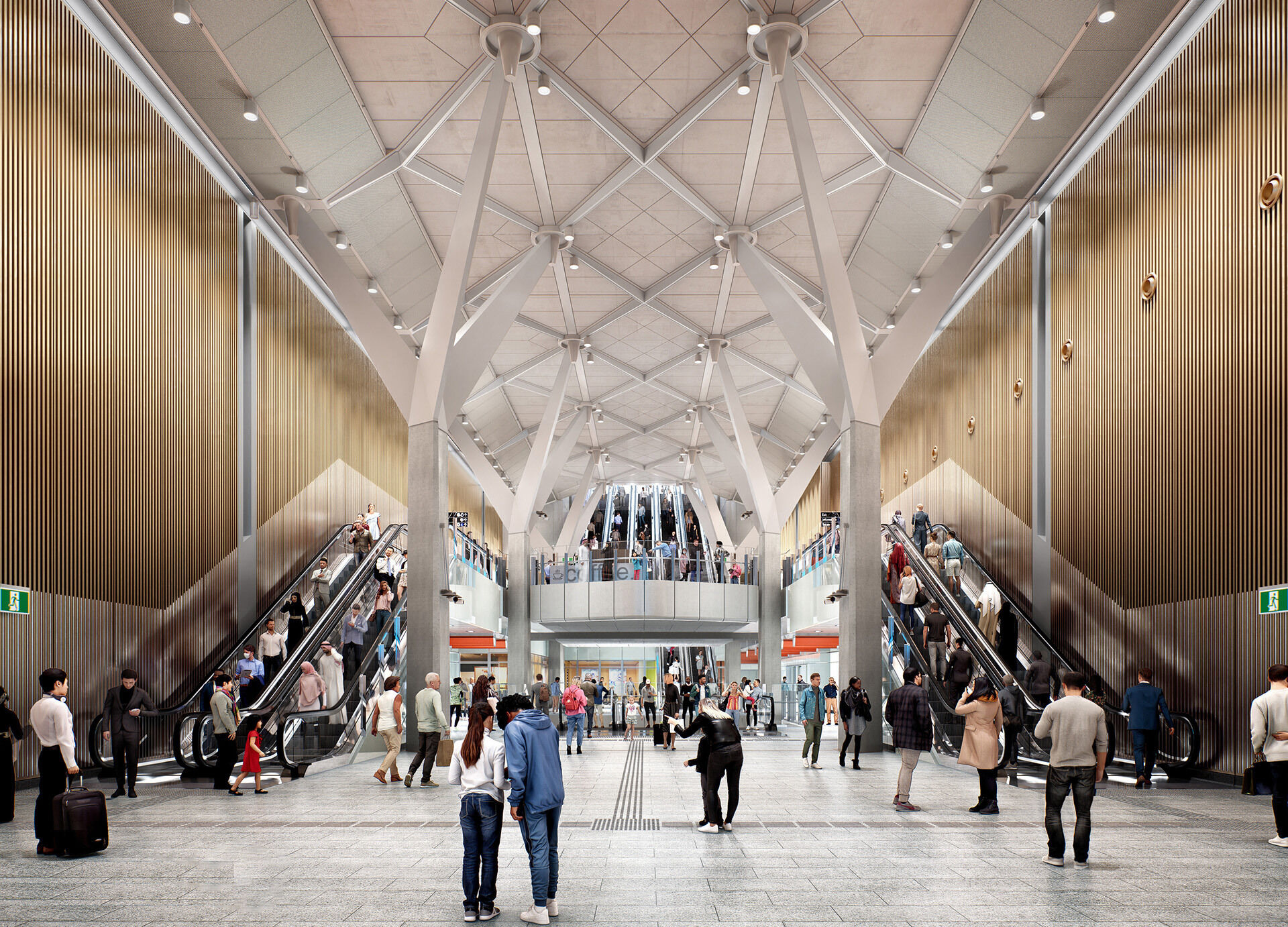 Construction crews are working apace on the Town Hall Station underground concourse beneath City Square, which is now set to open to passengers in 2025 — a year ahead of schedule.
As part of the Metro Tunnel Project, Town Hall Station is one of five new stations being designed and delivered by Hassell, Weston Williamson + Partners, and RSHP, through the CYP Design and Construction Joint Venture.
Just months after Metro Tunnel crews finished dismantling the noise-cancelling shed over City Square, work has begun to install eight soaring columns that will be a signature feature of the concourse level.
Passenger experience is at the heart of the design, offering large, inviting spaces when entering the station from City Square.
"

The spectacular Town Hall Station concourse will take people from City Square to turn-up-and-go train services connecting the city and suburbs."

— Minister for Transport and Infrastructure Jacinta Allan

State-of-the-art Town Hall Station will be a new gateway to some of Melbourne's most popular destinations, including Federation Square and Southbank. Its underground spaces feature extraordinary cathedral-like arched ceilings as well as some of the widest – most accessible – platforms in the world.

The concourse will be directly beneath Melbourne's City Square, which will be returned to the public as an open space for relaxation, gatherings and events, amidst city landmarks such as St Paul's Cathedral and Melbourne Town Hall. Native trees and planting will embrace the square, creating an urban oasis amidst bustling CBD streets.
"

City Square will once again become an activated and lively public space, a key destination and meeting place as well as a beautiful new arrival experience amongst the fabric of Melbourne for residents and visitors alike."

— Hassell Principal and Board Director Mark Loughnan

The project is also on track to reach another significant milestone in October with the reopening of a section of Flinders Street, which has been closed for more than four years.

The Metro Tunnel will transform rail travel in Melbourne, creating capacity for more than half-a-million extra passengers in the peak each week, improving east-west transit, as well as access to key destinations and landmarks.
Getting to and from work and study, connecting with friends and family, and going to sporting, cultural and community activities will all be easier and more enjoyable via Melbourne's Metro Tunnel.
Hassell is involved in designing significant rail projects across the country including Brisbane's Cross River Rail, Sydney Metro Western Sydney Airport, Sydney Metro City, South West-Waterloo Station, Sydenham Station and Linewide, Perth's METRONET Victoria Park-Canning Level Crossing Removal Project and several Melbourne-based Level Crossing Removal Projects, as part of the Western Program Alliance and South Eastern Program Alliance.
地点
Melbourne, Australia
日期
2023年6月8日