The ​
'

bleisure' principle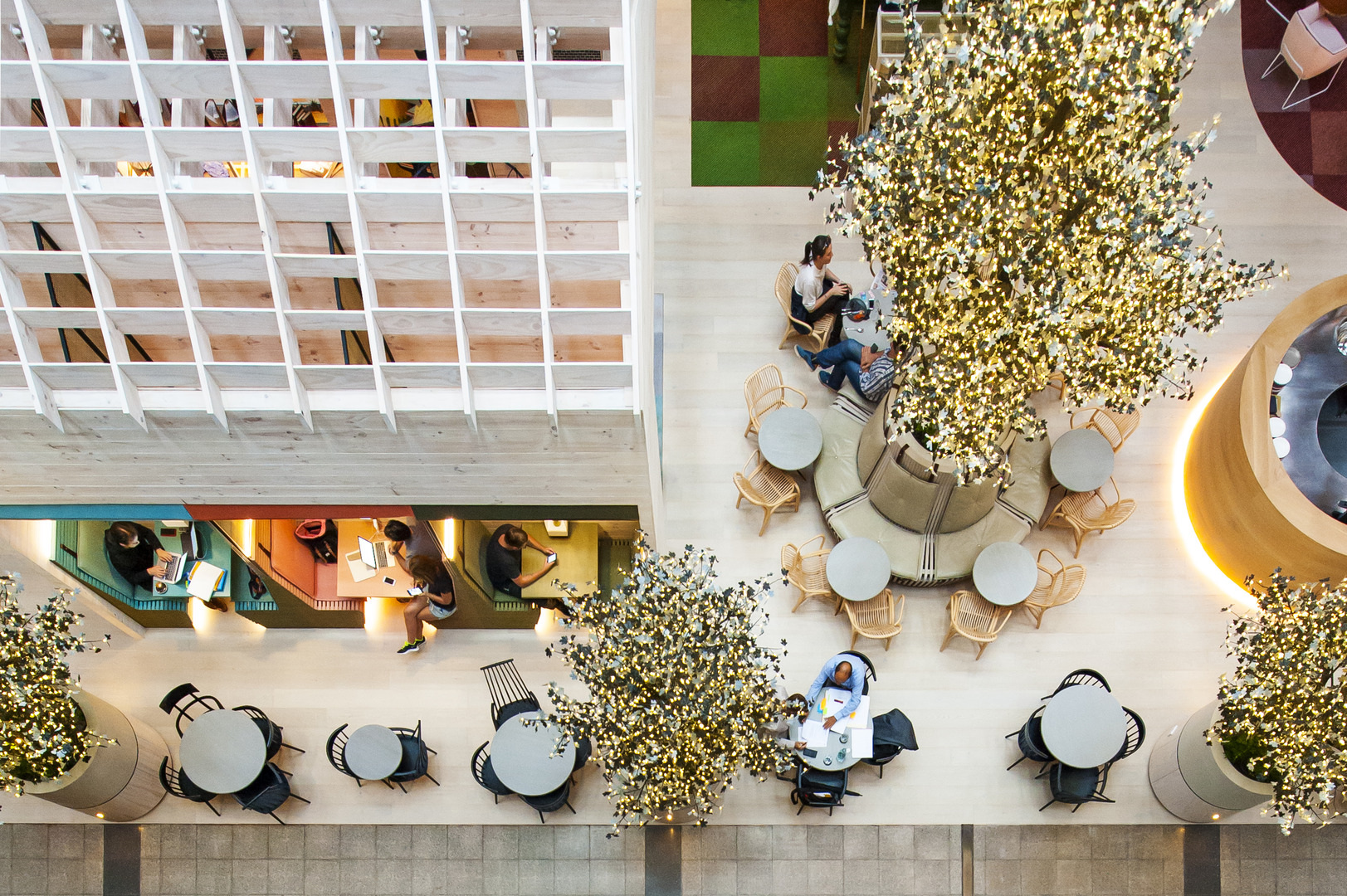 Imagery
Nicole England (above)
Collaborators
Brickfields Consulting
The blending of business, leisure and learning has gone mainstream – and it's bringing benefits to family life, local economies and the arts.
By Natalie Louey
Long before the pandemic, boundaries between work and play were blurring. But the mass adoption of remote working has untethered even more workers from their desks, accelerating this cultural shift and opening up even more possibilities.
With wider demographics now combining work, play, home schooling, and travel, it's fair to say that business and leisure are now so intertwined that ​'bleisure' travel has entered the mainstream.
Research supports this too. For example, with their findings from more than 28,000 travellers globally and their own proprietary data, Book​ing​.com discovered that:
37% of travellers have already considered booking somewhere to stay so they can work from a different destination, while 52% would take the chance to extend business trips to enjoy free time at the destination.
This growing preference is manifesting in a number of ways – bestowing many benefits to the traveller, from hotel operators stepping in to provide a breadth of work-play-learn packages to cities incentivising the relocation of entrepreneurs.
Airports are also weighing in on the leisure component, delivering exceptional experiences that benefit their own brand profile as well as local communities.
MORE MEANINGFUL EXPERIENCES
Corporate business travel is undergoing a reinvention. For some that's meant simply flying a lot less, while for others it's all about extended stays, whether it's with the family in tow, or for solo pursuits.

This is a result of emerging preferences for a slower work-life pace – and where families are concerned, a greater focus on shared moments.
Recognising people's changing needs, hospitality and conference operators are iterating their models to create deeper and more meaningful experiences.
One example of this: the Square real estate conference in Ibiza, Spain. Organisers encouraged the event's speakers to bring their families, involve them in activities and stay a few extra days.
Reflecting on the event in a blog post, speaker and consumer trends specialist Henry Coutinho-Mason said the hybrid format resulted in creating deeper connections. Shared meals and playful moments with fellow speakers, their partners and children made this possible – by literally bringing their ​'whole selves' and loved ones to work.
Such formats open the potential to expand event attendance to new demographics, reducing typical limitations on business travel, which formerly involved juggling family life.
Hotel operators are also an integral part of this trend, adapting their spaces and services for the new interplay between work, play, learning and family life.
For example, Marriott Hotels now offer a ​'Work Play Pass' to appeal to corporate guests with accompanying families. The package includes office and study spaces, a business concierge service and supervised kids' activities at their high-end resorts. Hyatt, Four Seasons and Hilton have also released similar offers.

This blending of ordinary life in a holiday destination allows the elusive sense of balance to be somewhat achievable in a post-COVID world.
Another factor influencing changes to corporate travel has been the increase in people migrating to regional areas. For this group, travel now comes in the form of a longer commute into the office paired with a mid-week city stay.
Building on their experience with co-working brand Wojo, Accor have responded to this need, by launching ​'Commute and Stay'. The offer gives workers a central base in a city hotel, enabling two days in the office and a venue for evening entertainment with clients, colleagues and friends. Rates are also incentivised, with 15 per cent off and a flexible cancellation fee.
In time it's likely that more boutique operators will offer similar propositions, perhaps in partnership with an aligned co-working operator, appealing to younger audiences that have traded the city for more affordable areas.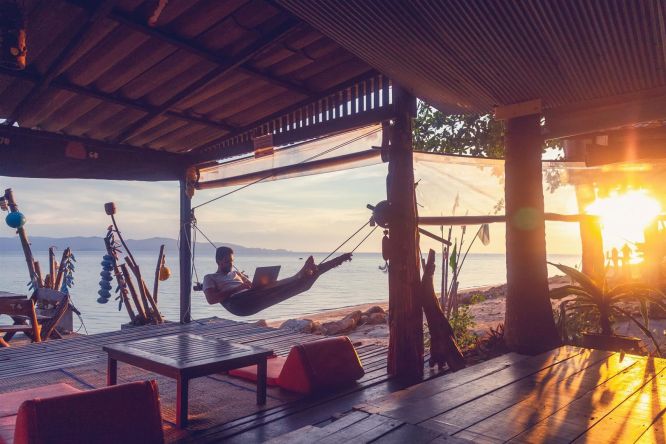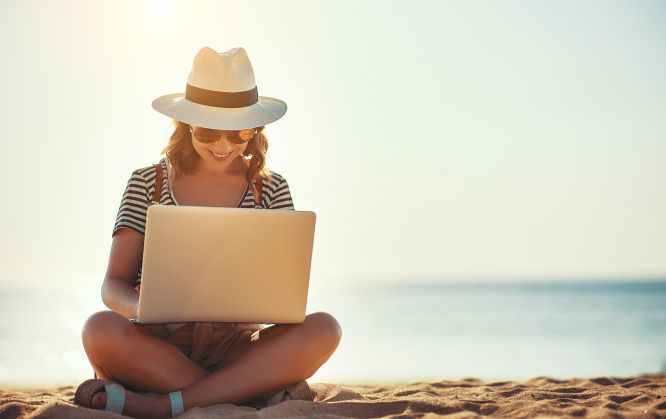 THE RISE OF DIGITAL NOMADS
Until recently, the ​'Digital Nomad' lifestyle was typically the domain of entrepreneurs and independent technology workers – free to work from far-flung locations with no fixed address.

Now, we are seeing other demographics opt into the lifestyle as remote work opens to more professionals, and people seek a life and career change.
To take advantage of this growing market, towns and accommodation providers are creating incentives to lure the remote working set to their shores.
An enticing example is the Digital Nomad Village, a program launched by the coastal town of Madeira in Portugal. This ​'utopia' for remote workers is a once-in-a-lifetime opportunity to be immersed in the local life of a new country.
Up to 100 workers who commit to a one-month stay gain access to a free communal workspace, Wi-Fi and exclusive events, as well as the support of a local ​'hosting' team and Slack community fostering interaction between the townspeople and nomads.
The scheme celebrates the entrepreneurial spirit of travel while also providing clear benefits to the local economy, particularly the growing number of unique, boutique hotels in the region. Created by a high-profile nomad along with the government and StartUp Madeira, the initiative is already slated for replication in a second Portuguese town.
Other countries are following suit, with Malta, Mauritius, Iceland and the United Arab Emirates offering various visa incentives. Terms can range from 90 days to two years – if proof of certain income thresholds are provided.
It's clear that many countries feel the burden of reduced tourism income, and these programs offer an interim solution as the world gradually reopens. Accommodation platforms also have a keen interest, just from a slightly different angle.
Airbnb recently launched the ​'Live Anywhere on Airbnb' program giving a dozen people from diverse backgrounds the chance to live remotely in their listings. Participants curate their own adventure over a 12-month period – whether it's rediscovering their locale or globetrotting between exotic destinations.
In essence, the program is a live research study for Airbnb, with participants engaging in ongoing structured video check-ins and written diaries to relay experiences and learnings.
The insights will help inform product changes and resources for different demographics, and ultimately support a better understanding of flexible living.

There's no denying this is a savvy marketing exercise by Airbnb. But the diversity of its guests highlights that long-term remote living can be for everyone – with young families, empty nesters, people with disability and solopreneurs among the chosen few. As a result, this type of travel will be highly nuanced.

Other operators and industry players would be wise to conduct their own user studies, with the intention of delivering more tailored and inclusive experiences.
AIRPORT ATTRACTIONS
Airports also have a role to play in supporting this shift towards blending business and leisure experiences.

While this is already occurring in practical terms with increased workspaces and short-stay hotels, it is also occurring through in-airport leisure and cultural experiences.
The ​'airport as attractor' trend has been growing for some time (as our partner Brickfields reported their 2015 edition of The Place Report). The global exemplar is Changi Airport's Jewel and Shiseido Forest Valley, which is easily the world's most notable manifestation of this trend.
But for airports that don't have the space and capital to make such investments, innovative events with huge cultural cachet are being staged instead.
A standout example was the debut fashion show for Louis Vuitton's 2020 resort collection at New York's JFK International Airport. Turning the former Trans World Airlines (TWA) terminal into a catwalk, the luxury brand made headlines – and the airport tested out a new way to grab the interest of travellers.
High-brow programs help position the airport not just as a transitional space but as a destination – a place where travellers can have an enriching or exciting experience.
Similarly inventive events were also used during the pandemic to maintain relationships between passengers and their local airports, with some proving to be considerable drawcards.
In 2020 Singapore Airlines sold out its pop-up restaurant aboard an Airbus 380 at Changi Airport just 30 minutes after bookings opened for a lunch or dinner in first class.
Also on offer was a two-day, one-night stay at Changi, curated with playful and educational activities. Again, this experience was quickly fully booked, clearly showing an appetite for leisure experiences related to the joy of travel.

Although international air travel is possible again, some people cannot yet afford to travel, despite their aspirations. Events such as these, especially if affordable, provide an excellent way to connect with customers of different circumstances and make travel experiences accessible.
Not all leisure experiences need to be ephemeral, and some airports are embedding arts and culture as permanent offerings.
The first-class lounge for Qatar Airways in Doha is one example which offers exclusive access to collections from the Museum of Islamic Art.

More inclusive options also exist, with Gstaad airport in Switzerland offering an on-site public art gallery, Tarmac 22. The non-profit offers the space to established galleries during the winter season, and in addition sponsors a less commercial summer program focused on younger artists. Collaborations are selected with care, with a key criterion being that the exhibitions give back to the local region.

The benefit of these initiatives is multi-layered: local artists receive international exposure, while airports can build their social capital, becoming more localised and connected to the cultural fabric of their locations.
INSIGHTS & IMPLICATIONS
As airports provide bolder traveller experiences, the potential exists for these ​

'

city beacons' to focus on the grassroots – nourishing local communities in accessible and engaging ways.
As remote working and long-stay travel becomes more widespread than ever before, we can expect the arrival of niche travel products, accommodation and services that benefit this traveller type.
While incentivised nomadic programs have clear benefits to local economies, it's important that these plans integrate strategies for managing potential over-tourism. A harmonious balance of local resident and traveller needs will ensure the long-term sustainability of this practice.
Changing work trends could impact airline routes. For example, we could see demand reduce on common, high-frequency business travel routes. On the flip side, digital nomads could create demand for new routes and destinations.
This article originally appeared in the ​'Travel Futures' trend report by our partners at Brickfields Consulting, with editorial contributions from Hassell.